My last meal / Tokyo
Junko Shimada
When she's not busy working on designs for her label or spending time in her beloved Paris, Junko Shimada loves to eat at Sunaba in Tokyo.
"If it were my last meal I would go to Sunaba in Akasaka [Tokyo] for soba [buckwheat] noodles. I would want my family, especially my daughter and four-year-old granddaughter, to be there. We would start off with appetisers such as tamagoyaki [rolled omelette] and stewed clams and, depending on the season, broad beans or bamboo shoots. The kamaboko [fish cake] here is great too. At the end I would want mori-soba [cold noodles served with a dipping sauce, wasabi and julienned green onions]. I like my noodles undercooked and firm.
I now divide my time between Tokyo and Paris. When I'm in Japan I want to eat what I can't get in Paris: casual Japanese fare. In Europe, Japanese restaurants are either snobbish or nouvelle cuisine so I have to get my fix here.
I eat at Sunaba just before heading to the airport for an evening flight. What I order depends on the season – bamboo shoots in spring, broad beans in summer. I love mitsuba [Japanese wild parsley]. The chefs at Sunaba make soba in a hot broth with a mound of mitsuba just for me. It's not on the menu. I like sharing a table with locals in the centre of the restaurant.
I come from a family of six daughters. My father owned a tofu shop in Tateyama [Chiba prefecture]. We had tofu with our meals every day and even now I love tofu. We had our meals with the shop staff so I couldn't be picky about what I ate. I was envious of other families that ate meals the kids asked for. If I didn't want meat in my curry I would have to pick it out.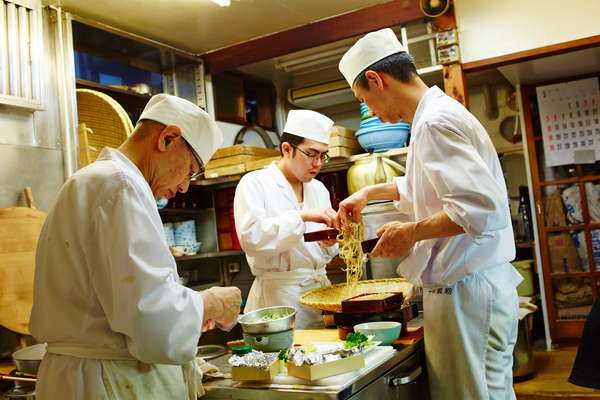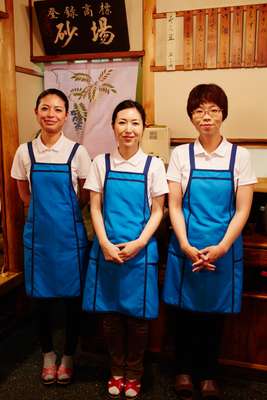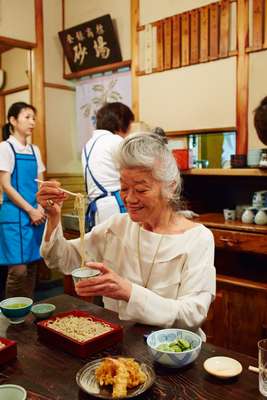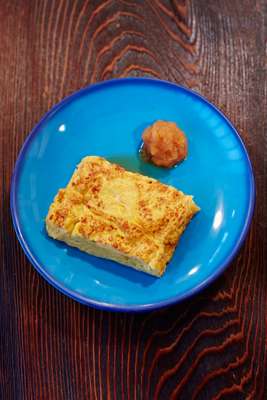 My grandmother was born during the Meiji era when western ideas were changing Japan, but she wore kimonos all the time and was so grand. She was very particular about food; I remember she made her own shinjo fish cakes. We had a sansho [Japanese pepper] plant growing in our garden and she would crush the peppercorns to blend into her fish cakes.
I went to an arts school, Sugino Gakuen, where the teachers encouraged self-expression. I would go to see movies in the middle of the day or I would sit and have coffee for hours at a jazz café. In those days I was in love with Paris – the city, the food, everything. Most Japanese travellers were going to the US but I only wanted to see Paris. I was 25 when I first visited as a tourist. It was 1966 – the era of La Nouvelle Vague, the French New Wave of film. Paris was everything I was hoping it would be. I was amazed by how flavourful the baguettes and milk were. The vegetables were fresh and the free-range chicken tasted incredible.
I never set out to become a fashion designer but I returned to Paris for a job at the Printemps department store; then Mafia, a styling and publications company; and Cacherel, where I designed menswear, womenswear and children's clothing. In 1981 I launched my own fashion brand in Tokyo and Paris.
These days when I'm designing a new collection I eat sandwiches and takeout sushi with my staff. I try to make sure I get enough nutrition by loading up on vegetables. I never eat haute cuisine; I'm just not interested because I can't stomach the creamy sauces. The night before a fashion show in Paris I have a big Lebanese meal delivered to the office and we all eat tog-ether. On the morning of a show I nibble on whatever doesn't require too much effort to prepare – avocados, bananas, potages. What I love to eat in France more than anything else are the sauté potatoes. They're so delicious."
---
Designer Junko Shimada, 72, heads the eponymous fashion label she founded in 1981. Her playful ready-to-wear collections have appeared in more than 60 shows in Paris and Tokyo. In 2012 Shimada received the French Culture Ministry's Chevalier de l'Ordre des Arts et des Lettres award.
Muromachi Sunaba in Akasaka, Tokyo, opened in 1964 in a two-storey wooden sukiya-zukuri building. A branch of the original shop founded in 1869, near Tokyo's Nihonbashi district, Muromachi Sunaba serves two types of buckwheat noodles that are handmade daily and its menu of old standards, including kakiage (prawns and baby scallops tempura) and tamagoyaki (rolled omelette), hasn't changed for decades.
To eat:
Cold mori-soba noodles, tamagoyaki, kamaboko (fish cakes) and broad beans or bamboo shoots. For the noodles: tsuyu dipping sauce, wasabi and julienned green onions.
To drink:
A glass of Japanese lager.