Casco Viejo / Panama City
Old town
Once populated by gangs, Casco Viejo is now a major draw for its hotels, shops and galleries.
Before the end of their lunch break, a few Panameños find respite under the shade of four shimbillo trees in Plaza Herrera. Once a bullfighting arena, this square in the Casco Viejo has been a focal point in the neighbourhood for centuries. In the centre is a statue of national hero Tomás Herrera, a general who fought across South America in the wars of independence.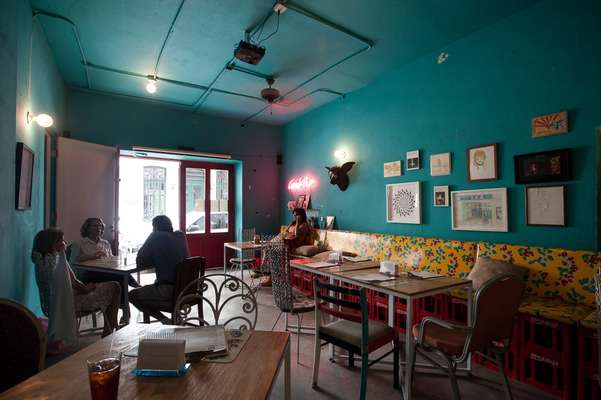 To the right of the effigy is the Panamericana, a hostel crowded with European backpackers. Perpendicular to it is a beer garden, Mojitos sin Mojitos, and adjacent there's a four-storey building that's being renovated by a Californian businessman. But no property in the Plaza is as striking as the American Trade Hotel. Opened six months ago, the ath has quickly become a symbol of the neighbourhood's resurgence. "There used to be gangs living on each of the floors; people crossing the square were at risk of getting caught in the frequent shootouts," says Ramón Arias, one third of Conservatorio, a property company dedicated to revitalising the district. "This was a no-go zone, you couldn't walk these streets," adds KC Hardin, an American who came to Panama on a surf trip and decided to stay, joining Ramón and his wife Hildegard to form Conservatorio years later.
All three members of Conservatorio live in the neighbourhood and have been fundamental in changing its landscape, remodelling a dozen old buildings that were about to crumble, and empowering locals in the process. "Our aim is to build a society, not just a hotel," says Ramón. "We're very inclusive in our projects; some of the employees here are rehabilitated gangsters."
That sense of community has brought different social classes together and it has also attracted foreign investors; one of them is Andrew Hyde, a 29-year-old who moved to Panama after finishing his studies at Cornell University. He currently runs the Espacio Panama bar and is about to open Jeronimo, a residential edifice (once owned by a Freemason dentist) built in the baroque style, just a block from the ath. "All of us buying property here have the same vision," says Hyde as we sit down in front of the Santo Domingo church for an al-fresco dinner with his Argentinean business partner. "It's a joint effort to build a cultural infrastructure."
As the sun fades away, Casco is abuzz with locals who drive here from across town – from areas that look like cheap versions of Dubai – to eat at one of the many newly opened restaurants. In front of the Jazz Club – a live music bar opened by musical maestro Danilo Perez – a queue forms. Patrons wait for their tables to be assigned, anticipating the act that will soon perform. A few hours later they will walk down Casco's cobbled streets, unfrightened, taking the time to sit on a bench in Plaza Herrera and chat for a while before calling it a night.