Report / Atlanta
On the right path
Introducing the Atlanta BeltLine, a €2bn regeneration project breathing life into the city with its network of ped-estrian and cycle paths and public parks. Monocle heads to the newly connected city, now abuzz with social and commercial activity.
A few minutes' walk from Atlanta's Ebenezer Baptist Church, where Martin Luther King Jr preached, Kim Janke stands before the maw of a glowing, 1,100c oven, talking about resurrection. In 2000, when she and husband Matt moved their glassblowing workshop from the suburbs to the historic Old Fourth Ward, "I thought it was a good social statement to be here", she says. But King's old neighbourhood had fallen far from glory. "It wasn't safe. It was bombed out all over."
Today, Kim says, "there's life in places that were lifeless". The catalyst: the Atlanta BeltLine, a $2.8bn (€2bn) initiative to create a 53km network of pedestrian and cycle paths passing through the city's Old Fourth Ward and looping around the city centre. It is one of the most ambitious urban-redevelopment schemes in the US. Though only 9km has opened so far, the economic effects are rippling through Atlanta. Warehouses are being reincarnated as bike shops and breweries. Smart condominiums – and bars and restaurants to water and feed their occupants – are proliferating. So are parks; the city has promised new green spaces along the BeltLine, and the Old Fourth Ward got two – totalling almost seven verdant hectares – including a spectacular skatepark funded partly by skateboarder Tony Hawk's foundation.
Falling crime rates, rising foot traffic, a revitalising neighbourhood and buoyant business has turned Kim Janke from sceptic to believer. "It takes 90 years for Atlanta to do anything. I thought I'd be dead before it got done," she says. "I used to laugh, but they did it." While we talk, a group of corporate emp-loyees from McDonald's ooh and aah as Matt Janke extracts an orb of molten glass from the furnace. Classes provide 15 per cent of Janke Studios' turnover – the majority comes from making glass for light fixtures – but every revenue stream is growing. "2014 should be our best year yet," says Kim.
In 1999, Ryan Gravel – then an urban-planning student at Georgia Tech – proposed the BeltLine in his Masters' thesis. Though Atlanta is now a capital of American car culture, it was founded in the 1840s at a rail intersection. Gravel imagined a necklace of public paths, recreational space and light rail, built mostly on disused railbed. It would traverse some of Atlanta's most neglected neighbourhoods, where the stigma of living on the wrong side of the tracks – even dormant ones – has persisted. "The idea was to take a barrier and turn it into a gathering place," says Gravel, now an urban designer at architecture firm Perkins + Will.
The BeltLine might have remained an idealistic student's fantasy were it not for Cathy Woolard, who had just become the City Council's transport committee chair when Gravel sent her his plan in 2000. "Atlanta didn't have a transportation plan – or even a transportation planner," says Woolard, who spent part of her childhood in Germany and fondly remembers riding trams there. After she was elected council president in 2001, she and her staff secured $23m (€16.7m) in seed funding. "We embedded the BeltLine into every plan the city had," she says.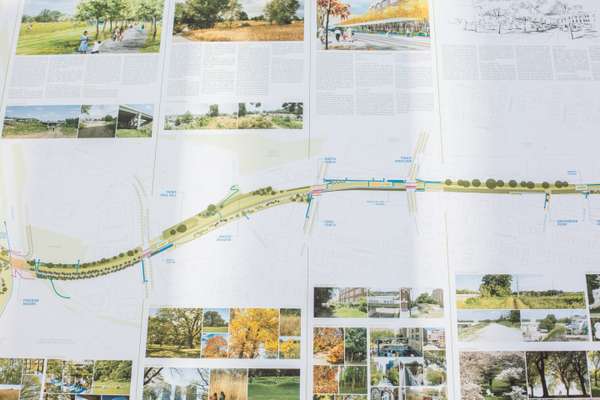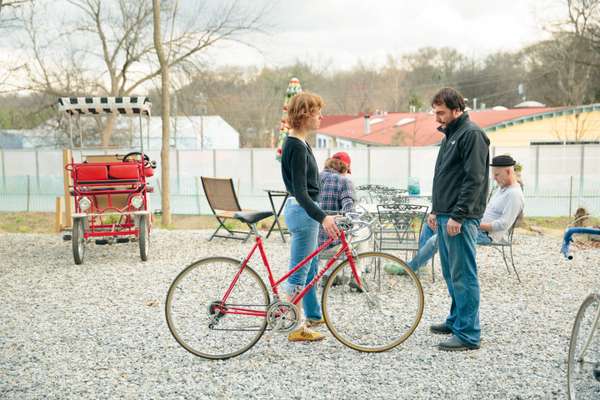 So far three BeltLine sections have opened – two small stretches of pre-existing park trail on Atlanta's west side and a 3.6km segment in the east, running from Inman Park and the Old Fourth Ward up to Piedmont Park. That last portion, unveiled in October 2012, was the first rehabilitated rail corridor to open – and it's where the BeltLine's effects are most evident. Such a vibrant mix of residential, commercial, and light-industrial activity exists nowhere else in Atlanta.
The project has become a powerful catalyst for the city's business community. This summer, on the Old Fourth Ward's northern edge, a one-time distribution centre for the retailing giant Sears Roebuck and Company will reopen as Ponce City Market. The revamp of the 195,000 sq m building is the largest renovation project in Atlanta's history. It will house shops and restaurants, more than 250 apartments, new offices for medical company Athenahealth and the headquarters of web-marketing firm MailChimp. Alr-eady open is Dancing Goats, the requisite hipster-magnet coffee bar, which serves single-origin coffees from nine countries.
Also debuting this summer in Inman Park, a neighbourhood on Atlanta's east side that was constructed in the late 19th century on old Civil War battlefields, is Krog Street Market – a European-style food hall. This redevelopment of a complex of warehouses builds on the premise that young professionals will crave rabbit-and-pork sausages (from the Spotted Trotter butchery) and $4 (€2.9) bags of bacon-fat caramel corn (from the Little Tart Bakeshop). "The BeltLine is the whole reason I will be there," says Little Tart owner Sarah O'Brien, a Paris-trained patissier. "It is allowing the residents of a city known for its gridlock and lack of public transportation to walk and bike from neighbourhood to neighbourhood. I wanted my bakery, which is built on the idea of using what is local and sustainable, to be a part of what feels like a great big step in the right direction."
Councilman Kwanza Hall, who represents Atlanta's east side, praises the BeltLine for getting people out of their cars and onto their bikes and feet. "This is a physical infrastructure investment that allows human connection," he says – one that has changed even his own habits. From his home, 91 metres from the BeltLine, he can cycle to Piedmont Park in seven minutes instead of driving for 15. "Our neighbourhoods have not been linked – not psychologically, not geographically," he says. "This has connected us."
To help cover the BeltLine's cost, Atlanta is betting on rising property values along the route. Within a special zone called the BeltLine Tax Allocation District (tad), city and county portions of tax on industrial and commercial properties have been frozen at 2005 levels. As the neighbourhoods regenerate and property values rise, the additional tax revenue will be reserved for BeltLine expansion. tad funds are forecast to provide close to one-third of the BeltLine's construction budget. Had residential properties been included that proportion would have been higher, but homes were exempted to secure voter support for the initiative.
Though light-rail construction will not begin until at least 2020, the BeltLine has already changed commuting habits. Jordy Gamson is ceo of The Icebox, a printer of promotional products headquartered in a one-time ice factory in Inman Park. (The company's name and the building's past life were purely coincidental.) Last year Gamson moved his factory from the suburbs to former metalworks foundry across the street from his offices. Two large carousel-like machines now print as many as 1,000 shirts an hour. "A lot of my workforce lives on or near the BeltLine," he says as he surveys the factory floor. "They want to bike or walk to work. So we need fewer parking spots and more bike racks."
Benjamin Stimis, who previously owned a bicycle shop in the suburb of Decatur, anticipated the biking boom. Last spring the Frenchman opened Atlanta Beltline Bicycles in the Old Fourth Ward. "I have 10 times more business here than I did there," he says, as he shows monocle around his warehouse-turned-bike boutique and repair shop. "Everyone wants a bike." Eighty per cent of turnover comes from sales and servicing, 20 per cent from rentals. Stimis has high hopes for the summer. He points to a vintage Volkswagen van parked in the shop. "We're going to park it outside and make it a juice and coffee bar."
Such is the draw of the BeltLine, new businesses have even started in areas of the project that are years from completion. In January, Eventide – a craft brewery – opened in a disused widget factory two blocks from the BeltLine in Grant Park, an oak-shaded, historic neighbourhood of gracious Victorian manses and Craftsman-style bungalows with a smattering of old factories and warehouses on its edges. "It was always our intention to be close to the BeltLine," says co-founder Mathew Sweezey. "This part won't be open for a while but we want to be accessible by means other than motorised vehicle."
For all the success of the BeltLine boom, revitalisation has its costs. The Lifecycle Building Center (lbc), which sells reclaimed construction materials, opened in 2012 in an old foundry on a west-side BeltLine spur. The not-for-profit's numbers have been solid, bolstered by sales to and donations from film productions. Set designers from The Walking Dead are lbc's biggest customers and, when monocle visits, dozens of plastic bins from The Hunger Games shoot and wooden joists from the Robert De Niro film Last Vegas are in stock. "The BeltLine is sending real-estate prices up but that's not the biggest problem," says executive director Shannon Goodman. Buying the facility, which lbc now rents, is feasible but renovating the vast warehouses may not be. Estimates run as high as $3m (€2.2m) – more than 35 times lbc's 2013 sales.
There are concerns too about gentrification pushing out poorer residents. Atl-anta BeltLine Inc, the quasi-governmental agency overseeing the project, has sought to mitigate those worries with construction subsidies for affordable housing and low-interest loans for homebuyers. The agency recently bought a 28-unit building out of receivership and renovated it, says its president Paul Morris. "Then we sold the units mostly to police officers, firefighters, teachers and hospital workers."
There is still plenty that remains not only undone but also ambiguous. One big unknown is the transit system. Gravel acknowledges that completing the light rail will be tough. In 2012 voters rejected a proposed one-cent sales tax to fund new public transportation. "For me," Gravel says, "the BeltLine won't be fully successful unless we have transit. But it's not up to me. It's an evolving experiment. We still don't know what it's going to be. People will define it for themselves."