Two vibrant boutique hotels in Bogotá and Mumbai, an intimate high-rise in Gothenburg with stunning views and ornate historical lodgings in Hoogstraten and Rome: Monocle uncovers the most striking and offbeat places to stay this summer.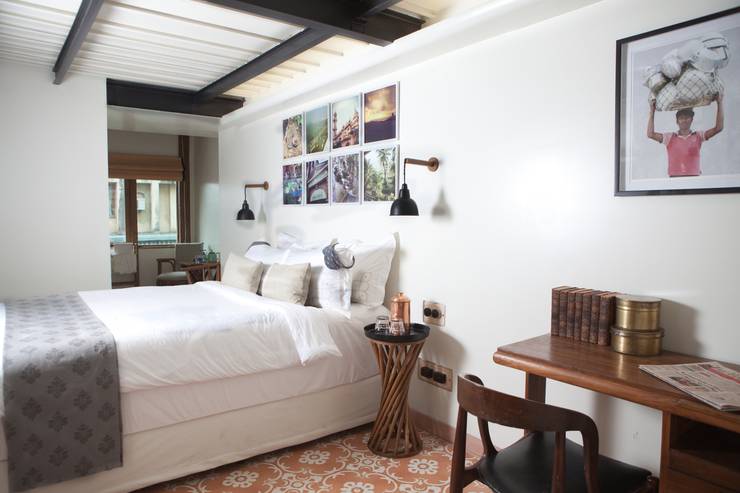 Pinewood Social
Nashville, USA
What would seem like a medley of too many things finds a balance at Pinewood Social. At first it wasn't easy for brothers and entrepreneurs Max and Benjamin Goldberg to put all their ideas down on paper – they wanted to convert an old barn into a social haven with bowling lanes, bocce courts and swimming pools – so they called upon the help of Landy Gardner Interiors. The Nashville-based studio managed to connect the dots, seamlessly joining the quiet workspaces with the lively coffee shop, restaurant (food courtesy of chef Josh Habiger, formerly of the Fat Duck in the UK) and karaoke – because one must, in the Music City. "We wanted an environment where people could feel comfortable working at 07.00 or at midnight," say the Goldbergs. "People use Pinewood for different reasons. One day could be for a meeting, the next could be for a date or night out."
pinewoodsocial.com
Click Clack
Bogotá, Colombia
At the Apache bar on the rooftop of the Click Clack hotel dozens of bogotanos and foreign travellers look out at the capital's Chicó neighbourhood, sipping on shot glasses of aguardiente and bottles of Aguila beer. With the Andes mountain range as backdrop, they're in no hurry and order from the burger menu. Some will stay the night at Bogotá's newest – and probably most stylish – boutique hotel. Others are just warming up before heading downstairs to watch a concert at the converted parking lot, next to the vertical garden that decorates the patio. Designed by Felipe and Federico Mesa of Plan B studio, Click Clack is proof of Colombia's comeback.
clickclackhotel.com
Mumbai has hotels aplenty at the five-star and budget ends of the spectrum but little in the middle. Enter Abode, billed as the Indian commercial capital's first luxury boutique hotel. Located in the traveller hub of Colaba, Abode opened in January with 20 rooms. "There were no good boutique hotels that spoke of the place," says co-founder Lizzie Chapman, a former investment banker from London. She convinced the owners of an existing small hotel to let her take charge of refurbishments and engaged Australian architect Sian Pascale to oversee the project. It now contains floor tiles inspired by old Parsi cafés and signage daubed by truck painters.
abodeboutiquehotels.com
Begijnhof 19
Hoogstraten, Belgium
The beguines, Christian orders that roamed Belgium for three centuries, are long gone but in the small city of Hoogstraten in Belgium (recently classified as a World Heritage site), you can stay in one of their splendid 15th century houses. "The beguinage of Hoogstraten was restored thanks to private funding and the efforts of local citizens," says Jan Verheyen, one of the owners of the holiday house. Guests can choose self-catering or opt for a breakfast basket with local treats – yes, Belgian chocolate included – delivered to the ancient wooden front door.
begijnhof19.be
Housed in a 16th-century palazzetto, this intimate hotel – run by the family from which it takes its name – stretches over five floors with lots of space and authentic features. The B&B has four bedrooms, giving the place a quiet and exclusive feel. The loft area and the kitchen function as the rendezvous spot where guests meet for a glass of wine – there are no minibars in the rooms but rather snacks or drinks freshly made to order. "My parents run the Agriturismo Fabbrini in San Casciano dei Bagni in Tuscany. They often pass by to hand me great bottles of wine, olive oil, and homemade jams and cakes," says inn manager Simone Fabbrini.
roma.casafabbrini.it
Hotel Cort
Palma de Mallorca, Palma
On the northwestern corner of Palma's iconic Plaça de Cort, this new hotel lies in the very heart of the historic centre, a project with the stamp of designer Lazaro Rosa-Violán. And his isn't the only recognisable name at Hotel Cort, Basque chef Patxi Castellano has also contributed to this venture with his raw bar menu, bringing locally sourced fishes and oysters to the table. Guests can choose from 14 suites or two double rooms, which offer warm open fireplaces inside or private rooftop Jacuzzis with ocean views outside from where they can enjoy a taste of Castellano's take on Peruvian ceviche.
hotelcort.com
Hotel Cort has some very illustrious neighbours – it shares the Plaça del Cort with Palma's town hall and is situated just in front of Mallorca's oldest olive tree, believed to be more than 800 years old. The owner has had plans approved to build a food market in the square, showcasing local produce.
Upper House
Gothenburg, Sweden
The Gothia Towers hotel is the largest hotel in Northern Europe (with 693 rooms and 11 suites) so they had no qualms making some space for a new project: the Upper House. (The people at Swire might have something to say about this.) Across three floors of the Gothia's middle tower, the Upper House is a hotel within a hotel, an exclusive sky-high refuge. "I see it as a small, personal hotel of 49 rooms within a larger, more corporate setting, featuring spectacular views, traditional hospitality and attention to detail," says Daniel Stenbäck, CEO of Gothia Towers. The biggest room is the duplex Grand Executive Suite with 158 sq m and views over the cityscape. The most striking feature is the outdoor heated pool that stretches out of the building, giving the sensation that you're floating high above Gothenburg. The restaurant and spa also impress.
upperhouse.se/en/hotel