Spafax / London
Blue-sky thinking
Part of the appeal of air travel is enjoying a great film, listening to some new music or swotting up on your destination en route. But who picks what you watch, hear and read? Spafax is the company that plans in-flight entertainment for airlines worldwide.
Getting a plane ready for take-off is a little like packing one enormous aluminium suitcase with the little luxuries that can make a 13-hour flight from London to Singapore much more bearable: a good read, an iPod; the new season of Mad Men. Luckily there's a company that takes care of all of that so that when you arrive onboard there's a selection of films, audio and literature ready to make the time fly. Spafax, based in London and with offices around the world in locations from Madrid to Kuala Lumpur, is a market leader for in-flight entertainment (ife). The company delivers film and TV programming and in-flight magazines for airlines ranging from British Airways to Qantas and Emirates. You might think your own seat is your entire world for the next 10 hours but really it's the seat in front that's your friend.
"People want comfort and have a kind of nesting instinct when they get onboard," says director of programming Ruth Sloss. Today, at Spafax's London office that employs 68 people over three floors of a quiet mews in bustling Marylebone (just a short hop from monocle's HQ), she is finalising British Airways' July film schedule. Her curatorial role of picking films often leans to the lighthearted side as passengers' tastes reflect optimism and a need for familiarity. She recalls an amusing interview with gratuitously trigger-happy director Quentin Tarantino, who as soon as he steps on a plane claims it's Kate Hudson rom-coms that fill his time. But there are any number of regional subtleties to also consider. "At the moment Noah is big at the UK box office but it's been banned in a lot of Islamic countries so clearly we couldn't put that on Middle Eastern airlines," she says.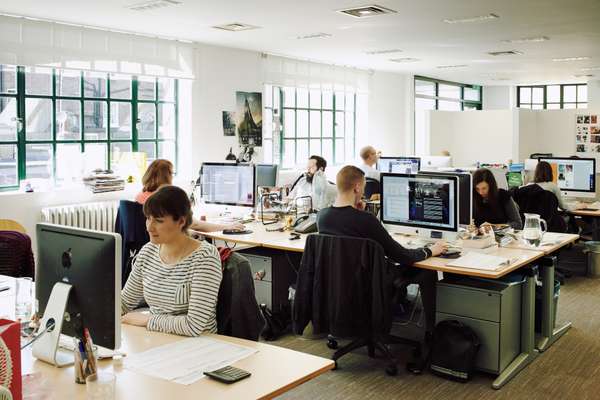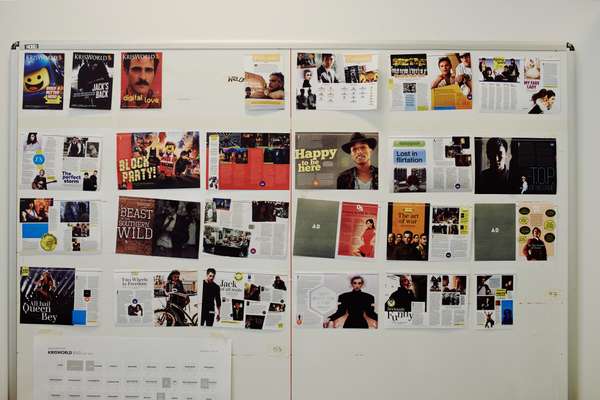 Emma Gunn, Spafax's acquisitions and programme manager, has seen passengers' television tastes change in recent years. It's now not unusual for people to attempt to enjoy an entire season of Boardwalk Empire or Girls at 30,000 feet. "We're booking more and more box sets for which even up to a couple of years ago you could only have a few episodes onboard," she says. But the evolving technology on flights isn't necessarily the wide-open frontier of possibilities one might expect. "To change the hardware system on an airline is an immense task," says Sloss. "Everything's built into the seat backs so you can't just rip everything out and replace it the next day. The irony is that planes on order today for 10 years' time are already having systems ordered. So by the time an aircraft is running, it's already using old technology. It's like painting the Forth bridge: you can never catch up with yourself."
These kinds of limitations inspire what is perhaps Spafax's greatest strength: delivering content in the voice of an airline's brand no matter what the format. "People are always saying 'Digital, digital,' it's like saying 'Pencil, pencil'," says Raymond Girard, Spafax's president of content marketing. "To me it's all just a means of connecting. It's a means of telling a story. Customer X is comfortable on the digital platform of delivery system and customer Y might be more comfortable on a traditional platform. We try more to understand the cultures of the passengers sitting in those seats – you're representing that culture and you really have to be aware of it."
Sharp-suited with a wry gaze seemingly constantly fixed, suitably enough, in mid-air – mid-thought – the perspective of the frequent flyer is a view Girard understands innately. "I haven't been home in over a month," he says of recent travels. "I did Toronto-Vancouver, Vancouver-Hong Kong, Hong Kong-Kuala Lumpur, Kuala Lumpur-Hong Kong, Hong Kong-Zürich, Zürich-Hamburg, Hamburg-Munich, Munich-London and tomorrow I finally go home to Toronto, so I'm excited," he says. "Next week: Santiago."
On the third floor Spafax's editor-in-chief, Richard Rawlinson's team of writers, editors and designers are creating ife content for airlines such as Singapore Airlines, Swiss, and Air Canada. The May/June edition of Royal Jordanian's Royal Wings is being finalised by editor Hermione Crawford and production manager Henrietta Cobbald; this particular title is relatively unusual in that it's a luxuriously thick and weighty thing. "Each magazine only weighs a few grams but when you multiply it by how many seats you've got and how much fuel is being used that becomes important," says Cobbald. "I'm allowed up to 220g for a single magazine. We are bang on that for this issue and we achieve it through manipulating paper weight – and that affects how many pages a publication can be."
The recent allowance for mobile internet on some flights means horizons are broadening. Streamed content means passengers might soon be able to avoid many of the international copyright issues connected to traditional downloads. "We're looking at how you can use your device to complement existing embedded systems," says the company's managing director of specialised networks and development, Ann Willis. "It's going to be really good for creativity – a release of ideas rather than a head-scratching situation."
This highly inclusive approach is a calling card of Spafax's success – be it films, audio, tech or magazines. But success can come at a cost, as Girard points out. "Some airlines have actually taken the little 'Yours to take home' tag off the magazines," he says. "It was costing them a fortune in replenishment."