Grevi / Tuscany
Brimful of tradition
Through boom, bust and flood Grevi has kept its craft alive to remain at the head of the pack.
Signa may not have Silicon Valley's name recognition but the business cluster around the Tuscan town boasts an impressive track record. Since the 18th century this suburb of Florence has been a hub for hatmaking. "As industries go it's hard to match ours for longevity," says fourth-generation milliner Giuseppe Grevi.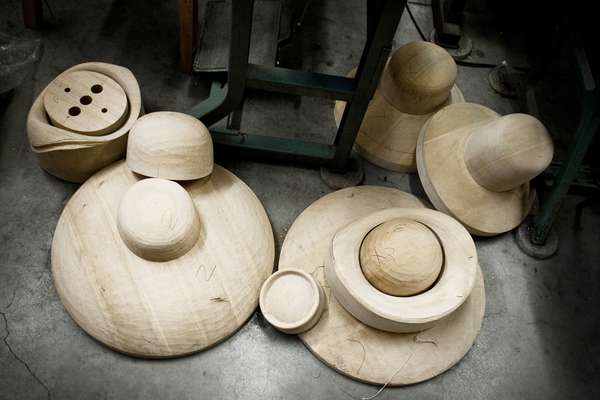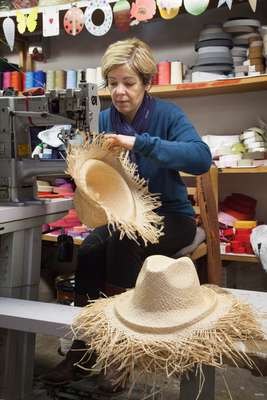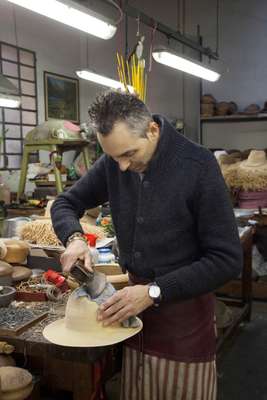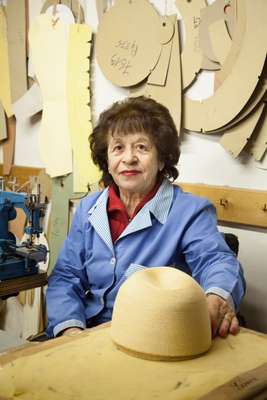 Together with his sisters Roberta and Silvana, Giuseppe runs Grevi, a fashion brand set up in 1875 that specialises in woven hats for men and women and whose construction methods use decades-old know-how developed in Signa. On a tour of the family's workshops that employ 45 staff – 30 more employees sew material from home for the firm – Giuseppe points to a smokestack towering nearby and an abandoned factory. In the 1920s, when the area was a manufacturing powerhouse and competing companies crafted millions of wide-brimmed hats each year for export, over 300 people worked for Grevi. "Back then our company only made two models and they were for men: a boater known as the Leghorn and a panama-style hat," says Giuseppe.
For over two centuries, raw material for hats depended on local straw from wheat harvested before it matured and plaited by teams of women. The craft flourished as customers from New York to Beirut sought out the elegant headwear but after the Great Depression and the fashion revolution of the 1950s the area's economy was hit hard as hat sales plummeted. Today Grevi leads a consortium of 18 firms that still ply their trade, its members having turned away from the mass market to court high-end boutiques. Of the industry's prospects, Giuseppe says: "We've survived recessions, the great flood of 1966 and a factory fire; I'm not worried about what the future brings." By the 1930s Giuseppe's grandparents had moved to offer models for women, including its chic cloche. While braided straw is still used for summer hats, the family also relies on Manila hemp and felt to offer nearly 200 styles a year to clients. Overseas orders make up the bulk of Grevi's sales with department stores such as Istanbul's Beymen and Tokyo's Isetan eager to purchase pieces with such a pedigree.
Inside its atelier, some of Grevi's history is still in use. In front of dozens of well-worn wooden hat blocks, veteran seamstresses use sewing machines dating from the 1930s, prized for their special zig-zag stitch that can assemble strips of braided straw and hemp. Operating a foot pedal, one woman works from memory to make a fedora, sewing Manila hemp into a rounded shape that quickly grows to form the hat's crown. Next door a trio of women shape silk ribbon into roses to decorate brims. "Everything here relies on a skilled hand," Giuseppe says. "We have people whose relatives once worked for us or others in the trade. It's our most precious resource."
1875 Businessman Felice Marinesi opens a hatmaking factory in Signa. Childless, he leaves it to his employee Attilio Grevi
1929 The Great Depression hits the company's exports of men's straw hats. Owners Ada and Silvano Grevi shift focus with a women's collection
1966 Florence's Arno river floods the region, damaging the factory and its archives
1981 Third-generation owner Alfonso Grevi starts selling the company's hats under the Grevi label
1990 Grevi headwear, along with that of other Signa producers, is worn by Julia Roberts in the film Pretty Woman
2004 The family opens its first boutique in Florence's city centre. A second follows in Paris two years later
2014 Grevi models appear in the Palazzo Pitti exhibition in Florence about major fashion houses and international milliners