Business / Global
Business
Briefing
The two-man team making umbrellas the old-fashioned way, the solar-powered plane that can fly forever and Canada's new anti-spam legislation.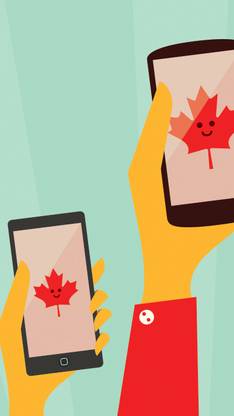 Jolly brollies
London
[RETAIL]
The British are obsessed with the weather but few of the nation's craftsmen still make umbrellas the old-fashioned way. The two-man team at Lockwood Umbrellas, on the other hand, sees a business in turning the humble brolly from a disposable, logo-laden handout into a gentlemen's essential once more.
"You just pick up the product and very quickly realise it's quite a different thing," says Edward Gucewicz (pictured, on left). "It's a piece of solid wood and it makes a different sound," he adds as he opens a chestnut-wood umbrella to reveal Lockwood's characteristic steel ribbing and the carefully cut cotton detailing inside.
Gucewicz cofounded the company with Moses Manley (also pictured) in September having worked together at James Smith & Sons, a venerable 184-year-old umbrella maker in London's West End, for five years.
Currently they offer three styles of umbrella, all on show until mid-June from their pop-up shop in Shoreditch, east London. The bodies come in a choice of six woods ranging from sturdy hickory to lightweight chestnut adorned with a choice of buttons made from mussel shell, horn or stag antler.
---
On the right track
Spain
[TRANSPORT]
For the first time ever, more Spanish people are choosing the high-speed rail network than taking to the skies to get around. This comes on the back of a more flexible pricing regime that has seen the average fare drop by just under a third, while passenger numbers swelled by a fifth to 14.9 million. The growth has boosted revenue by 6.95 per cent to €784m and plans have been mooted to capitalise on the gains.
A raft of new services will be rolled out in the coming months including a new 10-trip travel card, a luggage collection service direct from doorstep to platform and the introduction of quiet carriages.
---
Career in craft
Porto
[ARTISAN]
Austerity hasn't been kind to the Portuguese economy but high unemployment has encouraged people to create their own opportunities. After leaving the furniture factory he had worked in since he was nine, Alípio de Sousa founded his own firm, Emcadeirarte. From his workshop in Porto the carpenter creates furniture, decorative items and jewellery, all made from driftwood found on riverbanks and the Atlantic coast. De Sousa's creations can take up to five months to make. "It's an introspective process," he says. "The use of electrical machines is minimal; everything is done with artisanal tools."
Clients entrust De Sousa with full creative freedom, allowing the dimensions to dictate the price, which can range from €8 to €3,000. "I create, transport and promote my work," says De Sousa, who personally delivers his creations to customers. "It's difficult but hugely fulfilling in the end."
---
No space for spam
Canada
[REGULATION]
Businesses courting Canadian consumers are re-evaluating their online advertising strategies in preparation for Canada's Anti-Spam Legislation (CASL), which kicks in on 1 July. The new law bans all forms of unsolicited commercial electronic communication including emails, text and audio. The law is especially rigorous because businesses have to acquire prior consent from target customers before commercials are sent. In contrast the US version, Can-Spam, permits unsolicited ads so long as receivers can opt out.
Canadians spent more than ca$18.9bn (€12.4bn) shopping online in 2012, averaging 13 orders per shopper. Some 82 per cent of customers bought from domestic companies. There's a financial incentive to cracking down on unwanted intrusions: spam costs the Canadian economy ca$3bn (€2bn) annually. CASL will hit small firms reliant on e-commerce the hardest. "Electronic marketing is efficient and cost effective," says Scott Smith, director of intellectual property and innovation policy at the Canadian Chamber of Comm-erce. "The challenge is that casl limits options to get the message out in the first place."
Most small businesses don't have in-house counsel and will find it tricky to navigate the legal waters. "Small companies acknowledge the need to address spam," says Corinne Pohlmann, senior vice-president of the Canadian Federation of Independent Businesses, which represents 109,000 local firms. "But legalese is not simple if you're not a lawyer."
Individual violators of CASL can be fined up to ca$1m (€657,300) while the maximum penalty for corporations is ca$10m (€6.57m). The Canadian Radio-Television and Telecommunications Commission will track violations through complaints and casl provides a private right of action for spam victims, who may apply for monetary compensation from the offenders.
---
Flying forever
Switzerland
[AVIATION]
This March, Swiss firm Solar Impulse unveiled plans for a solar-powered plane able to remain airborne indefinitely. The fruit of more than a decade's labour from dozens of specialists at the Swiss Federal Institute of Technology, the new carbon-fibre clad Solar Impulse 2 has a 72-metre wingspan (greater than a Boeing 747 jumbo jet) but only weighs as much as a large car.
In 2015, company founders Bertrand Piccard and André Borschberg will take turns piloting the plane around the world in non-stop shifts and at low speeds, with ocean crossings requiring them to fly for up to five days at a time. "We'll have a sustainable airplane – now the challenge is to have a sustainable pilot," says Piccard, whose aim with the project is to roll out the renewable technology to the housing, construction and heating industries as well as transportation.