JCDecaux / Plaisir
Now you see it
From a simple concept – the roll-out and upkeep of municipal street furniture in exchange for control of the advertising – JCDecaux elevates the unnoticed essentials of urban life. Monocle discovers how it helps cities run in style.
In the vast grounds of JCDecaux's headquarters in Plaisir, close to Versailles, sits an august building. Made of huge slabs of marble-like concrete, its handsome façade is marked with two plaques scored with a comprehensive list of cities, ranging from Aachen to Yokohama. The edifice is broad and grand; it could be a town hall or the head office of an elite financial institution. Open its glass doors though and it's not the vast, sculpture-choked lobby of a conglomerate that appears. Instead, it's women in overalls running off posters and blue-collared men tinkering away at vast printing machines. It's a factory (the corporate office is in the glass-fronted section on the other side). "This is where the money is made," says Emmanuel Zeferino, r&d director. "That's why it looks like a bank."
Making the mundane appear good-looking is something that advertising giant JCDecaux has excelled at in its 50-year history. The family-run company operates in more than 60 countries, providing the essentials of urban life: bus shelters, automatic public toilets, lamp posts, bins and self-service bicycle schemes. It controls advertising in more than 145 airports, is the world's number one company of its kind – with 1,082,400 advertising panels – and employs 12,000 people. With such colossal global reach, few other companies have as much influence on the look and feel of our cities.
The company was started in 1964 by Jean-Claude Decaux with his first contract in Lyon. The young entrepreneur's idea was simple: to provide municipalities with much-needed bus shelters. He would clean and maintain them at no expense to the taxpayer or the city authorities and in return make money off the advertising placed on them. Throughout the week he'd zip around the city on his scooter, changing the posters himself. He soon transported the idea from Lyon to Paris, where he used a farmhouse at Plaisir to prepare the advertising posters. His concept was win-win for all.
"No mayor wants to put billboards in their city, ideally speaking," says his youngest son, Jean-Sébastien, who first joined the company in 1998 and now acts as ceo for Africa, Israel, southern Europe, Belgium and Luxembourg. "My father, who was 18 years old, thought, 'How can I do advertising in cities and be welcomed by citizens and public leaders?' That's how he came up with the idea of the bus shelter with the small advertising panels. All of a sudden people were saying, 'OK, that's good. We like this advertising.'"
One glance at the site at Plaisir, about 45 minutes from Paris, reveals the visionary aesthete in Jean-Claude. The manicured lawn abuts an artificial lake that was dug when the backfill was used to hide a main road at the end of the site. There are beehives and sculptures. The senior management and HR departments work in a low-slung International Style masterpiece that Mies van der Rohe could quite passably have designed (it was actually designed by Jean-Pierre Vidal). It's little wonder some of the world's best architects and designers have been attracted to work with JCDecaux, such is the company's commitment to the way things look.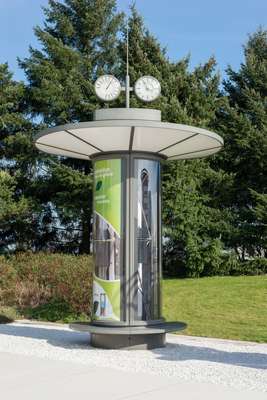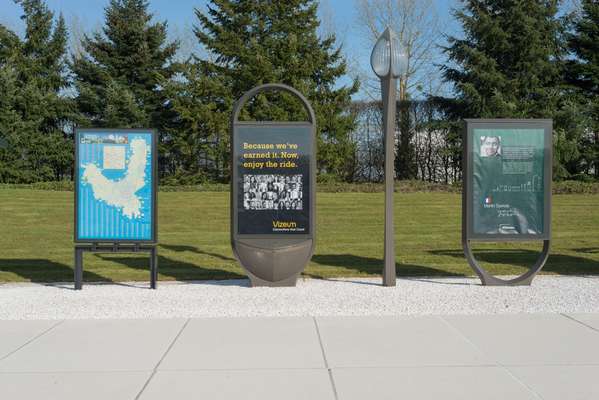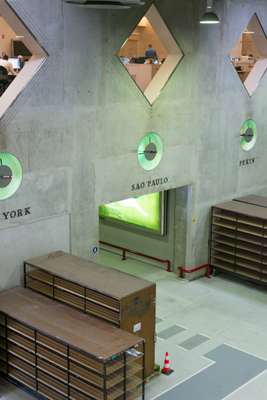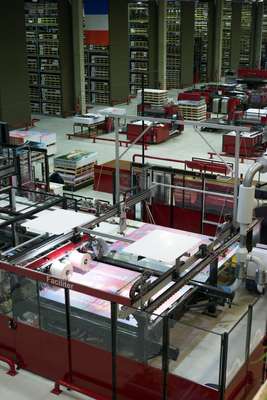 Close to the Plaisir site's entrance lies a cul-de-sac lined with an impressive portfolio of street furniture. This outdoor showroom is where mayors and teams from municipal authorities pick the pieces they would like to line their streets. "It gives the idea to people of our reality; of what we can do," says Zeferino.
There is a model to suit every global taste: Hausmann-esque bottle-green bus shelters implemented in the city of Versailles; tall and transparent shelters popular in Japan; strong and sturdy ones that do well in German cities. Like the rest of the grounds, this model area is meticulous and reads like a greatest hits of living architects: bus shelters by Norman Foster; lamp posts by Philippe Starck; kiosks by Mario Bellini and Philip Cox. In the 1990s, when JCDecaux first worked with Foster, the company's global reach was already gargantuan. It was undoubtedly this unique opportunity to help shape the way our cities look – albeit slightly obliquely – that attracted such a stellar roster of names.
"When you go back 20 years and think about how street furniture was conceived, it was all about functionality. We managed to make this important jump by getting big names interested in street furniture that could change [the way a city looks], like a great building or a great museum," says Jean-Sébastien. "It was a very simple way of bringing their signature and talent into the city landscape."
JCDecaux has an in-house design team that works alongside each architect to bring their vision to life. The architect brings the idea and JCDecaux brings the expertise to make it city-friendly. It's a happy partnership that has helped change the identities of cities everywhere from São Paulo to Hong Kong. Sylvain Larray, director of graphic arts, has worked on many of these projects since joining the company 25 years ago. "Each designer feels the challenge to do something new," he says. "It's like a game between them to do something different."
From the industrial simplicity of Norman Foster's bus shelter to the jolly flourish of Philippe Starck's "Sunflower" street lamp, it's clear the designer's signature is essential to the success of JCDecaux's portfolio. But it's a fine balance: "When the design is very strong it's great as a one-off, like a statue or monument," Larray says. "But something simple is always better, like Foster's bus shelter. It shouldn't become 'Foster City' when there are thousands of them. The city can become marked because of the number that we install."
One of the team's most important roles is to make sure each piece of street furniture is easy to maintain. "We always use the best-quality materials," says Zeferino, who works alongside Larray to make sure there is a balance between the economic and the creative. "They are our property. We have to make sure it won't cost us too much to maintain."
Zeferino points to narrow panes of glass that can be easily replaced should they smash – instead of the whole thing – and studs on Mario Bellini's designs for Rome that means stickers can be removed more easily. All elements are cleverly thought out so they are easy to replace but difficult to steal: bolts need specific tools to turn, for example.
Maintenance is a costly business, meaning that JCDecaux's operations in a city only become lucrative over the long haul. If ever. "The maintenance agents for JCDecaux in Japan are the only ones in the world to clean the shelters wearing white gloves," says Jean-Sébastien. "They clean the whole area. They put up the yellow cones so as not to disturb anybody. Then they start cleaning the bus shelter like it was a Ferrari."
It is this matter of maintenance, of regular cleaning and of taking a long-term vision for their operations, that has been the secret to JCDecaux's success. In 2007, it introduced the Vélib' bicycle scheme to Paris (having executed similar projects in the likes of Lyon, Nantes and Rouen). With its station designed by French designer Patrick Jouin, Vélib' remains one of the most successful flagship schemes in the world. JCDecaux invested many millions into the project and to this day operates the entire system (it does the same with public lavatories, a sector in which it is the leader). If any are vandalised, it is JCDecaux that is responsible.
By return, the company makes money from hundreds of advertising panels the city lets it erect. It's a shrewdly lucrative, far-sighted exchange. Compare this system to London's bike scheme, which is entirely dependent on sponsorship: who will foot the bill for upkeep when Barclay's withdraws its involvement in 2015? "When you speak about a service, you have to think about how you will sustain it financially," says Jean-Sébastien on London's scheme. "The bikes are fine, the service is well done but it's not backed by a strong business model. It's too short term."
The company's ongoing commitment to Paris in particular will reach another milestone over the coming years when 2,000 new bus shelters will be implemented. JCDecaux won the 15-year contract late last year. The models have been designed by Marc Aurel. They feature a streamlined silhouette and opaque roof, fitting the current trend in Europe for minimalist, useful and simple street furniture. The shelters will come with universal usb ports, real-time information panels on the outside and 100 of them will be fitted with solar panels.
Although tastes and technology may have changed, it's striking how little JCDecaux's core model has altered in the years since Jean-Claude would scooter around with posters: provide the hardware free of charge, make it good looking and reap the benefits from the software. It's a model set to last with the three sons now running it. "For a company like us it's important to remember the fundamental needs cities have and will still have in 30 years' time: the loo, the bins, the benches, the bus shelters, the bicycles," says Jean-Sébastien. "They are fundamental, material needs and we are not to forget them."
Founder Jean-Claude Decaux officially stepped down from his CEO posi-tion in 2000. He remains as honorary chairman and the company's operations are overseen by his sons Jean-François, Jean-Charles (who are co-CEOs) and Jean-Sébastien (CEO for Africa, Israel, southern Europe, Belgium and Luxembourg).