Santa Catalina / Palma
Santa Catalina
Santa Catalina balances Mediterranean charm with fresh ideas from its Nordic diaspora.
After years of neglect, Santa Catalina's façades have begun to get their colour back as an increasing number of seasonal visitors decide to drop anchor in Palma for the better part of the year. The local experience of invading hordes may stretch back millennia but there is now a renewed effort to encourage visitors to not just stay longer but to set up shop and make the sunny capital their home. It's part of the city council's Palma de Mallorca 365 strategic vision – establishing the port as an attraction all year round – and in the Santa Catalina district, this vision is already springing to life.
The streets are now lined with busy cafés, restaurants, and new retailers (monocle had a summer store here a few years ago). Out on the pavement, locals wave to their neighbours and stop for a curbside chat. But this neighbourly charm comes at a price. Christine Leja, founding director of the district's go-to property agency Bconnected has witnessed the area's evolution firsthand. She sold her first property to a German buyer 16 years ago for just €60,000 when this was still one of the city's dilapidated quarters. Today, that property is worth over €1m and the original owner still lives there – most probably happier than ever.
Heritage-based height restrictions protect the area from opportunistic developers and this has only served to add to the appeal, prompting new residents to refurbish their residences from the inside instead. Many are also converting those other once-neglected spaces, rooftops, into luxurious sun-drenched terraces.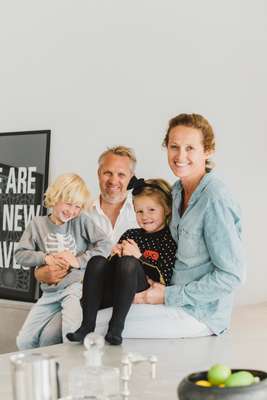 Siggy Mansaker, a Norwegian sea captain, moved here with his wife Ida and their two children in 2006. "The plan was to live six months in the Caribbean and six months here," says Ida. "But we liked the neighbourhood so much that we decided to stay." They converted 10 rooms into an open-plan apartment that connects to a ground-level courtyard they use for entertaining and they recently purchased the floor below to provide more space for their growing children.
"Santa Catalina has changed a lot, particularly since the Nordic residents started moving in," says young lawyer, DJ and local resident Pablo Vazquez. He moved here from Madrid three years ago to live with his girlfriend Alma who runs her own designer-jewellery business, La Morenita. Now married, the couple enjoy the close proximity to the sea as well as sweeping views of the brown-tiled rooftops of Santa Catalina market below. The market is a popular spot to gather for a weekend aperitivo and people-watch the afternoon away. The onset of gentrification has been more measured here which has kept chain stores and multinationals at bay, preserving cultural heritage.
The recent purchase of the town's ailing tennis club by the Swedish owners of Portixol hotel has caused little consternation among locals. With Norwegian café Fibonacci serving up the district's best coffee and new Danish retailer Frida Watson purveying plenty of Scandinavian wares, the prospect of a Swedish reinterpretation of the beloved tennis club has actually been welcomed.
---
Hotel Hostal Cuba
The district's only hotel recently reopened with 15 refurbished rooms in what was once a hospice for sailors and fishermen.
---
Living
A colourful array of homeware, textiles, ceramics and small furnishings makes this the perfect pit stop before decorating your new home.
Frida Watson This beautiful shop selling vintage and new Scandinavian furniture was opened by Danish émigré Margit Watson along with her daughter Sarah and friend Miquel Socias. They restore the furniture in its upstairs studio.
---
Duke
Greek restaurateur Ronny Portoulidis and ex-surfer Juan José Campos have breathed their life experience into this restaurant, modelled on the easygoing atmosphere of their favourite beach shacks around the world.
Patrón Lunares
The sea is never far away inside this eatery, which opened in 2012 in a former social club for retired fisherman.
"I was drawn by the cosmopolitan atmosphere. When we go to birthday parties for our kids there are around 15 nationalities. Everyone knows everyone and it's extremely social."