Jorge Lanata / Argentina
Smoking gun
Journalist Jorge Lanata is happiest when he's taking on those in power. Whether on his TV and radio shows or in his weekly newspaper column, his passionate views frame the national agenda and have made him a celebrity in his own right.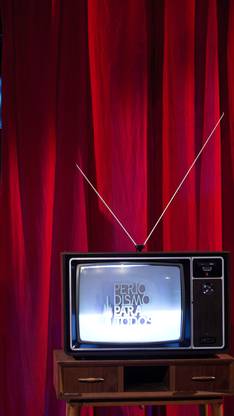 The burly, bearded figure of Jorge Lanata is hunched over a desk in his 19th-floor apartment in Buenos Aires. "I'm giving up," he says with a wave of his hand. "I've only smoked six today."
Normally a 60-a-day man, Argentina's most notorious journalist is dragging on an electronic cigarette, something he jokes is akin to smoking a remote control.
Lanata, 53, is rarely out of newspaper headlines. When not dictating the news agenda with his pen or quick-witted TV and radio voice, he's in it. The South American nation has followed his health with an almost morbid obsession and when he meets monocle it's just a week since he's had five stents inserted into an almost-collapsed aorta.
The latest drama is one of a long line of medical complications, the result of a former hellraising lifestyle that included a decade-long cocaine addiction. Before the end of the year the journalist will need to have a kidney transplant, something that will mean a month off work.
In a country where journalists are part of the farándula – the showbiz world and all its gossip – Jorge Lanata is the most high-profile and outspoken of them all. Despite the health scares, he maintains a relentless schedule working for the country's largest media conglomerate Grupo Clarín. His Radio Mitre show Lanata Sin Filtro (Lanata Unfiltered) goes out for four hours a day during the week; he writes a weekly Saturday column for the group's showpiece newspaper – and the most widely read daily in the country – Clarín; and for much of the year he fronts the two-hour Sunday TV show Periodismo Para Todos (Journalism for Everyone).
In 2008 Clarín fell out with the Kirchners – now-deceased former president Néstor Kirchner and his wife Cristina Fernández de Kirchner, Argentina's current leader – over a rise in agricultural taxes that led to strikes. The relationship has soured further in recent years and as Grupo Clarín's prized asset Lanata is seen as a mouthpiece of anti-Kirchnerist sentiment and the devil incarnate by pro-government legions, something he isn't comfortable with.
"It's not that I'm anti-K [anti-Kirchnerist] but rather anti-corruption," he says. "Just because I attack a government that is supposedly left-wing I'm therefore right-wing, which seems stupid to me."
Lanata, who describes himself as "liberal left-wing", has nevertheless had to defend his credentials. In 1987 he founded the leftist daily Página/12 – nowadays staunchly pro-government – and was an outspoken critic of the power wielded by Clarín. To some his defection to the media group in 2012 was seen as a sell-out at best and at worst a betrayal.
The journalist upholds the decision. "They offered me the biggest channel in Argentina – and with no conditions – so how am I going to say no?" he says. "And they offered me the biggest newspaper in the country and told me I had page two every Saturday and could write whatever I wanted. Obviously I'm going to say yes."
There's little doubt that the journalist is popular. His Radio Mitre show has commanded up to half of Argentina's audience share, while Periodismo Para Todos is regularly among the most-watched programmes in the weekly ratings.
Lanata may deny that he is populist but his TV show caters to viewers across the board, somehow managing to be both highbrow and mass-market. The programme's logo features a raised middle finger, while there's a pop-culture edge to the opening credits with Lily Allen's "Fuck You" as the theme song.
Sunday's TV show isn't concerned with toeing the line, content to poke fun at politicians through a series of impersonators, with the president, cabinet chief Jorge Capitanich and Buenos Aires's mayor Mauricio Macri the butt of most jokes. But there's also a serious side to the programme and its investigative elements have increasingly set the tone for the following week's news agenda and had the national government hopping around trying to second-guess the content.
A change of schedule to Sunday's free-to-air football matches – financed by the government – was reportedly a bid to nullify the TV host by going head-to-head.Periodismo Para Todos investigations have exposed everything from contraband along the porous border with Bolivia to drugs problems in the city of Rosario. Most recently, Lanata's stinging probe into money laundering and shady business deals surrounding the Kirchners' inner circle was garlanded by New York Festivals' TV awards.
Lanata, who has been married three times, started working in radio when he was 14. During his career he has founded two newspapers, one magazine and written 12 books. The journalist has had several well-documented struggles with depression in the past – and at least one suicide attempt – while his numerous contradictions have endeared him to the Argentinean populace: a man who has often supported the little people while battling compulsive spending; a man who was born to appear on live television but admits to being profoundly shy; a man who speaks in the language of the street, peppered with colloquialisms, yet has a fierce intellect.
With plans to film a drug legalisation documentary and even a tentative idea to produce a musical he has written, Lanata is busier than ever, a self-declared defender of independent journalism in the face of a government that has chosen to "make an enemy" of the press. "It's not just Néstor and Cristina," Lanata says with a smirk. "I've fought with every Argentinean president since the return of democracy." One gets the feeling that he's not about to stop any time soon.
1960 Born in the seaside town of Mar del Plata
1974 Has first journalism job at the age of 14, working for Radio Nacional
1987 Co-founder of left-leaning daily Página/12
1996 Presents Día D for Canal América, one of his most popular shows, which runs on-and-off until 2003. Wins first Martín Fierro prize, Argentina's national radio and television awards
2004 Directs first film, a documentary entitled Deuda (Debt)
2008 Founds newspaper Crítica de la Argentina; it shuts two years later
2012 Joins Grupo Clarín and launches the first Periodismo Para Todos series. Lanata's biography is published by Luis Majul the same year
2013 Has five stents fitted, the result of his heavy smoking