Goma / Brisbane
Art smarts
Find some locals to design a modern art gallery, find lots more locals to frequent it and suddenly find yourself with an international success: welcome to Goma.
On the banks of the Brisbane River stands the city's first truly international attraction: the Gallery of Modern Art (Goma). This dashing building reflects a vibrant town coming into its own culturally and the ambitions of a forward-thinking city with a global mindset (and goes some way to explaining Brisbane's first appearance on our Quality of Life list). While southern neighbours Melbourne and Sydney spent the past decades sparring it out for the title of Australia's arts capital, Brisbane quietly played the long game.
In 1993, the Queensland Art Gallery (qag) launched the Asia Pacific Triennial of Contemporary Art (apt). It was a bold move, embracing modern Asian art with an ambition unseen in the western world. The series debut was a smash and it was decided that an art mecca to match apt's lofty ambitions should be constructed. In 2006, for the apt5, Goma swung open its doors and lifted the series over the 750,000-visitor mark. Seemingly out of nowhere Brisbane had stepped into the international arts arena – and thanks to Goma it was packing a mighty punch.
A key reason that Queensland's state government established Goma was to create a larger home to accommodate and expand the apt, the world's only major contemporary Asia-Pacific region art series. The building's purpose, however, has extended well beyond this brief; the space has redefined Brisbane as a cultural destination.
In recent years, Goma and qag, which are conservatively set back from the city's bustling cultural precinct in South Bank, have topped Australia's most-visited-gallery lists. This is largely thanks to Goma's world-class exhibitions, with venue-fillers including Warhol, Matisse and Picasso programmed alongside challenging, immersive works such as the hyper-realist sculptures of Ron Mueck.
In 2012, Goma's much-lauded inaugural director Tony Ellwood stepped down but the institution's popularity continued to climb. For the recent Cai Guo-Qiang exhibition Falling Back to Earth, 230,000 visitors poured through the gallery. Many were visibly moved by the Chinese art superstar's "Heritage" installation: a site-specific staging of 99 life-like animals (a mixture of predators and prey) all sharing a crystal-clear watering hole.
Ellwood left behind an impressive legacy but Goma's new director Chris Saines lacks none of his predecessor's aspiration. "Goma has set itself a bold ambition: to become the leading museum for the contemporary art of Australia, Asia and the Pacific," says Saines, who previously spent 17 years leading the Auckland Art Gallery.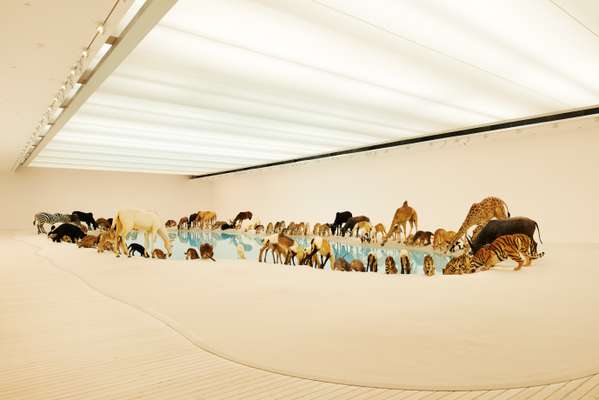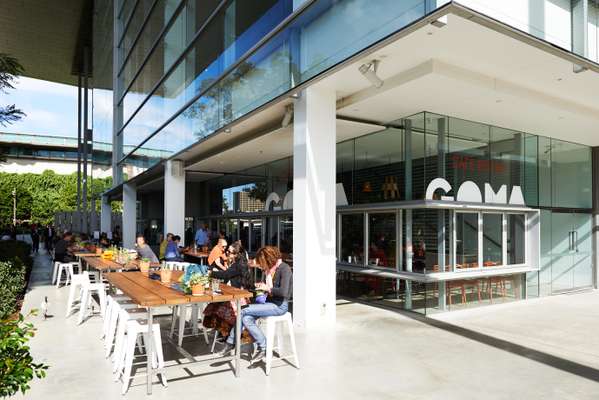 "There is a big stretch in that goal but increasingly the gallery has been perceived as a leader," adds Saines. "I'm not just talking about in this part of the world but in the world more broadly. This is due to its engagement with Asia through the apt. It really has become a major event to which curators, directors and collectors travel from right around the world."
Saines states that the apt has not only given Brisbane's citizens a heightened understanding of the region's art and boosted Goma's own catalogue but also increased the city's bottom line in a way that only a globally important arts event can. The apt7, between 2012 and 2013, fed au$26.8m (€18.3m) back into the region, with a third of its visitors being fly-ins.
"A single-artist blockbuster from a significant museum from around the world might typically contribute between about au$2m [€1.4m] to au$6m [€4.1m]," he says. "The apt really kicks that out of the park."
Despite the enormity in ambition and size (26,000 sq m total floor space, with 8,500 sq m of gallery space over four storeys) the intention was never that the Goma building itself would become iconic. "Landmark building" was the terminology written in the brief for an anonymous-entry international design competition, which attracted 174 of the world's best architecture firms. When the planning committee whittled contestants down to five and names were revealed, there was an unexpected frontrunner among them.
Despite the international breadth of entrants, the strong favourite (and eventual winner) was a local husband-and-wife team, Lindsay and Kerry Clare, from the nearby Sunshine Coast. The couple designed Goma in collaboration with James Jones of Australian firm Architectus.
"We never set out to make an icon as such," says Lindsay, who has worked with Kerry on an impressive portfolio of major public buildings. "I feel that an iconic expression of place was probably something that came from our working in southeast Queensland for 20 years," adds Kerry. "Every piece of work that we did was a response to the place, to the culture, to the climate, to the way people live there. So it was just natural for us that we would encapsulate that sort of idea into larger public buildings as well."
The welcoming nature of Goma's exterior typifies the relaxed way of life in Brisbane, Queensland's state capital. In fact, the "Queenslander" residential style, which boasts large, shaded outdoor-living areas under extended roofs, was the inspiration behind Goma's enormous aerofoil-blade cantilever roof, which shades the "outdoor room" café that spills out onto riverfront gardens.
"You have cafés and shops and spaces that invite people over in the heat or in the rain," says Lindsay. "In a way, people might start falling into the gallery without having planned on doing so. Even the entry ramp softly goes from inside to outside in an unimposing way, making it quite easy for people to just wander in. I think that is a very important quality that puts the gallery at a level of being truly public and available for everybody to approach it, and not feel that they are entering something too important – even though they are."
This informal vibe takes on a particular resonance in subtropical Brisbane, where summer dress is a simple affair. At Goma, you'll probably find your local art student and international art buyer viewing shows in shorts and sandals.
In terms of materials, the gallery combines concrete, aluminium, timber and translucent glass to enliven Goma's cavernous innards. The Clares both agree that the building's subtle triumph is its mastery of natural Queensland light, which is diffused through the giant glass-panelled elements. "People might not be conscious of it but I think that is what really works for everybody at Goma," says Kerry. Inside Goma's well-lit interior lies a comprehensive cross-section of cultural venues. This includes a fine-dining restaurant, an arts-dedicated cinema (the first of its kind in the country, says Goma), an award-winning children's art centre, a carefully stocked bookstore and highly adaptable gallery spaces.
This all makes for some of the world's best hanging space says assistant director of learning and public engagement Simon Wright; his introduction to the building came in the form of a 48-day stint "living" on-site in preparation for apt7. "Goma has a magnificent exterior but the interior is its real magic because the space and volume that we get to play with here is unparalleled in the southern hemisphere," he says. "No other major museum could have done the three major installations of the Cai Guo-Qiang project the way that we did.
"Having said that, the gallery is challenged at every turn by major projects by international and Australian artists, particularly when they are installation-based. I think if you want to play in that pool you have to have a flexible space so I am very grateful to work with what we can essentially erase back to a blank canvas."
Playing in this international art pool – and even literally creating pools for international artists, for that matter – is all in a day's work at Goma. As Wright is keen to point out, this institution that has been built on carefully executed success is quietly confident about its future.
"What Goma did was create a space that galvanised community pride around a building," says Wright. "For the people of Brisbane it is almost a blasé comfort: the fact that what we do is international, significant, high quality and on time every time. The ease with which our public deals with that, and comes in on a regular basis to soak it up, is the reason we turn up to work every day."
Goma assistant director Simon Wright fondly refers to the locals building community pride around Goma – and returning week in, week out – as "repeat offenders". The value of this patronage is integral to the institution's longevity; Wright highlights some of Goma's best local-engagement strategies.
Up Late: Goma's Up Late series invites locals in after hours for live concerts from some of Australia's best musicians, as well as a chance to view the art on display. Wright says half the attendees come for the art and half for the music – the result is an extra 100,000 visitors.
Children's art centre: It was Picasso who said every child is an artist and Goma holds its youngest patrons in the highest regard, investing significantly in its children's art centre. Wright also believes children are the most honest sounding boards for new ideas; the gallery regularly travels to local schools to discuss its plans.
Q Goma: Goma has an enduring commitment to local artists; its Q Goma series allows its staff to get into the studios of some of the state's promising talent. Starting in 2015, Q Goma will feature exhibitions, films and talks, introducing the art world to the best of Queensland.