July/ August 2014 / Hong Kong
Expo 75: Sai Kung
Cascais, Hayama, Aegina, Sai Kung and Outer Sunset: five commuter towns with distinct personalities.
Drive for 20 minutes away from Hong Kong Island toward Sai Kung, past the bustling streets of Kowloon and the city's soaring skyscrapers, and the pace of life immediately begins to slow.
The dramatic jungle hills and picturesque bays native to Hong Kong, often obscured in many places by land reclamation and urban development, start to dominate the view. Pulling into the old fishing village of Sai Kung it's easy to understand why the area is popular with Hong Kongers tired of the city's frenetic pace.
During weekdays the town is quiet. Locals dine at one of the traditional Cantonese seafood restaurants that line the picturesque harbour, taking their pick from the tanks of fresh fish and shellfish outside. Women offer trips via their wooden boats – called sampans – to one of the many remote surrounding beaches. Residents from the nearby villages travel on one of Hong Kong's public minibuses to do their weekly shopping.
Until the 1970s this was a quiet fishing village that took advantage of the sheltered harbour it faces. Today the fishermen still sell their catches direct from their boats, hoisting goods up to shoppers on the harbour front in baskets to avoid the charges of setting up a shop or stall on land. But when China cut off Hong Kong's water supply at times in 1967 and the city decided to build a reservoir in nearby Tuk Ngu Shan, Sai Kung became the unexpected beneficiary of new residents and town planning.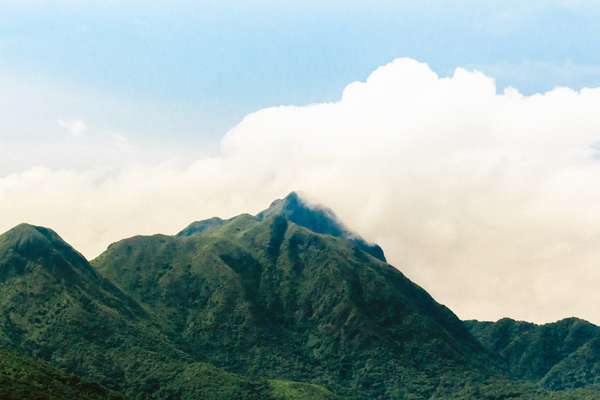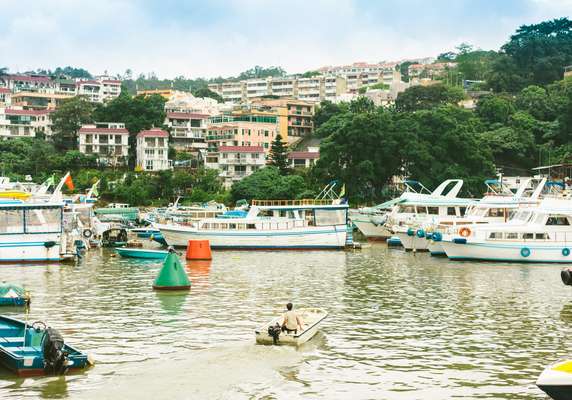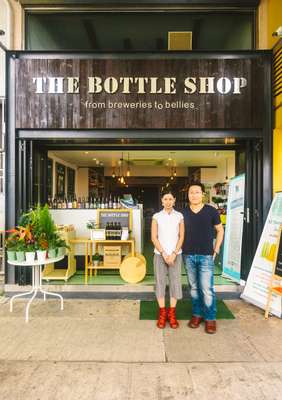 To provide housing and a living for those displaced by the reservoir, the government built the four-storey shop-houses that continue to thrive today. While the old town's small winding streets house charming cafés and shops, the new buildings brought with them public squares, parks and sports grounds that still form the backbone of daily life in Sai Kung. At the end of the school day children of all ages can be found playing in one of the open spaces or playgrounds that are scattered around the town and are hard to come by in the heart of the city just 30 minutes away.
The town is the commercial and social hub for the entire Sai Kung district. At more than 80 sq km, it is Hong Kong's second largest. Home to miles of remote beaches and hiking trails as well as nature parks and small peaceful villages, it's a place that both city commuters and local entrepreneurs choose to move to.
Having met while working as architects in Brisbane, Tracy Gan and Danny Wong opened their speciality beer store, The Bottle Shop, on Man Nin street in 2013. Facing the harbour, the airy shop is just a stone's throw from the waterfront promenade. Selling not only craft beers from around the world but also ice lollies and snacks, The Bottle Shop is packed on weekends when Hong Kongers from all around the city head to Sai Kung for day trips out on junk boats: scruffy pleasure boats that sail around the islands and drop anchor in one of Hong Kong's many bays. "We came out here almost subconsciously just to avoid the busy environment in Central," says Wong, whose parents run Sai Kung's hardware shop and grew up in the town. "It's hard to find bits of luxury in terms of quality of life in this city. Shops like this exist to offer people something to retreat to. It's a community that's very open to small business. High-quality niche shops do well here."
Alongside these speciality shops – including a business that sells only Dutch products, a furniture store focusing on sustainable design and bars serving organic wines and healthy tapas – Sai Kung is also home to the latest outpost of The Hive. It's a charming and well-designed co-working space that has already seen success with two branches on Hong Kong Island and is set to capitalise on the creative entrepreneurs that live in Sai Kung.
"Living in Sai Kung for some time, I realised that there were many people like me who work for themselves and who do not necessarily want to go into the island every day," says Constant Tedder, the Hive's founder. "As well as operating the space, we focus on creating events that help contribute to the local community, from talks to open-air cinema nights. There is a great sense of community in Sai Kung and that's one of the reasons I love living here."
Five minutes drive out of Sai Kung town and you'd be forgiven for thinking you had entered a leafy beachside suburb of Sydney. Just tucked off Hiram's Highway – the main road into town – are small communities of houses clustered around small harbours filled with sailing boats and kayaks. Popular with expatriates accustomed to the larger spaces they had left behind, these four and five-storey homes are a far cry from the cramped apartments on Hong Kong Island.
"The view here is so lovely, it's easy to get spoiled," says Ross Urwin, who is originally from the UK and lives with his Australian partner Darrel Best in a house that opens right onto the waterfront. The duo also run a design consultancy together, basing themselves in Sai Kung. "The air is better, the space is bigger and it's still easy to get into the city and do stuff. We can go kayaking or hiking every weekend, there's a great beach just a few minutes' walk away and there's even a good supermarket just a few minutes by car."
But with all these developments, Sai Kung could become a victim of its own success. New schools have been built and better amenities put in place, attracting both expats and locals to look for homes in the area. A proposal to widen Hiram's Highway to bring in more residents as well as weekend visitors has been met with widespread disapproval from locals and (as in the rest of Hong Kong) house prices are continuing to soar. Yet with the only public transport connections being via bus and with strict building rules in place thanks to the district's various conservation parks, Sai Kung could continue to offer a stark contrast to Hong Kong's busy pace of life.