Hotel Okura / Tokyo
Final check out
News that Tokyo's iconic 1960s Hotel Okura is to be reconstructed has been met with outrage from admirers of its unique design. While Tokyo's changing skyline is what makes it special, demolitions like this threaten its architectural history.
Rumours had been swirling for months and then it came in May, the news all lovers of modern Japanese architecture had feared: the redevelopment of Hotel Okura in Tokyo. The word "iconic" is tediously overused but this hotel, a landmark since 1962, fully deserves the label. In September 2015 the best bit of the most loved hotel in Tokyo will be torn down by its owners to make way for a 38-storey glass tower. It will be a heartbreaking and irreparable loss.
Located in Toranomon on what had been a feudal estate, the Okura is an extraordinary testament to a key moment in Japanese design. It was built two years ahead of the Tokyo Olympics in 1964 – with an annexe added in 1973 – by an exceptionally gifted and diverse group that included the architects Yoshiro Taniguchi and Hideo Kosaka, the folk artist Shiko Munakata and the potter Kenkichi Tomimoto. Together they created a unique modern design that referenced the traditional colours, shapes and crafts of Japan.
Visitors can walk into the main building of the Hotel Okura today and still drink in the atmosphere of 1960s Tokyo. The lobby is much as it was: a perfect combination of wood, paper screens and pendant lights. Tomimoto's vast mural dominates one wall. The signage is simple and concise. The lobby attendants wear their kimonos with unselfconscious ease. Even the displays of seasonal foliage, arranged by an Ikebana school, are agreeably understated.
If you were designing a hotel today you might not think to include a tea ceremony room or a "Go" salon for players of Japan's version of chess but the Okura has both. It also has staff in tuxedos and bow ties, a Japanese garden and a bar where they've been making highballs since they were fashionable the first time around.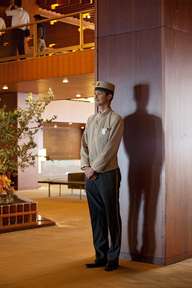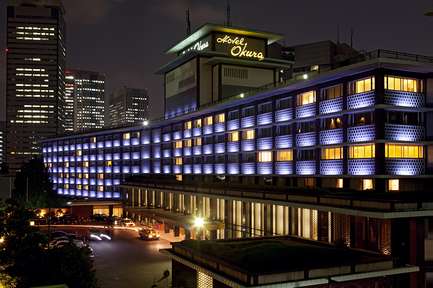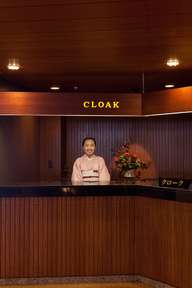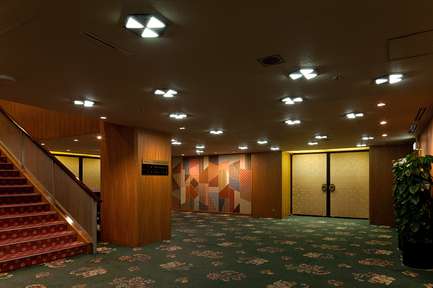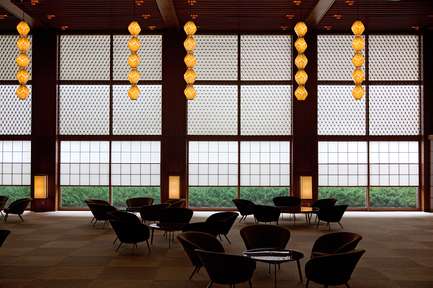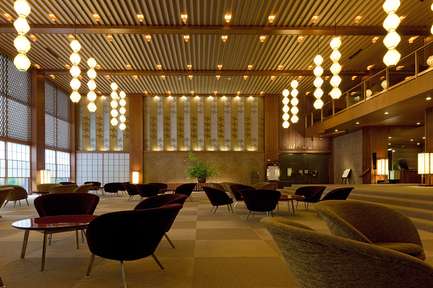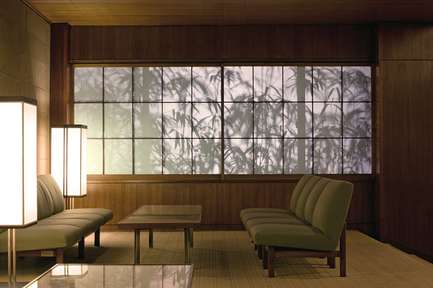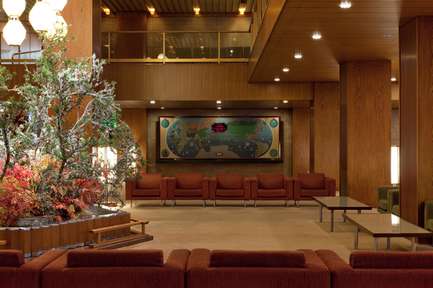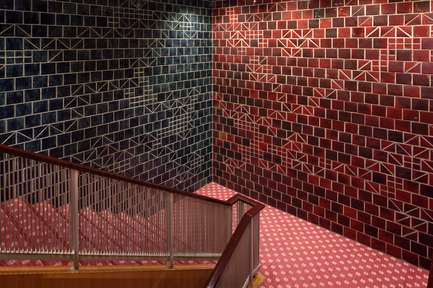 It is hard to imagine a more elegant dining room than the Orchid Room where they cook up sole bonne femme and wiener schnitzel like it was 1964. There, as in the rest of the hotel, staff go about their business with an assured confidence that only comes with years of experience. They are more than capable of dealing with the countless vips who've stayed here. President Obama was resident in April, conveniently close to the US Embassy.
There is no doubt that poorly judged periods of renovation diminished the guest rooms at a time when a slew of international luxury chains has been opening in Tokyo. But just imagine if the owners did rethink the rooms. The Okura's sense of place and quality of service are exactly what the modern traveller is crying out for and no amount of gold points and pillow menus can compensate for its loss.
There is some comfort that the south wing, built in 1973, will remain but there seems to be little hope for the architectural jewel of the main building. Hiroshi Matsukuma, head of Docomomo Japan, whose mission is to look after modernist architecture, says he is "shocked" by the news but is at a loss as to what can be done. "It's a masterpiece," he says. "It has a cultural and historical value that can never be reproduced again."
Tokyo citizens have become inured to the disappearance of familiar buildings. Earthquakes, firebombing and developers have all played their part. In the past decade some of the most painful demolitions have included the pre-war Sanshin Building in Hibiya and the Hanezawa Garden, a sprawling wooden residence and garden in Hiroo that dated back to 1915. Even the family home of the empress couldn't be saved from the bulldozers. The central post office, a piece of startling white modernism from 1931, would have gone too if politician Kunio Hatoyama hadn't taken a stand.
Change and construction are features of life in Tokyo and contribute to the city's thrilling sense of purpose and energy. But should they come at the expense of the capital's history and identity? The greatest world cities – Tokyo among them – are the ones that are rich in texture.
In recent years, two other classic Tokyo hotels from the 1960s – Palace Hotel (1961) and Capitol Tokyu (1963) – have been redeveloped and, without wanting to take anything away from their carefully designed new incarnations, it does seem that a distinctive vintage of Tokyo's design history is in danger of disappearing.
One of the most impressive aspects of Tokyo's winning bid for the 2020 Olympic Games was its pledge to use existing venues, many of which are now classics – such as Mamoru Yamada's Budokan judo arena or Kenzo Tange's stunning Yoyogi National Stadium – that were built for the 1964 Games. The Okura was part of that effort to make Tokyo shine as it emerged from the devastation of the war. How sad to think that it won't be there for the second act. In the future, anyone interested in seeing what the original Okura looked like will have to watch the 1966 Cary Grant film Walk, Don't Run, which is set during the first Tokyo Olympics and opens with a scene at the hotel.
Of course, redeveloping the Okura makes sense in purely economic terms (no surprise that some of the major investors of the group include construction company Taisei and Mitsubishi Estate). And here's the problem: the vested interests of construction and property are too powerful to resist. The new 550-room hotel will reopen in 2019, in time for the Rugby World Cup and the Olympics the following year.
No doubt there will be much talk of "Japanese aesthetics" and omotenashi (Japanese hospitality) surrounding the new building but the existing hotel already has both in spades. The demise of the Okura is akin to the loss of a good friend. Tokyo will not be the same without it.
Monocle comment: let's save the Okura
It is one of Japan's most wonderful and irritating traits: the compulsive need to tear down the old and whack up a structure that's a near-perfect facsimile or something completely different. When it comes to infrastructure, we're all for sparkly and brand-spanking new. However, when it comes to historical sites and architectural one-offs, preservation rather than a neatly dressed demolition team needs to win out over redevelopment.
The Okura Group's plan to demolish their landmark namesake property is not only wrong from a brand perspective, it's damaging to Japan's image as a nation committed to good design and innovation – not to mention fine inn keeping. Rather than ripping down one of the most loved hotels in Asia, the investors should work with the best engineers to think of a way of maintaining the existing building while still erecting a tower to accommodate more guests.
If any country can think of designing a smart solution for others to follow, it's Japan – and its all-powerful construction conglomerates. The last thing Tokyo needs is another sanitised five-star property. What it must protect is the well maintained and theatrically modernist centrepiece played so beautifully by Hotel Okura.
To register your support for preservation of this architectural gem, please visit savetheokura.com. This is a special site hosted by Monocle and our passionate band of editors – often found installed at the hotel's Orchid Bar.