Central Embassy / Bangkok
Mall content
Bangkok has been rife with demonstrations and rebellion for months. But even after a coup the city's businesses push on. Monocle reports from the concourse of the region's most daring retail venture to date.
It is somehow fitting that one of Thailand's most dramatic new buildings came to life amid the country's recent tumult, as escalating tensions in Bangkok culminated in a military coup in May. Towering above the din both metaphorically and physically, Central Embassy – named after the British embassy gardens it now occupies – stands as a symbol of the nation's growing obsession with style and consumerism.
The gleaming, organically shaped complex – drawing together high-end and innovative retail, a luxurious cinema, gourmet dining and a lavish "six-star" hotel – also embodies the evolution of one of Thailand's most enigmatic and influential business dynasties: the Chirathivat family, which founded Central Group in 1927 and expanded it as a general merchandise store in the late 1940s. Today the $7bn (€5bn) Central empire employs more than 66,000 people across a range of retail, property and hotel businesses. In recent years it has expanded overseas with acquisitions including Italian department-store chain La Rinascente and Danish retailer Illum. Those deals have fed into the group's priority project over the past few years: the Central Embassy.
In a city fond of shiny new things, the building – designed by British architect Amanda Levete with local firm Pi Design – has been widely hailed by design critics as well as Bangkok's shoppers, gourmets and culture hounds. Clad with myriad aluminium alloy tiles – like overlapping dragon scales – the silver façade of the structure snakes 400 metres along the main Ploenchit Road when combined with its neighbouring sister complex, Central Chidlom.
The strikingly futuristic style of the building and its coterie of luxury brands seem to proclaim Thailand's arrival. "You just don't feel like you're in central Bangkok," says one shopper during an expedition. Indeed, with its sweeping curves and open green terraces, the building sets new design standards for shopping malls – not just in Thailand. Yet key design features are rooted in the form and patterns of traditional Thai architecture, reflecting Levete's aim to merge traditional craftsmanship with contemporary digital design.
"We had a unique design language in which the key concept was seamlessness and organic curves," says Chart Chirathivat, managing director of Central Embassy. To fit the concept, Gucci, for example, created a twisting spiral brass staircase inside its two-level store, while Hermès designed a wooden curved shopfront for its boutique.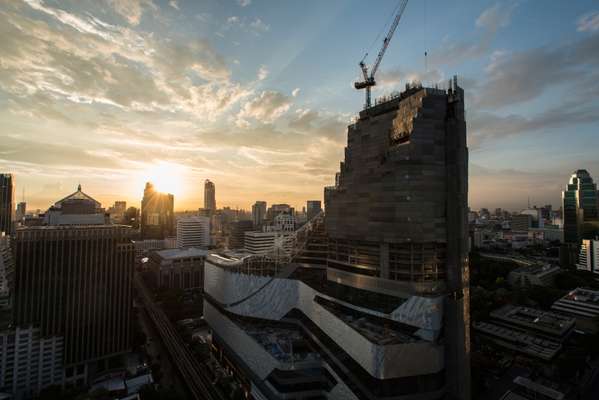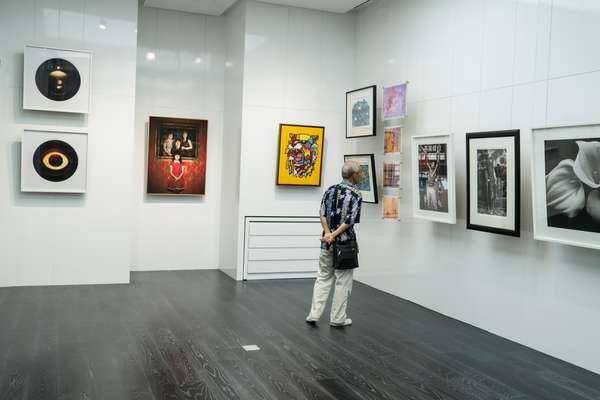 Beyond architecture, arts and design are vital elements of Central Embassy, adds Chirathivat, citing the sculptures, hangings and installations in the spacious interior. "We have one of Botero's horse sculptures standing proudly at our entrance. Even Starbucks joined in with a wonderful 20-metre handmade quilt depicting the story of coffee from beans to cup."
Unlike its more mainstream relatives Central Chidlom and nearby Central World, the 37-storey Central Embassy pushes the boundaries of conventional Thai retailing, offering more than 200 high-end brand stores juxtaposed with smaller, innovative businesses. These range from traditional English barber shop Truefitt & Hill to the cutting edge art bookstore-cum-gallery Hardcover, and Issaya Cooking Studio, a culinary school launched by celebrity chef Ian Kittichai (see box, opposite page). Further enhancing its upscale image, an "ultra-premium" cinema charging $50 (€37) per seat will open shortly.
The backbone of this mix, however, is a remarkable range of high-end and exclusive brands, some entering Thailand – or, in the case of local designs, hitting the market – for the first time. "When we were planning the merchandising mix for Central Embassy, we decided at least 30 per cent of the brands had to be new-to-market or new concepts," Chirathivat says. "By opening day we had achieved 35 per cent. Many exciting brands chose Central Embassy for their Thai debut, including Christian Louboutin, Tom Ford, Ralph Lauren, Maison Martin Margiela and Michael Kors."
Another defining feature of Central Embassy is the slick, 37-storey structure that soars above the shopping and entertainment section. This is the luxury, 222-room Park Hyatt hotel, owned by Central Group and to be operated by Hyatt hotels when it opens later next year.
"Does Bangkok need another luxury hotel, let alone its umpteenth shopping mall?" asked one cynical radio commentator during Central Embassy's ebullient opening in May. Sceptics may indeed wonder – especially in these politically tense times for Thailand when luxury properties are running at low occupancy. The complex is pitched as much at foreign clientele as local Thais. "We're expecting a 50-50 mix between foreign and Thai customers," says Chirathivat.
An improbable goal in the current unstable climate, perhaps. Yet the group remains confident that the latest turmoil will not deter the success of the project. "This is not our first crisis and the Central Group has been around for almost 70 years," Chirathivat says. "We always believe in Thailand and in its long-term development and growth." A Central Embassy spokesperson said it is too early to report sales figures but it is clear the Thai economy – and consumer confidence – has taken a hit from the conflict in May, with retail sales recently sinking more than 10 per cent each month.
Despite all this, retailers say the complex is attracting curious and acquisitive shoppers. "It has the right kind of clients," says Shane Suvikapakornkul, who runs the art gallery-cum bookshop Hardcover (see box). "Sophisticated people interested in art and culture. Book people. Since opening in May, I have had more people interested in buying art than ever."
This diverse footfall is largely because Central Embassy's offering is more nuanced than that of many of its neighbours. The undisputed leader in this respect is Siwilai, a homegrown "lifestyle emporium" selling everything from vinyl records to clothing by local and international designers.
Tucked away on the fifth floor, Siwilai has a mix of brands and products two thirds of which are imported and one third are from local designers and craftsmen. But ultimately, says its creator Barom Bhicharnchitr, a scion of the Chirathivat family, "this is a Thai concept store. That's from ready-to-wear to shoes, bags, accessories, menswear and even vintage items."
Food is also a big part of Central Embassy's appeal, underpinning its mantra: "Eat, shop, live". Beyond what must rank as Thailand's most inventive foodhall in the basement, there is a fifth-level array of scenic, high-end restaurants with terraces and sweeping views. Offerings here span leading local gourmet restaurants such as the Water Library, and international establishments including a café by Joel Robuchon and ever-popular dim sum emporium Din Tai Fung, which are both opening shortly. Reflecting Thailand's love of all things Japanese, there are restaurants from Kyo Roll En to Hinata. To top it off is hit eatery Chikalicious, a counter-style dessert emporium.
Overall, Chirathivat says, Central Embassy has raised the bar for sophistication and luxury in a shopping mall. "This will be the benchmark for other projects," he says. Indeed, the group is already moving to replicate the Central Embassy model in other Thai provinces, where city centres are growing fast thanks to a rising middle class. "We know we have the potential to fulfil all the needs of luxury shopping," says Chirathivat with characteristic confidence. "Both for Thai and foreign customers."