Emergency services / Global
Team work
Fire, police and ambulance services are essential components of any well-run city. Monocle joins teams in Helsinki, Hong Kong and Ballarat in Australia to see how three of the best emergency services are keeping their cities safe.
01
All aboard
Water police, Finland
"Have you ever been on a boat powered with a water-jet system?" shouts sergeant Jarmo Niininen above the noise of the engine roaring through the bay as it powers along the shore of Helsinki. "We'll show you what it is capable of." Ten metres from land, just as it looks as if we're heading into the rocks, the boat turns sharply and comes to a sudden stop right beside the shore.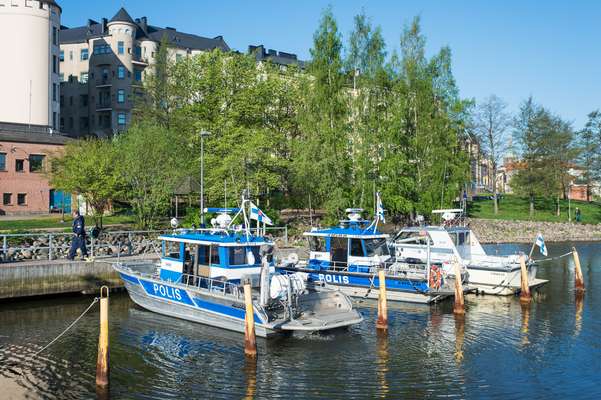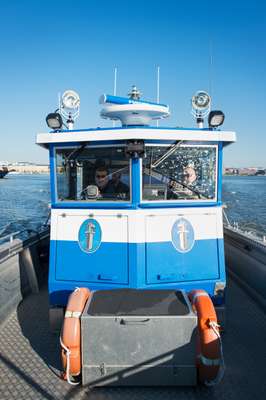 "If people are fighting then you have to get there very quickly to stop it," says John Ahlgren, a senior detective constable with Helsinki's homicide unit who is spending the summer less stressfully, working for the city's water police.
The Helsinki water police patrol the coastal waters around the Finnish capital covering 70 nautical miles east to west, and 20 nautical miles out into the open sea of the Gulf of Finland. They are responsible for ensuring the safety of people on the water and enforcing laws. Maybe it's the beauty of the bay, perhaps it's the more relaxed atmosphere at sea but the police officers in the water unit seem to get on far better with people at sea than those they meet on land. "At sea, people wave to us with their whole hand but when we are patrolling onshore then only one finger rises," says Ahlgren.
Ahlgren's team do their best to insist that the job has its downsides. "Now it is very beautiful but in the autumn when the wind is strong and the waves are four metres high, it is very rough," says Niininen. "The Finnish coastline is the most challenging area to navigate in the whole world because we have shallow waters and a lot of islands. If you can handle it here, you can navigate anywhere."
Still, Niininen accepts that as police work goes, this is pretty special. "If you like being at sea, boating and nature then this is absolutely fantastic. You can combine your job and your hobby, which is a great feeling. You feel good every time you go to work."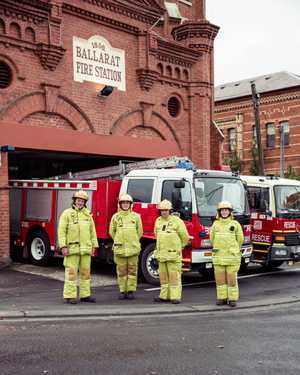 02
Heat seekers
Firefighting, Australia
The fire station in the Australian gold-rush city of Ballarat has a roof that is full of scuffs. As the country's oldest working brigade headquarters, it isn't quite large enough to fit modern trucks comfortably. "The marks are from the antennas on the vehicles when we drive out," says David Elms, the brigade's affable chairman.
In the back room a relaxed group gather for the "10 o'clock smoko", a routine meeting that centres around sharing tea and chatter under a lopsided portrait of the Queen. The sound of buzzing quickly transforms the easygoing congregation. "We've got a call!" yells Elms, as he zips into a fluorescent boilersuit.
Behind him a computer screen lists each of the brigade's 50 volunteer members, most of whom work day jobs throughout the city. Next to each name is one of two shapes: a red square means they have received the page alerting them to the emergency but are unavailable to respond; a green circle means they are on their way. The trucks are speedily readied and with the whir of a siren, Elms and his team are gone.
Made up of 60,000 members who contribute to 1,216 brigades, the Country Fire Authority (cfa) is tasked with protecting all of Victoria's communities outside of Melbourne. It is a catchment where a well-oiled emergency-response team matters. Dry summers and strong winds make southeast Australia one of the three most fire-prone areas on Earth.
The cfa's work can come at a harrowing cost. In 2009 one its firefighters was among the 173 people killed during events surrounding Black Saturday, the worst bushfire in Australian history. The Ballarat brigade were part of the 4,470 cfa firefighters tackling the blaze. "The plastic mirrors on the tanker warped in the heat," says firefighter Jessica Lafranchi, a caterer by day. Does the emotional strain of her unpaid role ever become overwhelming? "You get used to it," she says. "It's just part of the job."
03
Ready for action
Ambulance command, Hong Kong
Home to one of the most densely populated urban environments on Earth, with jungle-covered mountains and a busy, typhoon-prone harbour, Hong Kong is not an easy city for emergency teams to work in. Hong Kong's ambulance command has to respond to emergencies across the city's varied terrain, from towering skyscrapers on Hong Kong island and Kowloon to farms in remote parts of the New Territories and fishing villages on the city's car-free outer islands.
"When I meet paramedics from other cities, they're always surprised about the volume of calls we receive for a reasonably small place," says Shum Kwok-leung, deputy chief of the ambulance command. "We had 720,000 calls last year, which means there were 2,000 responses made on average every day."
Hong Kong's ambulance command is part of the city's Fire Services Department. Founded in 1868, the department acts as the first-responder unit across the city. While originally involved more in the transport of emergency patients and hospital transfers, in 1993 the ambulance command began training as a dedicated paramedic unit, operating out of their own depots with a distinct chain of command and a set of protocols.
Today's fleet is made up of 347 vehicles, which include two four-wheel-drive cross-country ambulances used for remote areas of the city and accidents on large construction sites, four mobile-casualty treatment centres that house mobile operating theatres and 36 emergency medical-assistant motorcycles that play a key role in Hong Kong's paramedic response.
"We were among the first cities in the world to develop motorbike paramedics," says Shum, an officer who has served in the Ambulance Command for 29 years. "We started borrowing police motorbikes in the early 1980s to beat traffic, which was very bad back then. We are now on the seventh generation of ambulance motorcycles. These are only deployed during the day, though, when roads here are congested."
While most major cities operate ambulances carrying two paramedics, Hong Kong's have three in each vehicle. Many of the old, high-storey residential blocks in the city aren't fitted with lifts so ambulance men are required to carry patients down considerable heights. Staff must pass the same annual physical exam as firefighters. The physical demands of the job are thought to be one of the reasons that the service has only two female frontline paramedics.
Key to Hong Kong's unique approach to paramedic response is the fact that with rigorous training regimes, clear hierarchies in place and strict protocols to follow, ambulance command feels more like the medical regiment of an army than a metropolitan emergency team. "Our service is run like the military," says Shum. "This makes us more efficient and more effective because when it comes to life-and-death situations, seconds can really count."