La Nación / Buenos Aires
Ahead of the news
'La Nación' is one of Argentina's largest daily newspapers and has been making headlines since 1870. Recently the print title has made a success of innovative redesigns of its pages while retaining its historic identity.
Three times a day, the newsroom atLa Nación is hushed by the sound of percussion. It has been done the same way for decades. At midday, long after the morning huddle of journalists scrutinising the Asian markets has packed up – and then again at 16.00 and three hours later – a member of the administrative staff takes to the open-plan editorial floor tapping an urgent beat on the triangle, a signal that it is time for the newspaper's head honchos to convene.
Striking the right chord between modernity and tradition has been an ever-present theme since the 144-year-old Buenos Aires newspaper moved offices in October last year. Abandoning its building in the Argentine capital's centre for fresher digs, the daily is now housed in a new-build skyscraper. It is part of a multimillion-dollar urban-regeneration project in the northern neighbourhood of Vicente López, just beyond the city's limits. "We had to create a space that reflected the changing way we work," says the newspaper's editor in chief Carlos Guyot, tie-less and settled behind his desk. "But we also had to maintain some of the newsroom's identity."
Old customs were kept (the triangle) while newer faux-trad suggestions (speakers playing the sound of an old-fashioned typewriter being thwacked) were hastily abandoned. "Although I have a program that simulates that noise when I type on my computer," admits the 45-year-old. "When I need to write an article I plug myself into my headphones and clack, clack, clack..."
The story of La Nación is closely aligned with the history of Argentina itself. The newspaper was founded in the house of Liberal politician Bartolomé Mitre in 1870, who two years previously had completed a term in the pink-hued presidential palace. Arguably the country's most renowned media brand, it is everything its mass-market main rival Clarín isn't: unashamedly highbrow and internationalist in its outlook.
Nonetheless, Guyot is keen to debunk a few myths. He denies that the newspaper is elitist, pointing to a predominantly urban readership with an average age in its late thirties and early forties. "There's this image of the La Nación reader as a fat hacienda owner from the Pampas or Patagonia with all the time in the world, smoking a cigar and wearing a dressing gown," says the editor in chief. "But we've studied our readership very carefully and the news is that this person simply doesn't exist."
Enter the revolving doors of the HQ through the moodily lit lobby and go up two floors to the newsroom and it can seem eerily quiet in the morning. But this isn't confirmation of some Latin American laidback cliché; it's merely that things happen a little later in Argentina. It's a land where it's perfectly normal to still be drinking coffee long after sundown and dining at midnight; the country's politicians follow the same tempo.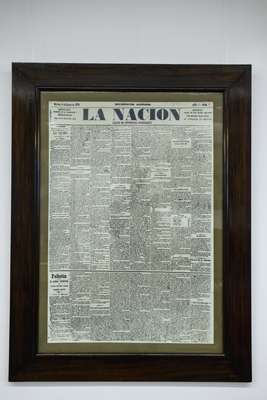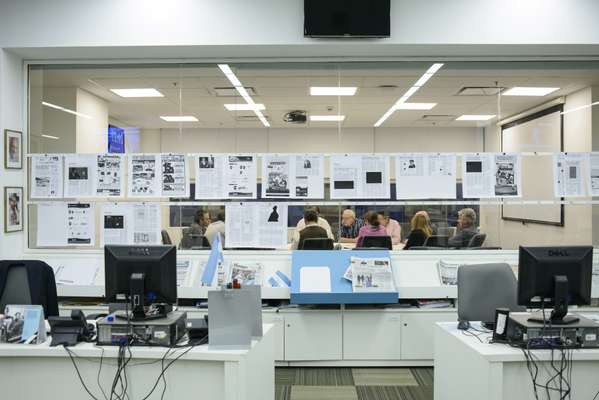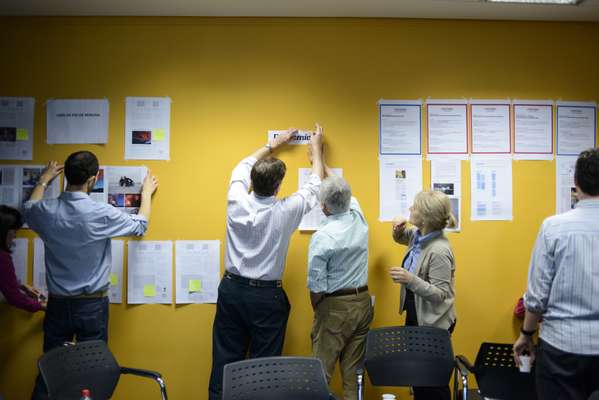 With President Cristina Fernández de Kirchner known to make TV speeches at 20.00 or 21.00 and politicians from congress happy to debate beyond conventional office hours, La Nación has to keep pace. That means delaying its front-cover meeting as long as possible and closing the politics section at 23.00.
As the newsroom begins to fill, art director Ana Gueller scurries around clusters of desks checking on her staff. The newspaper is now unarguably the best-designed in Argentina but it wasn't always that way. "Design is still very young at La Nación," says Gueller. "It's just coming out of its adolescence."
In September 2012, the paper tried out major changes – what Gueller prefers to call "evolutions" – including a shake-up of its sections, a new font, Prumo, used throughout the paper's products in some 60 variants and a strong emphasis on illustrations and larger-format photos.
But it is infographics that have made La Nación stand out from its rivals. Each section now opens with an intricately designed image – these are referred to in-house as "balconies" – that digest complex information by explaining who protagonists are, breaking down stories through facts and figures or simply tracing a chronology. They have become go-to resources for those trying to understand the details of Argentina's financial battle with hedge funds or its creakingly complex lawsuits and legislation.
"The 'balconies' were a big leap of faith," says Gueller. "Before, the three languages of the newspaper were words, pictures and headlines. Instead we are now looking to explain a news story in a specifically visual way." When monocle visits, a third of the newspaper's 380 editorial staff are congregated inside the curved confines of the third-floor auditorium. Guyot is buzzing around the room clearing away chairs to make sure people mingle. The idea of this workshop is to come up with new ideas for a redesign scheduled for September. But the key is that staff from different sections comment on each other's ideas. Among the prototypes pinned to the walls – tacked with colourful Post-it comments – are suggestions ranging from a photo-led front cover at weekends to a daily article giving feedback on the online reaction to articles from the previous day.
The changes being implemented at La Nación are of course a reflection of a shifting media environment – dipping sales are being felt in Argentina as strongly as the rest of the globe. But for Guyot it doesn't mean that the paper format's day has been and gone – it simply means that the publication cannot afford to take anything for granted.
"The diagnosis that paper is dead hasn't been our experience," he says. "We've increased our Sunday circulation by 40 per cent in the past five years, from 248,000 copies to 345,000. Newspapers as they are edited today have little future, it's true, which is why we have to do many things to change the artefact."
Among September's scheduled changes is a major reworking of the Sunday magazine. Its freshly installed editor, Javier Navia, has been lifted from Saturday's Sábado supplement – one of the paper's successes over the past few years – it means the reins to Sábado have been passed to 32-year-old Violeta Gorodischer, La Nación's youngest section editor.
For the first time, the Sunday magazine will have its own name, which is still a work in progress according to Navia. "In the newspaper we're used to reporting on what people consume in terms of culture but the idea is that the magazine becomes part of this cultural consumption," he says. The plan is to get away from the catch-all family magazine and provide something edgier and youth-orientated, put together as if it needs to make the commercial cut in a newsagent's rather than as a free insert in a Sunday newspaper.
Guyot is brimming with new ideas and directions for La Nación. There are tentative plans to resize the weekday edition and provide more coverage from China. There is also the mooted suggestion of moving away from the same news agenda most international outlets tend to cover and towards the newspaper's "own agenda". Guyot wants to see more in-depth reporting and investigative pieces across the paper.
Strutting around the newsroom with a jacket slung over his shoulder is La Nación's 36-year-old star reporter Hugo Alconada Mon. Employed by the paper since 2002, his investigations into money laundering, corruption and corporate fraud sometimes take him years to complete (see panel, page 139). "I love what I do. Period," he says, as he dashes off to a meeting. Overworked at times, yes. Battling an ever-changing environment, certainly. But one gets the feeling that most of La Nación's staff would concur.
The weekend editions continue to gain readers while the weekday editions go the other way. The future, if it is to be successful, will depend on being able to properly read consumers' habits and desires, something Guyot admits that the wider industry has failed to do up to now. "We want to sell the maximum amount of newspapers possible," he says. "I know we can improve – and I know we're going to." Somehow, you believe him.