Gulet making / Turkey
All hands on deck
Traditional gulet vessels built in Turkey's Bodrum Peninsula have long kept the region's economy afloat. But changes in the market have led many to fear for the future of the boat-making skills that have been passed down the generations.
"Listen," says Halil Furat as he stands in the sun-scorched workshop of his boatyard as a carpenter planes a plank of pine. "You can hear when it's ready, when it's even. Wood is intuitive, you see; it's tactile, it's alive."
The sound of a screeching industrial saw is music to the ears of mariners such as Furat located on the Bodrum Peninsula. Though the bulk of Turkey's sizeable ship industry is based in regions such as Tuzla near Istanbul and Kocaeli province on the Sea of Marmara, Bodrum is home to a cluster of small family-run boatyards specialising in wooden craft.
The traditional gulet – a double-masted ship with a wide, rounded stern – is a common sight on the coastline here. "Bodrum's gulets are unique," says Furat – who also runs yacht-charter firm Zephyria – as he shows monocle the unfinished hull of a vessel destined for a private client. "You won't see this type of boat anywhere in the world. She's wooden, she's handmade; she has soul. There is nothing show-off or hi-tech about a gulet."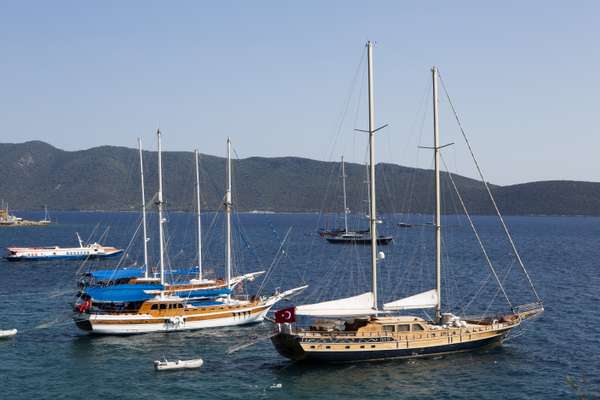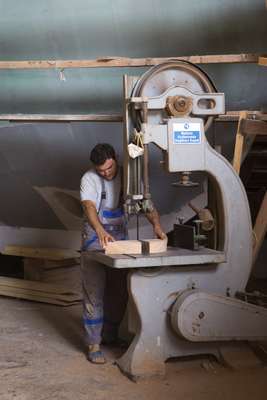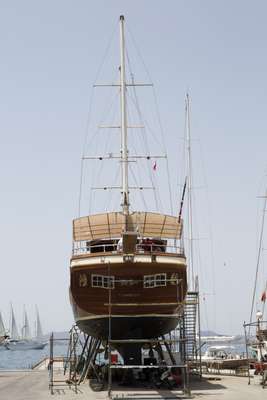 Bodrum's boat-making tradition is defined by craft. "I worked under my master for eight years before starting my own yard," says 56-year-old Yilmat Dinc as he sits drinking coffee at a large captain's table in a portacabin at his yard, Roda. "What you learn from a master is intuition: to find the form of a boat with your eye, not computer-aided tools. You figure it out. I've completed 65 yachts since 1972. Each one depends on the character of the wood – each one is different."
Dinc says he is just three generations removed from Ziya Guvendiren, one of the first gulet masters of the region who learned his techniques from the Cretan Turks – known as Giritli. The Giritli migrated to the Bodrum Peninsula following the dissolution of the Ottoman Empire, when the Greek and Turkish governments swapped millions of Greek Muslim citizens for Turkish Orthodox Christian ones. Though the origins of the gulet's form are much debated, the boat is thought to be a relatively recent adaptation of the double-ended tirhandil used by sponge divers and fishermen throughout the Aegean. "Yes, we have epoxy [glue], we have engineers but really the workmanship hasn't changed much since Ottoman times," says Dinc, running his hand over a smooth piece of dark Burmese teak used to clad decks.
The market has changed though. This sector hasn't been immune to the plight of the European economy. Many craftsmen talk nostalgically of the frenetic buzz of a pre-2008 era when orders from France, the Netherlands and the UK were hastily completed in yards working at full capacity. Today's industry is less pacy and some sheds monocle visits are quiet – the half-finished wooden frames of orders in financial limbo sit like whale carcasses.
However, many outfits have survived the dip in sales by doing repair and maintenance work and are now making boats to sell to new markets rather than waiting for orders from old ones. "In 2012 the sector felt finished," says Orhan Dinc, Yilmat's son, who is driving Roda's new business plan. "We're busy again. My team is innovating the wooden yacht, not just building traditional gulets. We're looking to Russia, to Kazakhstan. We just went to Dubai and we're going to Azerbaijan in November. We want to expand and build bigger boats."
Yucel Girgin owns Guletti boatyard, where the final coats of varnish are being applied to a 24-metre-long gulet he is building. Girgin, a master and sailing boat captain turned entrepreneur, says young Turks would rather arrive in his yard with a university qualification than sign up from school as an apprentice. The production process has also changed. "We are matching EU standards now. We use computerised plans, not just the master's eye."
Girgin uses a combination of both. His customers trust the quality of his craftsmanship and his experience as a master yet he also employs the services of a young Izmir-born naval architect, Hakan Humali, who is busy creating designs for wood, fibreglass and steel vessels. "My last apprentice came from school but he left to become a sailor," says Girgin. "The work was too heavy for him."
Though many here fear for the future of wooden-boat-building skills, it's clear the business achievements of the region's masters are still key to Bodrum's economy. Their legacy is evident in everything from the gritty boatyards to the local high-end gulet cruise industry and plush new marinas nearby, such as the one recently built at the fishing village of Yalikavak. Though there are some behemoth super yachts berthed in the latter, Bodrum is still a place that celebrates a ship in full sail rather than the hum of a diesel motor.
"This place used to have nothing, not even a hospital," says 82-year-old gulet captain Serif Oncu, who sits drinking tea on the sunny quay outside Bodrum Mariners Association by the walls of the Crusader Castle of St Peter's. "The developments here are good – we need jobs – but the Bodrum gulet needs protection. We are proud of our wooden ships and as captains we trust the masters who make them."