Art market / Global
Art market
Briefing
An unputdownable book fair in New York, plus an Auckland auction and Winnipeg wonder
Locals only
Auckland
[AUCTION]
Auckland-based auction house Webb's leads the way in meeting the growing interest in New Zealand artists. Established in 1976, it now also provides auction services in Wellington and, in 2013, clinched the highest price for a living New Zealand artist in 50 years with the sale of Bill Hammond's "Farmer's Market" for NZ$328,300 (€209,300).
In September, over 300 paintings and photographs will be on offer at Webb's A2 affordable-art auction in Auckland. Held three times a year, the A2 sale specialises in contemporary and modern works valued between NZ$1,000 and NZ$20,000 (€640 to €12,750).
"Growth in this category has been driven by increasing recognition of the importance of New Zealand's cultural history," says Webb's fine-art specialist Charles Ninow. A draw for collectors is a gelatin silver print by Fiona Pardington, an established New Zealand artist of Maori descent.
webbs.co.nz
The highlights

Richard Orjis (top)
"Mary", estimate: NZ$2,000 to NZ$3,000 (€1,275 to €1,900)

Fiona Pardington (above)
"Untitled", estimate: NZ$4,000 to NZ$6,000 (€2,550 to €3,825)
---
Paper tiger
New York
[BOOK FAIR]
Nine years in the running, Printed Matter's NY Art Book Fair is the world's largest event for artists' books and related publications. Curator Shannon Michael Cane and co-ordinator Jordan Nassar (pictured, right to left) have made a selection of new and old exhibitors for their MoMA PS1 show, hosting nearly 300 names from around the globe and welcoming a crowd of 27,000.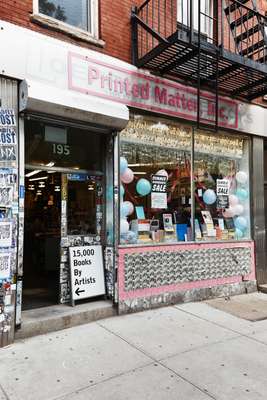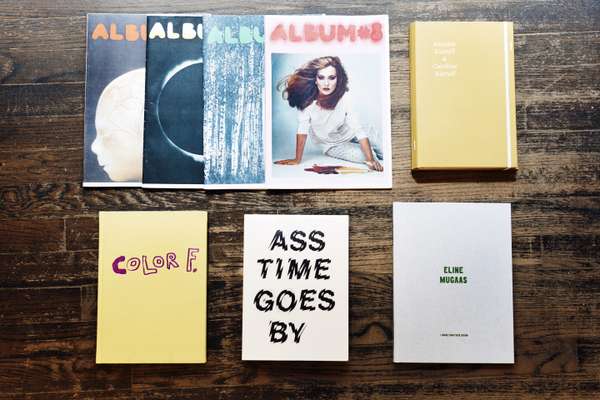 Likely no one knows better than you: what is the state of the art-book market?
Shannon Michael Cane: We have 300 spots for the fair to fill and we got over 800 applicants from all around the world wanting desperately to come. This is the ninth year of our book fair. It took us eight years to get 27,000 people in New York; in two years in LA we're already up to that. Since starting Printed Matter's NY Art Book Fair there are now fairs all over the world. There is the Tokyo Art Book Fair, Vancouver, Baltimore, Chicago; there are two in Australia next year, three in London – and we just went to one in Switzerland.
What exhibitors and publishers are you really excited about?
Jordan Nassar: This year there will be an exhibition by Dorothy Iannone who is coming back into popularity. We're really excited about that. It's a big feature.
SMC: People know her work but they don't realise that she has a background in book-making as well, so we are trying to highlight that part of her career.
SMC: A publisher to highlight would be Oodee. As part of its programme it publishes books on female artists. It's called POV Female. The design is super nice.
JN: I'm also really excited about the Norway Focus Room. We went from having two Norwegian exhibitors to now having more than 20.
The fair keeps growing. Would you ever move it from PS1?
JN: Three hundred exhibitors is a lot. It's just getting more and more competitive. You have to look at what people are doing this year. There are people who have never visited [until now] and we're really excited about that.
SMC: We do tweak it a little bit but it has to be a slow process to have a tighter curation.
NY Book Fair favourites to keep an eye on:
Oodee
Independent publisher Oodee makes contemporary photography books from its London base. Creative director Damien Poulain is keen to promote the work of young female photographers worldwide through its POV Female series. Since it was founded in 2011, the publisher has collaborated with the likes of Pieter Hugo, Charlotte Dumas, Viviane Sassen and Roger Ballen.
Norway Focus Room
Printed Matter's NY Art Book Fair features a Norway Focus Room: a collaboration with the Norwegian Consulate General. The room presents a selection of more than 20 booksellers, independent publishers, institutions and artists. The lot comes from all over the country and includes Album, Hordaland Art Centre and Morten Andersen/Shadowlab, Cornerkiosk, Bergen Art Book Fair, + Robot, Torpedo Press and Jessica Williams & Friends, alongside a programme of screenings and exhibitions.
---
Under the skin
Winnipeg
[VENUE]
The Cube was conceptualised five years ago to be the centrepoint of Winnipeg's summer activities in the Exchange District. Since opening in 2010, the 70 sq m structure has hosted 165 events so far, including the Winnipeg Jazz and Fringe festivals. For overnight arts extravaganza Nuit Blanche on 27 September, the Cube and surrounding areas will be filled with pop-up art by local creatives.
"It was conceived as a beacon, a city landmark," says Sasa Radulovic, the co-founder of locally based 5468796 Architecture, responsible for the Cube's distinctive design. The venue's main performance space is supplemented by a further rooftop stage, enveloped by a flexible aluminium membrane. This "skin" folds inwards to reveal the Cube's exhibition and performing areas. For its hypermodernist design, the building was awarded the 2014 Governor General's Medal for architecture.
exchangedistrict.org
---
Q&A
Jörn Weisbrodt
Artistic director of the Luminato Festival
Toronto
Hamburg-born Jörn Weisbrodt moved to Toronto in 2012 to become artistic director of Luminato, the citywide arts festival held in the summer. Weisbrodt is himself an avid collector – his expansive tastes range from Ming Dynasty bird baths to contemporary photography.
Do you remember the first work of art you bought?
It's from a childhood friend; she was seven and I was four. It hangs in my living room. There's a dark story connected to it, which I told American author Nicole Krauss at a dinner party; it's now in the beginning of her novel Great House.
Was art a big part of your childhood?
Although my parents aren't artistic by any means they took me to the King Tut show when it first toured Hamburg. I was eight. I knew the entire catalogue by heart! A few years later I cried in front of a Marc Chagall painting. That was my first real emotional reaction to art.
Who are some of your favourite artists?
This changes all the time. I recently became obsessed with US photographer Edward S Curtis and his images of Native Americans. I have his "The Vanishing Race", which shows a group of Navajo on horseback. Marina Abramović is a huge hero of mine. Matthew Barney is one of the most important artists today, while Paul Thek and Louise Bourgeois were masters in every genre.
Is your art collection (below) also a financial investment?
I do not see myself so much as a collector but a custodian. I take care of certain objects for a certain period of time and then pass them on to others. It's about creating memories and stories told through these objects. I would never think to sell something.
luminatofestival.com