Report / Rome
Eye of the Tiber
Lorcan O'Neill has spent a decade bringing the contemporary-art gospel to the eternal city. Now he has opened a new gallery in the baroque heart of Rome, spinning the narrative of his favourite artists into a another chapter.
Lorcan O'Neill is an impish and entertaining guide to Rome. The tall, blue-eyed, linen-shirted (today, anyway) Irish art dealer imparts history – art and otherwise – as fable, gossip and confession. We are standing in the Piazza Cairoli in a church-heavy eave of Rome between the Corso Vittorio Emmanuele and the Isola Tiberina on one of the curves of that lazy old snake of a river, the Tiber. "The man that donated the piazza was Cairoli," says O'Neill. "He was in love with the Contessa Passolini del Onda and his gift to her was this park, so that she wouldn't have her view spoiled." True enough – but delivered as fairytale.
O'Neill has had a gallery in Rome for a decade. Now he's relocated it to the former stables of the 17th-century Palazzo Santa Croce on Via dei Catinari, a lover's-stone-thrown-at-the-window from the Piazza Cairoli. "We needed a more flexible space for our artists and everyone gets bored after a while, don't they?" he says.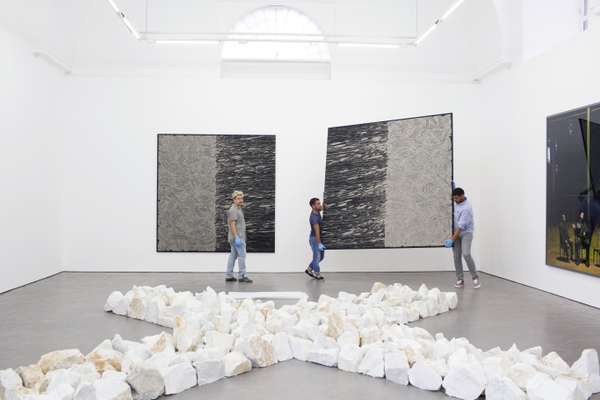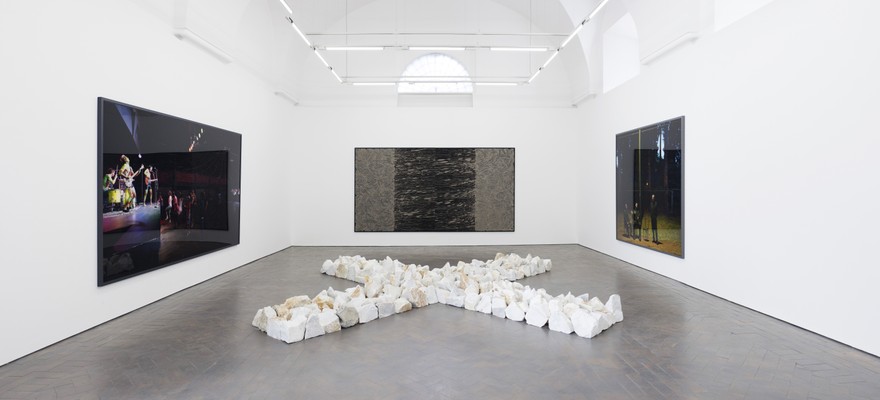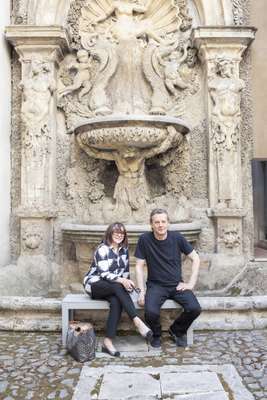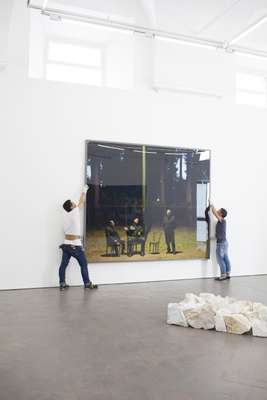 He is in good company. Palazzo Spada is around the corner, home to Francesco Borromini's forced-perspective gallery, and the new space was once home to a cardinal with a taste for ancient statuary and hanging gardens full of vegetation, actual and unnatural; faded trompe l'oeil still lingers on the plaster. "It's a special Roman renaissance street," says O'Neill.
You'll spot the Lorcan O'Neill gallery by the huge fountain that rises in pride of place in its courtyard (and designed to be viewed from the Piazza Cairoli when two streets of serried doors are opened). Then you're through a plate-glass door into a barn of a room with eight-metre-high ceilings. The space is a white cube, subtly saved from looking antiseptic by the wooden beams on high and the terracotta floor. Tiles have been treated with an ancient ash-and-oil mixture that, according to O'Neill, stops it from appearing "so pink, so terrible, the worst".
You'll know it's the Lorcan O'Neill gallery mostly, though, because in the middle of the room sits a commanding Richard Long stone work. It is set out as a cross; on the far wall is one of the UK artist's mud pieces ("We're trying to get Richard to put them on canvas rather than walls themselves so that they can properly be taken care of," says O'Neill) and three large photographic works by the Canadian Jeff Wall. There are further works by Enrico Castellani, the great 85-year-old Italian minimalist who founded the Zero movement and was a contemporary of Alessandro Manzoni and Lucio Fontana. He is suddenly a contemporary of the younger guns on O'Neill's artists roster. "Enrico is still making works carefully and slowly in his tiny castle in Celleno," says O'Neill.
Looking around the room, as his technicians finish the hang of the space's opening show, O'Neill puts a hand to his chin, inclines his head and squints at the order of things. "You could say I've gone a bit conservative with a painter, a sculptor and a photographer," he says, "but they fit together well – it's good to start with the golden oldies and move on from there." O'Neill says he's always had a feel for the more traditional, a preoccupation with "older things". Is that why Rome makes sense – a place stacked to the gunnels with exquisite antiquity? "I always liked Rome, you know? I used to come and visit Cy Twombly when I worked for [British dealer and collector] Anthony d'Offay and a day's work would turn into a few days' stay," says O'Neill. "Rome was a good opportunity to be independent, work with artists I admired and do something that really counted – I don't think I could have dented the London art scene in the same way. Rome fitted my character, it was what I wanted to do."
Now O'Neill is thinking way beyond those golden oldies to a new generation about which he is obviously excited. Up the stairs in the labyrinthine hindquarters of the gallery are smaller, lower, narrower rooms, all naturally lit, where new things line the walls. "Those are Hanna Liden, these are Eddie Peake," says O'Neill, walking through the spaces and warming to his storytelling themes. "This is Prem Sahib; his father's Sikh and his mother's Polish and they're both very young. They had him when they were teenagers; they met in McDonald's." We move on. "This is by a Russian artist who lives in New York – Matvey Levenstein; he's like a modern-day Morandi, focused on the technique of painting." And again. "Celia Hempton's a young British painter. She paints cocks and balls and cunts. All the cunts sold. It's harder to sell an asshole and balls – interesting, isn't it?" It is, and it's fortunate the Cardinal has moved from next door.
Downstairs, Jeff Wall and Richard Long have just arrived at the gallery to see how the hang is going. These great contemporary artists are always interesting to observe on site, where they become tradesmen keen to ensure their labours are well served: that their work is hung at the right height, that they haven't been stuck round a corner or in a dark spot. O'Neill talks of his space and of his business in terms of squaring this generational circle. "A gallery should be a bit like a family where there are grandparents, fathers and mothers and grandchildren who can grow up in a stable environment with a family around them," he says. "It's appropriate for Italy isn't it?" And for a stable.