Potato Head / Bali
Get ahead of the game
On Bali, Ronald Akili and Jason Gunawan's Potato Head brand is everywhere. Now they are chipping away at the international scene, growing from their beach-club roots with a global crop of hotels and restaurants that are giving Indonesian business a crisp new image.
Entering the Potato Head Beach Club, it's easy to be struck by how much the colourful teak shutters that make up the club's imposing exterior wall conceal. Cradled within the club's curved structure, which was designed by Indonesian architect Andra Matin in response to ceo Ronald Akili's desire to create a "Coliseum on the beach", are three restaurants, three bars, a large lawn and a pool that all look onto the Indian Ocean beyond.
Since opening its doors in 2010, the club has become a staple on the Bali scene. Every afternoon, international visitors queue up outside the entrance, eager to secure a table, sun bed or patch of lawn from where they can watch the famous Balinese sunset. They are greeted by smart interiors, charming service, an expansive cocktail list and a handsome crowd; the club's popularity is no mystery. "Bali has always been a second home to me and one which is quite close to my heart," says Akili, who co-founded the ptt Family business with Jason Gunawan (who serves as the company's creative director) in 2009.
Originally from Jakarta, the duo has spent considerable time living abroad (Akili in Hawaii and Gunawan in Australia) but their business is decidedly Indonesian. They already have three restaurants in the country's bustling capital, in addition to a luxury housing development and a clothing boutique, but this year marks an important shift for them. "Business-wise we thought Bali would be a good stepping stone for us to create global brand awareness for Potato Head and ultimately the ptt Family. We've always wanted Potato Head to be international and it's tougher for establishments in Jakarta to have that important global exposure."
The ptt Family's international debut in Singapore coincides with the construction of its first hotel, The Katamama, in Bali adjacent to the Beach Club. "The norm in Indonesia is to see foreign brands moving in," says Akili, who is known for getting involved in every aspect of the business, from helping guests to approving architectural designs. "As Indonesians, we want to create something that can compete on the international scene."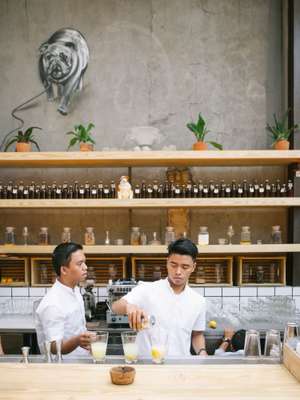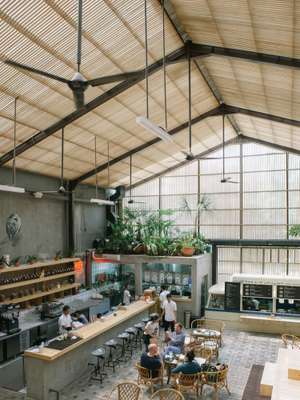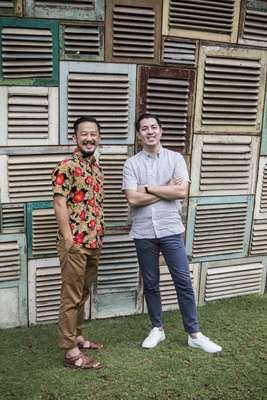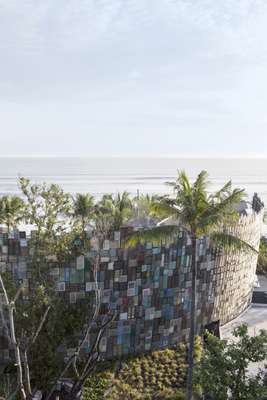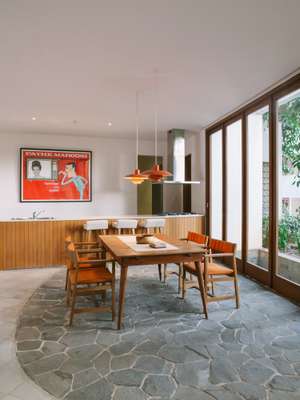 Akili is referring to the newest addition to the ptt Family roster, housed in an iconic former shop that was built in 1939 in Singapore's Chinatown. Known as Potato Head Folk, it features four floors of eating-and-drinking areas. "Singapore is a city that we visit often," says Gunawan, whose background is in art and design, "and our brand is also relatively well known by Singaporeans already. Being such a hub for international travel, the city is an ideal place to expose what we do to individuals all from over the world."
One of the key achievements of the ptt Family group is presenting a new and modern face of Indonesian business. That means collaborating with international artists and designers: Australia's David Bromley worked on the interiors in Singapore, Brazilian Marcio Kogan (see My Last Meal, page 224) is designing a second beach club in Canggu and Rem Koolhaas's oma has designed The Kataoma, the group's second hotel, set to open in 2016.
As Potato Head positions itself alongside internationally established brands, its unpretentious approach reflects social changes in the country and is helping to change the meaning of "Made in Indonesia". The group's Three Buns, a light and airy burger restaurant that opened in Jakarta's Senopati neighbourhood earlier this year, serves up comfort food to families, businessmen and lunching ladies alike. Elsewhere it has a housing development underway aimed at Indonesia's growing middle class and, while Japanese designer Kenya Hara will be working on it, construction materials will be Indonesian. The group's 800 employees have an opportunity to effect change in the company, with everyone from kitchen staff to directors meeting for monthly reviews.
"When Jason and I opened our first restaurant, Potato Head in Jakarta, the food and beverage scene was much less exciting. The majority of the restaurants that served international cuisine were located in five-star hotels," says Akili. "We felt that there was gap in the market for somewhere that would cater to a broad demographic of locals and expats by serving international comfort food outside of a hotel."
For Akili and Gunawan, each business is approached organically. When they spot a gap in the market or a space ripe for conversion, the two study the surrounding environment and community before they begin to shape the business. "Once the individual business is developed we create the proper structure and framework to support it – the protocols and financial decisions that ensure a healthy business. But each business line always starts organically."
One of the most recent developments within the Family is ptt Select, a range of clothing and products predominantly made and sourced in Indonesia. "As ptt Family grew, our determination to be more than just a hospitality company also grew," says Gunawan. "Our ambition is to become an internationally recognised lifestyle brand. As such we feel fashion, homeware and lifestyle products are an important component, something our guests can take away with them as a memento: a little piece of ptt Family to be used in their everyday lives."
Staff at the Beach Club wear uniforms of naturally dyed batik fabric from a small factory in the village of Pejeng, just outside Ubud in Bali. The Katamama Hotel's in-room robes will also be made from Pejeng fabric, while its rugs will be woven by a local craftsman whose scarves are sold in Escalier: a clothing boutique part-owned by Gunawan and Akili that has an outpost at the Beach Club. "Our clothing will be easy to wear and made locally," says Gunawan. "It is very important for us to show our Indonesian heritage."
At the group's head office – an airy converted house in a leafy residential neighbourhood of Jakarta – the well-designed and welcoming approach that shapes all of the ptt Family businesses is again apparent. Meeting rooms are light-filled and intimate, while a tranquil inner courtyard provides space for more informal gatherings and lunch. There is even a swimming pool around which the monthly staff barbecue takes place. The group already runs eight restaurants and bars; its next five years will be devoted to the opening of three hotels (the third will be attached to the new Canggu Beach Club), further international outposts – the team has its sights set on Hong Kong – and the seemingly inevitable growth of the ptt Family domestic business. The atmosphere at Potato Head HQ, however, remains relaxed. With a business culture that aims to put "family first", it is clear that the ptt Family is a tight-knit group. And by elevating Indonesian talent and craft to the international stage, it could have a significant impact on the soft-power image of the world's fourth most populous country.
"Things here have changed a lot," says Akili. "In the past, things made in Indonesia were not considered to be good. But this generation of Indonesians is very proud of their culture. We are proud of our culture. Today, everyone wants to label things as 'Made in Indonesia'. From art, film festivals and music to products, retail and clothing, everyone wants to be part of 'Made in Indonesia'. And that's a nice change to see."