Monohaus / Berlin
Hard lessons
In the heart of Berlin a design-focused family has created a home that is as personal as it is refreshing: the Monohaus is a building that shows the softer side of concrete.
The Monohaus, a sleek seven-storey townhouse made entirely of special lightweight concrete, now sits complete on the border between Berlin neighbourhoods Mitte and Prenzlauer Berg. Three years of construction – carried out in conjunction with German concrete-manufacturer Heidelberger Beton – have resulted in a structure with a chalk-grey exterior that is surprisingly serene with sweeping, studio-like interiors.
"It feels very pure and natural," says owner and developer Stefan Karl, founder and CEO of communications agency Shanghai Berlin. He and his wife Angela Knewitz (an executive at Berlin agency MetaDesign) conceptualised the building – the house is the first multistorey home of its kind in this mono-material – and funded it privately, which was a long process.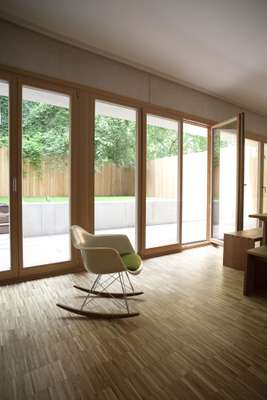 "The concrete is one piece inside and out," says Karl. The outer wall (which is, of course, also the interior wall) is 55cm thick and acts as its own insulation: the material contains elements that can breathe and insulate more efficiently than conventional concrete. "In the summer it's cool and in the winter it's warm," says Karl. "It makes for a wonderful interior climate."
Monohaus not only includes the family's top-floor 167 sq m duplex penthouse apartment (plus roof garden) but also a ground-floor duplex and three units of just over 100 sq m on the storeys in between (some of which, incidentally, are still on the rental market). The effect from the street – otherwise lined with mostly 19th-century multifamily residences – is far from imposing. The front façade's wood-framed windows, which stretch across almost the entire width of the property, make Monohaus remarkably light.
And yet its back story is a little heavier: the couple found one of the last empty plots in what was once the German capital's Jewish quarter. Karl and Knewitz negotiated with the plot's owner for two years and then developed the plans for Monohaus with Berlin architecture firm Zanderroth.
The idea to erect a house in concrete came from the couple's love for unadorned forms and spatial clarity. Early ideas included erecting a house in a Baugruppe (a building co-operative) but the couple didn't want to compromise their aesthetic ideals. After seeing that the costs for concrete construction would be formidable, Karl and Knewitz convinced concrete-manufacturer Heidelberger Beton to develop the material and build Monohaus as a collaboration.
Karl, Knewitz and their twin sons moved into Monohaus's penthouse in July and are proud of the results – even if they admit to being a little exhausted. So far, living there is "a little like being on the deck of a ship", says Karl. But the airy open spaces still offer corners conducive to more private living. Special fixtures in all the apartments were developed by Villeroy & Boch and for their penthouse the couple commissioned Madrid-based furniture designer Nikolas Piper to create a three-metre-long dining table they callMonomesa, made of 300-year-old walnut.
And the concrete? "It's fantastic," says Karl. "It feels amazingly smooth. Most people see concrete as a rough material but here it is so well crafted that I often slide my hand over the surface." And much to his amusement, Karl sometimes catches people outside doing exactly the same thing to the exterior. He is reflective about the material and the secret of the building's attraction. "It's great to see an idea materialise into something, well, concrete."