Carl Hansen & Søn / Gelsted
Home life
Furniture firm Carl Hansen & Søn is justly proud of its heritage and the company's refusal to operate outside of Denmark hasn't hampered growth. A new factory, increased output and rapidly rising exports point to a world of opportunity.
This year, Danish master designer Hans J Wegner would have turned 100 years old. It is somehow fitting then that Carl Hansen & Søn, the manufacturer responsible for producing many of his masterpieces, has had such a vintage 12 months. Business is booming for the family-run company that insists on staying true to its Danish roots. In January, Carl Hansen & Søn announced that it had acquired a new production facility, located 15 minutes away from its home in Aarup. The 7,500 sq m factory in Gelsted is twice the size of its current facility (which it will retain, with plans to develop) and the acquisition signals a golden moment for the "Made in Denmark" brand. For a long time the building was home to windows firm Velux – the light-filled space is a giveaway on that score – but has lain empty for a number of years, ever since the window manufacturer outsourced much of the production to other parts of Europe.
Moving any element of the business overseas in a similar manner is a move Carl Hansen & Søn ceo Knud Erik Hansen, grandson of Carl, is not prepared to make. "It's still a challenge making in Denmark but anything else would be a compromise," he says, wandering around the new factory floor. "Would you buy a Swiss watch made in China? No. Same goes for Danish furniture." The new factory is being slowly renovated and will be fully operational by December. It is a heartwarming tale: a mainstay of Danish industry snapping up the abandoned home of a peer that gave up on its homeland. However, walking around the site with Knud Erik, it's clear that this is not a nostalgic indulgence: this is good business.
Every year at Aarup, Carl Hansen & Søn produces 45,000 Wishbone chairs – Hans J Wegner's most iconic design – each one taking a week to make. That supply currently barely copes with demand: "The Wishbone exceeds sales targets each year," says Knud Erik. "What's held them back is production scales – but not any more. We could sell much more if we wanted to." The new factory will not only meet the demand for the Wishbone (or ch24, to use its official name) but crucially means archive pieces can be reintroduced, too. "Until now the Wishbone was it, so we made other chairs less and less," says Knud Erik. He now hopes one archive piece can be introduced every year, beginning with the ch88 chair that was reissued last January.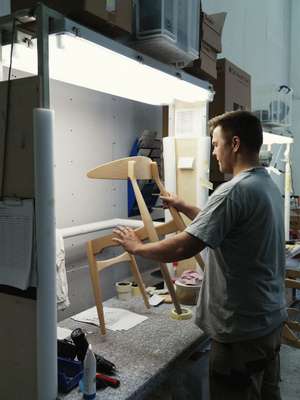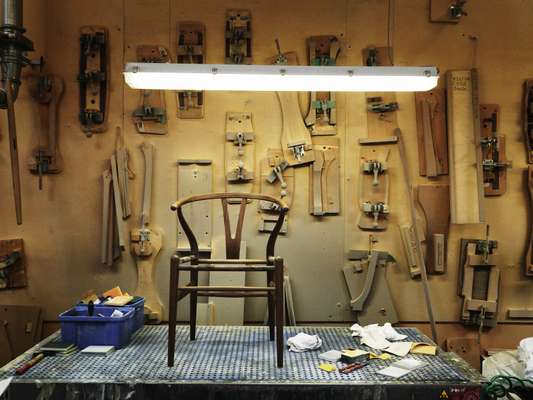 Knud Erik is a canny enough businessman to know that growth can only happen with change and diversification. "Most Danish companies are too small; we are too small. Our strategy is growth – if we don't grow, we can't stay independent," he says. "I don't want to be like the guys I'm buying out [referring to Rud Rasmussen& Son, Denmark's oldest joiners, which Carl Hansen & Søn acquired in 2011], who were too slow to change."
Aged 63, Knud Erik is certainly one of the most visionary heirs of the furniture industry's greatest families. Paradoxically though, he had never had much temptation to enter the family business. Instead he ventured out on his own as a young man to reverse the fortunes of a Danish shipping company based in South Africa and Hong Kong. Next was Tempur, a mattress firm located across the road from Carl Hansen & Søn's factory in Aarup.
Following his successful corporate career, in the early 2000s Knud Erik offered his share of the family business to his brother Jørgen Gerner, who had run the company since the death of their mother in 1982. At that point it was on its knees, with almost no export business and everything made in the charming but intensely inefficient original factory in Odense. Delivery time for a Wishbone chair was two years.
Jørgen Gerner declined; not unlike Hans J Wegner himself, he was a dreamer who was hugely passionate about wood, craft and furniture but lacked the skills to lead a furniture business. So, instead of buying Knud Erik out, Jørgen Gerner offered him the reins of the company. "He knows every star in the sky but sell a Wishbone chair? Forget it," says a smiling Knud Erik about his older brother.
And so the turnaround began: Knud Erik soon built the new factory in Aarup and strengthened the rapidly rising exports market and retail network, turning Carl Hansen & Søn into a globalised, industrialised company in the process. Now 13 years into his leadership, Knud Erik's purchase of the Velux factory signals the next step in the company's progress. Last year, €3.1m was invested in new machinery and premises; €4.5m will be put into growing the company this year.
There are 20 workers currently staffing the former Velux factory in Gelsted; in a year, that number will reach 100. The company is on a recruitment drive: they have hired 15 upholsterers to produce Wegner's Wing chair alone. And although Wegner pieces will undoubtedly remain the breadwinner, Knud Erik is also keen to develop the portfolio of works created by other designers (which make up 20 per cent of the business, he estimates). "We would dearly love to work with young, new architects who could build on what the old masters did," he says. "Take the heritage and further develop it."
Knud Erik is a gutsy, jovial tour de force with a joke ready for just about every occasion (his car registration plate reads "no one" – "Just in case I run someone over and the police ask who was driving the car"). But beneath the camaraderie there is a stern visionary with balls and business acumen. In the year of Hans J Wegner's centenary, he knows this independent company rests on him and will do anything to shoulder that responsibility well into the future. This acquisition means Carl Hansen & Søn can become a global player while remaining 100 per cent Danish. "It's such an emotional company, I can't part with it," says Knud Erik in a moment of frankness, reflecting on the future. "Not when family have died for it. I could never do that."