Fashion clusters / Italy
Made to last
With whole towns in Italy dedicated to producing a single item, be it eyewear, silk or shoes, it's clear why the big names in fashion continue to rely on the expertise of the country's specialised craftsmen.
It's taking the maxim of "do one thing and do it well" to the extreme: devoting entire towns to the production of one item. Eyewear valley, shoe region, swimwear town: Italy is made up of a series of clusters responsible for the mass-scale production of fashion staples for global brands big and small. Many of these clusters developed simply because of geography – the climate conditions in silk cluster Como, for example, made it the ideal place for mulberry trees to grow, essential for the production of silkworms – but some were accidental.
After one small workshop gained success, another was set up close by, and then another. The booming postwar period in Italy helped to industrialise each sector, turning the clusters into what they are today. Although many have found the past decades tough, provinces such as Belluno – a valley in the Dolomites where 80 per cent of all eyewear in Italy is made – are having a golden moment, with the world once again falling in love with the well-made over the mass-produced.
Not that you'd necessarily know about these clusters. Most remain hidden, with myriad small-scale workshops kept behind closed doors. And so monocle has taken a tour of the Bel Paese to open up some of these doors and dig deep into the regional produce of Italy's fashion industry.
---
On the winding mountain road up to Calalzo di Cadore, nothing alludes to this tiny town's very special industrial heritage. It's not until you find the discreet plaque on the art nouveau Town Hall that its history is revealed: Here in 1841 Angelo Frescura initiated the Italian eyewear industry.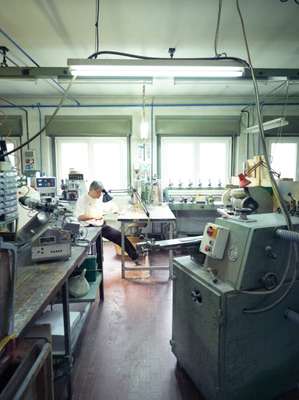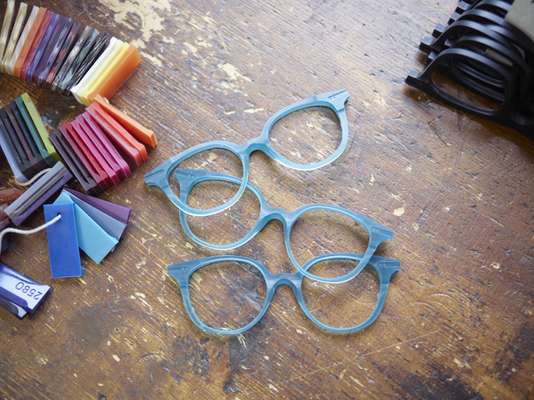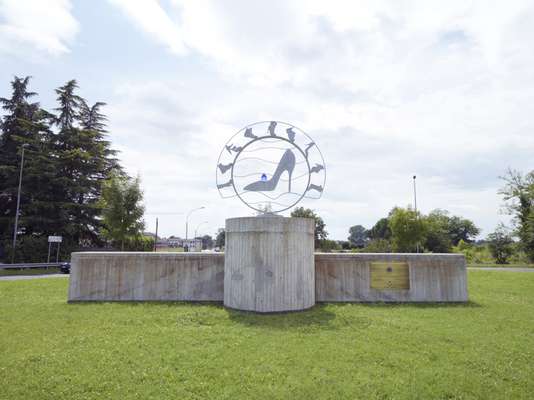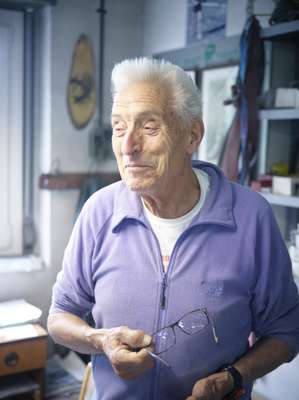 Frescura was a seasonal labourer who would carry spectacles around in a satchel and sell them across the Alps. More than 150 years ago he decided to make the frames in Cadore. Since then the industry has bloomed in the area and spread out across the entire Belluno province. There are more than 5,000 eyewear companies here, employing around 11,000 people (16,000 people work in the Italian eyewear industry overall). The region is now home to nearly 80 per cent of Italy's €2.9bn eyewear industry – and manufacturers both big and small.
Just behind the Town Hall, Angelo Frescura's descendent Antonio Frescura manages eyewear factory Kador. Opened in 1962, it is one of the many small-scale workshops dotted around the province and employs 17 people. Business is booming and the staff's commitment to high-quality eyewear done the old-fashioned way is stronger than ever. "I start work at 06.30 and finish at 19.30 every day, including on Saturdays," says the sprightly 83-year-old. "When I used to work with tortoiseshell I would come in on Sundays, too. The material was so precious it required a lot of extra concentration."
A nimble and highly skilled – albeit antiquated – production line means that Kador can design and manufacture small batches of as little as 10 frames. They have built up a reputation among high-end Italian opticians and internationally. "We have never taken minimum orders," says Frescura defiantly.
Calalzo is positioned on the Cadore Lake, whose waters gave the region's early factories their power. Further down the valley, towards the provincial capital of Belluno, lie the industry's two giants: worldwide leader Luxottica (producers of Ray-Ban, Persol, Oliver Peoples and Prada) and Safilo (makers of Carrera and sunglasses for Dior, Alexander McQueen and Marc Jacobs). Although their numbers and franchises far outnumber those at Kador, the skills and specialisation of the region are integral to their operations.
"You need the history of industry, of fashion mixed with technology, that you find in this area," says Alessandro Beccarini, product development director at Luxottica. "Nowhere else can you find someone who has 30 years experience in his craft and yet is so open-minded."
The same sentiment is shared at Safilo: "Ten or 20 years ago we were losing eyewear expertise rapidly," says the brand's creative director of proprietary brands, Nicola Bonaventura. He speaks of a pre-crisis time when it was quantity that mattered, not quality. "Now we realise the advantages for us to revert some manufacturing back to Italy and back to this valley." When you look at the concentration of expert makers in the sector within a relatively confined area, it is easy to see what he means.
Back up at Calalzo di Cadore, Frescura holds up one pair. "These were worn by a singer at the Sanremo Festival in the 1970s, I remember," he says. "You can have a good song like you can have a good pair of glasses: to make really good glasses you need the right singer!"
Downstairs, Frescura's son Leo pours pumice powder into a hexagonal barrel that contains thousands of wooden chips, which helps smooth the acetate frames. He explains how one reputable UK fashion brand wanted to buy Kador out (they have since opened their own site nearby) because they were so happy with the quality and service found in the Calalzo. "My father said, 'No way!'" says Leo, shaking his finger mechanically.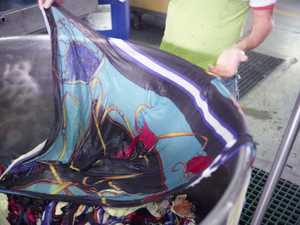 One of the most prized fabrics sought after by fashion houses each season is silk and for more than a century Italy has been a key supplier. Last year the nation's mills sold nearly €1.4bn worth of the material. And Como, the small city in Lombardy, is undoubtedly the final destination on Italy's silk road.
The natural fibre arrived in the peninsula in the Middle Ages. It had reached Como by the 16th century, when silkworms were introduced. The area's mulberry trees provided ideal growing conditions; in 1850 the Como region had three million of them.
Como began to compete with bigger producers in Lyon towards the end of the 1800s and already boasted 2,000 looms operated by families in their homes. By the 1920s, the area grabbed the spotlight from the French thanks to gifted designers and improved technology, making it the cluster of in-dustry that it remains today.
One example of Como's ongoing dominance in the industry is Mantero. The fourth-generation family firm excels in printing patterns on silk. For foulards and scarves, Mantero converts the raw material (now imported from China) into a finished product, while cloth for haute couture and ready-to-wear is delivered to fashion houses for sewing. Its work has earned it a stable of high-profile clients, including Kenzo, Vivienne Westwood and Christian Lacroix.
Inside its 37,000 sq m factory, designers are busy each day developing new designs and colour schemes. In the factory's atelier, Laura Fedriga oversees a team using modern and time-honoured techniques. "We have prints filed away as references so we can scan images and play with them but it's good to try a new pattern by drawing it," says Fedriga, peering over the shoulder of a colleague using watercolours to devise a new flower motif for a leading French fashion brand. To prove the point that Como is the secret weapon for many fashion houses' silk collections, confidentiality is always maintained.
Next door, printers work with rolls of raw silk up to 80 metres in length, pouring dye over cut-out panels laid on top, gauging the correct amount by eye. Centuries of built up know-how has allowed this illustrious textile district to weather wars and recession. "Como is the lone remaining source for quality silk," says Ester Geraci, curator at the city's Educational Silk Museum.
At Mantero's frescoed villa-cum-headquarters that abuts the city's medieval wall, co-owner Lucia Mantero shows off some of the industry's storied past. It has amassed a 12,000-volume set of fabric swatches – the scarves alone amount to 55,000 – based on previous work and archives acquired from defunct competitors. It's a source of inspiration when creating new designs that they then propose to fashion designers. "We have to be ahead of our clients who themselves have to be ahead of customers," says Mantero.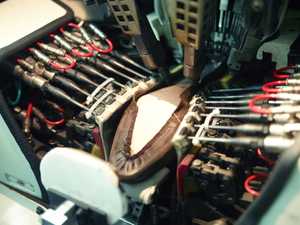 Located 20km north of Milan, Parabiago has been linked to the shoe trade since the end of the 19th century. The Città della Calzatura (or "City of shoes", as it is known), together with neighbouring communities, is home to more than 100 manufacturers and suppliers and employs several thousand craftsmen. The area was once populated by dozens of artisan workshops making footwear for Milan boutiques.
This was before bigger producers emerged during Italy's post-war boom to meet demand from home and abroad for the latest styles. Today, firms in the area remain invisible to passers-by, tucked away in nondescript buildings off main roads, fulfilling orders for brands including Chanel, Tom Ford, Manolo Blahnik and Christian Louboutin.
Despite the industry trend to consolidate into larger firms to compete, various tasks here are still carried out by specialised craftsmen. Based in a basement studio beneath his home, modeller Angelo Rancilio uses his half century of expertise to interpret sketches from fashion brands and convert them into real-life prototypes. For a new mid-heel pump design he has recently received he takes a shoe last, places strips of tape over it and redraws the design onto the mould to calculate the number of pieces required to build the shoe. Drawings are then scanned so each piece's measurements can be taken before being printed out as fibreboard sections that will then be used by craftsmen as a guide to hand cut segments from swathes of leather. "We are part artisan, part creative. We need to make the sketch a reality and make sure it works ergonomically," says Rancilio.
Not everyone in Parabiago works for outsiders, however. Founded in 1953, Fratelli Rossetti is a family-run business that makes classic footwear in a factory situated next to a quiet residential development. At midday, many of its 100-odd craftsmen head home for lunch while creative staff upstairs use mood boards to come up with new designs. These are then sold at the company's boutiques, from Bologna to Bangkok.
The brand has been a pioneer in the town, helping introduce colour to men's shoes beyond basic browns and blacks. Its Toledo technique uses a finished white calfskin upper that is buffed by hand with three layers of dye to give each pair a unique look. It uses woven leather, a practice once done by local women at home, which requires strips to be manually intertwined to create a softer and more breathable upper. Between stitching leather and sanding the sole, nearly 200 steps are needed to make a pair of the brand's shoes, much of it relying on a skilled pair of hands. It is something president Diego Rossetti is proud of and eager to preserve: "It's what makes this district synonymous with quality," he says.