Brooklyn lighting / Brooklyn
Bright stars
Brooklyn is a firm fixture in lighting design and draws the best young talent around. Monocle tours this cluster of industry, taking in Bec Brittain, Rosie Li and Rich Brilliant Willing.
"When I started out, so much of what I could accomplish was found there," says lighting designer David Weeks of his Brooklyn venture. "I just went from one guy to the next." Weeks set up his business in 1996, selling mid-century-inspired desk lamps through local boutiques. Today, with a new Tribeca showroom and studio, his company has expanded into Manhattan but back across the Hudson River he has witnessed a cottage industry grow. Almost 20 years later lighting is now one of the borough's brightest industries. A young generation is following in the footsteps of Weeks, with everything designed and manufactured in Brooklyn. "It's amazing to have been one of the people who spearheaded the movement," he says.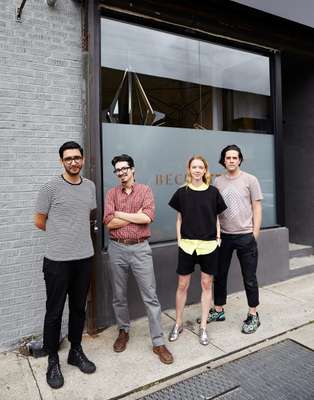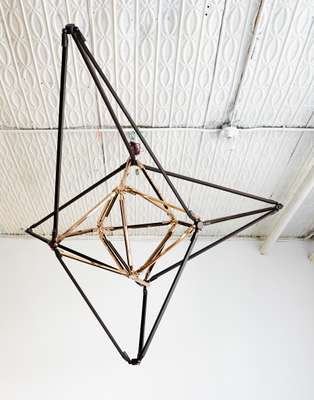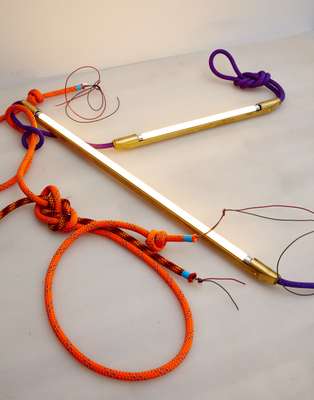 Weeks' production facility in Brooklyn is staffed by over a dozen employees, turning out hundreds of lights annually: his standard fixture can sell for as high as $50,000 (€38,000). But he's not the only established name committed to the industry here. Connecticut native Jason Miller set up Roll & Hill in 2010.
Now with 26 employees, the brand makes exclusive products from its headquarters in Brooklyn's Sunset Park neighbourhood. Besides a shortlist of New Yorkers on its roster (including Miller's designs and the works of Lindsey Adelman, another established champion of the lighting scene) the company manufactures lights designed by Philippe Malouin, Fort Standard and Lukas Peet.
Adelman identifies Brooklyn as a place where design students move to after graduation, helping to reinforce the network's talent. Having residential neighbourhoods close to industrial ones also means young designers can have the blurred work-life balance they expect.
It's this network that has helped the lighting industry in Brooklyn boom once again. Here are some of the brightest sparks in Brooklyn.
Bec Brittain is quickly rising through the ranks as one of the city's most sought-after lighting designers. After studying product design and philosophy in New York, Brittain studied architecture at the Architectural Association in London. Post-graduation work in high-end hardware and architecture led to Lindsey Adelman's studio, which she joined in 2008 as a design director in charge of design and production management. Adelman was supportive of Brittain's personal work and taught her how to balance the artist's need for perfection with the realities of a business. "Lindsey's very good at just getting things out the door and learning her lessons for next time," says Brittain.
Brittain left Adelman to go solo in 2011, at first working out of her apartment. Today she produces dozens of lights a year and has three full-time employees, selling her works at various galleries and showrooms, and directly from her studio. Her space, in a quiet corner of Bushwick where she also lives, epitomises what makes Brooklyn tick. A by-appointment storefront, it is packed to the ceiling with products, early-stage prototypes, tools and spare parts, all without a centimetre to spare. The studio is also part of The Loom, a former textile mill that's been converted to an interiors mall of sorts with over a dozen storefronts.
To Brittain, setting up shop here was a no-brainer. "So much of the job is having a network of support – and I had that here. Brooklyn, for me, is just more space for less money."
Business has grown 300 per cent in the past year and, with an average price of $12,000 (€9,000) for her products, she realises she's hit a sweet spot in a very scrupulous industry. Where does she place herself in the design landscape? "I don't identify much with industrial designers. I'm in this middle ground that, if anything, is luxury," she says. "But I didn't set out to make expensive lights, just to make what I thought was worth making."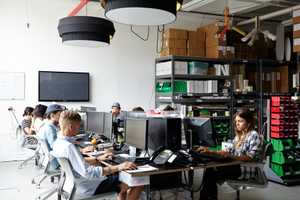 2.
Rich Brilliant Willing
Gowanus
While its contemporaries strive to gain a foothold in the luxury market, Rich Brilliant Willing (rbw) is positively old school in its ambitions: to be the next contract-lighting powerhouse. Rhode Island School of Design graduates of furniture design Theo Richardson, Charles Brill and Alexander Williams began their practice after graduation as a traditional studio in 2007.
One of rbw's first hits, the improvised-looking Excel floor lamp, is still being sold by Roll & Hill and the follow-up, 2010's Branch series, remains the studio's biggest seller. Dozens of pieces followed and by 2013 the fledgling brand made the move from Manhattan's Lower East Side to Brooklyn's Gowanus to accommodate a fast-growing business that now includes 10 employees (counting the three founders). The new showroom-workshop hybrid looks much like their original space – bare bones and built to move product fast.
The new storefront facility is in a building with other creative businesses, linked together with a loading bay that's steps away from the studio's office. The move to Brooklyn seems to have greased the wheels of growth with rbw doubling its business last year, according to Richardson. Aside from its clean, pared-down aesthetic, rbw seeks to stand out with its technical know-how and embrace of technology; as of 2012, all of its products use led, while the designers regularly use new materials.
rbw's democratic and industrial aspirations set it apart from competitors, too. "Our aesthetics and values are in a more commercial product," says Richardson. "It's a different direction in terms of the glamour that comes from working with different companies and just being the ideas person," he says. "The upswing is the sense of freedom and control to pursue your own path." What could be more Brooklyn than that?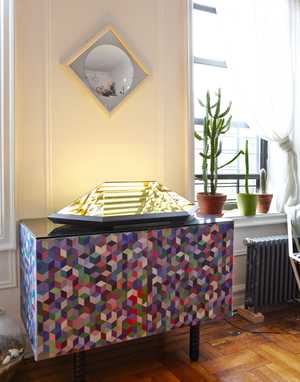 Rosie Li's meteoric rise shows how Brooklyn's lighting industry can help young designers achieve a lot of attention in a short amount of time. Li, a native of northern California, graduated in 2011 from the furniture-design programme at Rhode Island School of Design, creating a light as part of her senior thesis. Lindsey Adelman, a guest critic to her class, suggested she show the product to Roll & Hill. Not only did that Stella light go into production but Li also landed a job straight out of school as a junior designer for the brand. After a year on the job she decided to forego her ambitions to produce furniture, focusing solely on lighting instead.
Today she has a fledgling studio of her own, working out of her apartment near Prospect Park. "I realised I liked working on lighting more because there was more of an emphasis on form and decoration rather than function," says Li. "There's room to play. And it's admired, much like jewellery." During last May's New York Design Week, Li exhibited a series of new prototypes at the inaugural exhibition Sight Unseen Offsite, including a modular system called Lina.
Li is grateful for the support she gets in Brooklyn. "It's such a community of makers and artists," she says. "It's great to be able to set up a show and know so many people that are in the same boat." Now she's shown her work publicly and the orders are rolling in, she's ready for more. "Hard work just generates more work."