Vista Alegre / Aveiro
Helping hands
For nearly 200 years a small community in Aveiro in Portugal has created handmade porcelain that interprets the nation's heritage.
Situated on a shady square beside a river and surrounded by tree-lined lanes of low-built workers' cottages, the Vista Alegre porcelain factory feels more bucolic than industrial. Its sturdy 19th-century buildings of whitewashed stone have windows framed in exposed brick and architectural details painted in emerald green and caramel. The factory, 75km south of Porto, feels tranquil, filled with natural light, the scent of clay and the dry heat of vast kilns.
But it is soon apparent that this is no low-key workshop. The porcelain factory has 600 employees and its slip-casting department produces some 2,000 items a day, all of which are handmade throughout the process – from casting to glazing and decoration. Founded in 1824, Vista Alegre was the first company in Portugal to produce porcelain on such a scale. Today it has become part of the nation's heritage, tapping into long-held values such as a love of food and the ongoing tradition of extended family groups eating together.
"Family is the centre of Portuguese life and being around the table together is very important in our culture," says Filipa Quatorze, manager of the company's museum. "Vista Alegre is really associated with that tradition. Everyone's mother or grandmother has a wedding set of Vista Alegre crockery that you use on Sundays."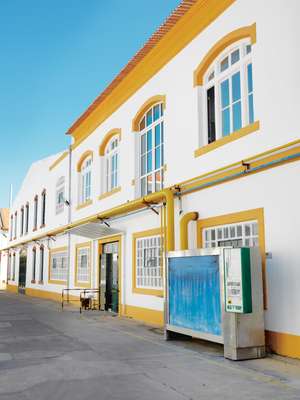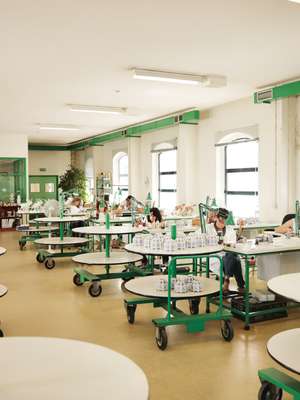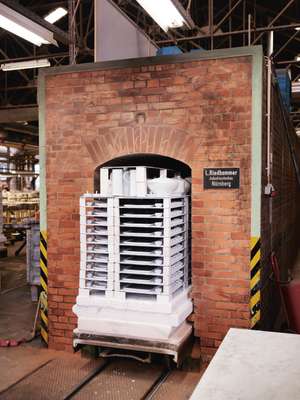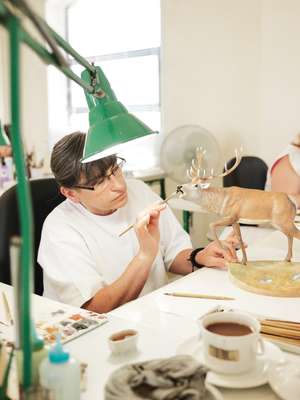 The success of the brand is intrinsically linked to the high quality of its production. Many pieces are handmade and staff build their expertise over decades: Fernando Mouzinho, the production manager, has been with the company for 36 years and José Gonçalves, who hand-glazes the pieces, has notched up 25 years.
For limited editions there is also a team of sculptors and artists who create intricate details. The artists use tiny 2mm brushes to paint everything from startlingly lifelike feathers and fur to flowers and more modern, geometric designs. For one successful hunting-bird-themed range the team had a live model – a female partridge – that lived in the studio for the entire two-year run of production.
Despite the brand's strong Portuguese identity it has faced challenges over the past decade; couples living together before marrying are less inclined than in previous years to include formal dining sets on their wedding-gift lists. This meant that with poor sales throughout the financial crisis, Vista Alegre recently faced bankruptcy. In 2009 it was acquired from its original owners by Portuguese firm Visabeira, which provided capital and is promoting Portuguese-made products to the Brazilian and US markets.
"It's been more difficult than we anticipated to turn the business around," says Vista Alegre board member Alvaro Tavez. "We're now focusing on creating limited-edition collectors' series and we're starting to see sales growth including in Portugal. It is these high-value items that are driving that growth."
As part of the company's consumer-minded revamp, Vista Alegre appointed French designer Sam Baron as a creative consultant. Baron consults on new pieces and designed one of the company's bestselling ranges, the Ornament collection (see panel, top). Baron also saw an opportunity to breathe new life into the old set-up by taking advantage of its residency programme, IDPool, for young designers.
The programme invites six young designers to live and work at the factory for three months each summer. There is no compunction to produce specific pieces but several successful ranges have emerged from these collaborations – and head of internal design Alda Tomás says the residencies provide alternative perspectives for the old company. "We have designers from all over Europe and Japan staying with us," she says." They learn a lot about the production process here and they challenge us with new ideas, too."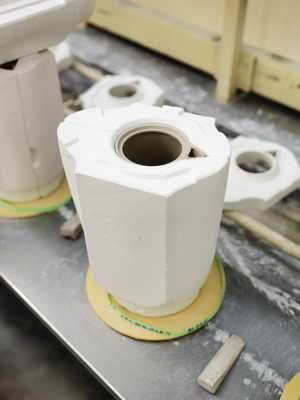 Liquid porcelain is poured by machine into a mould and allowed to set for approximately half an hour. The skill lies in deciding when to break the mould: the time it takes for pieces to form is different every day and even at different times of the day.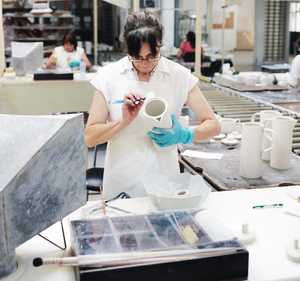 After spending a night in a dryer, all pieces are hand-finished using water and sponges to remove imperfections and ensure the details are exactly right. Isabel Vidal has worked here 24 years, perfecting the delicate craft. Each piece is then fired for the first time.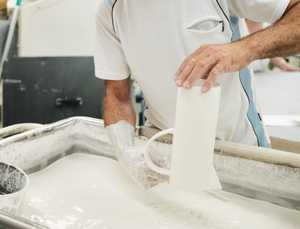 Hand glazing the products is an art; the glaze must be evenly applied with no drips or missed details. José Gonçalves twirls the coffee pot in the glazing mix, his hands covered in the milky white liquid. It takes him about 30 seconds to finish each one.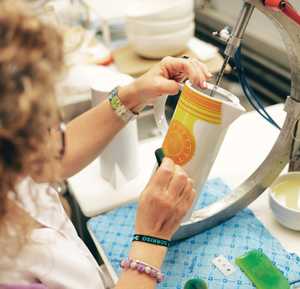 Following a second firing, the finished white porcelain is hand-decorated using an established technique undertaken by engineer Paulo Simões. Decals made from a mix of varnish and ceramic oxide are applied to each piece, which are then fired again.