Sunday's Grocery / Global
Treats on the go
Introducing Sunday's Grocery, the unique shop and deli serving everything from Japanese whisky to made-to-order takeaway sandwiches.
Ask a chef to set up three restaurants in as many years and you're unlikely to get a positive response. But for Matt Abergel and his business partner Lindsay Jang it has been made possible by the close-knit team they have fostered through their ambitious businesses. This spring they opened Sunday's Grocery – a grocery, off-licence and sandwich shop – with five others who had been involved in the duo's earlier restaurants. That includes Yardbird, a bustling, no-reservations chicken yakitori-ya that opened in 2011 and sees a daily queue grow outside before the doors open. The other is Ronin, a discreet 14-seat restaurant specialising in seafood and Japanese whisky that opened last year.
"We use everything that we sell here in our other restaurants," says Abergel, who originally hails from Canada, as do four of his partners: Jang, her sister Stacey, Tara Babins (Abergel's sister) and Elliot Faber. Austrian Raphael Holzer and American Jared Bassoff complete the line-up. "The grocery is an extension of what we were already doing and it still revolves around the things we love, many of which are Japanese products," Abergel adds.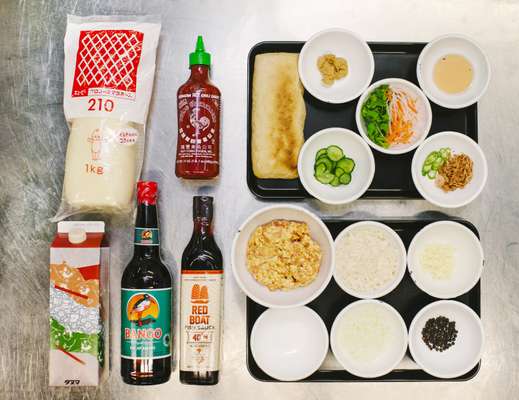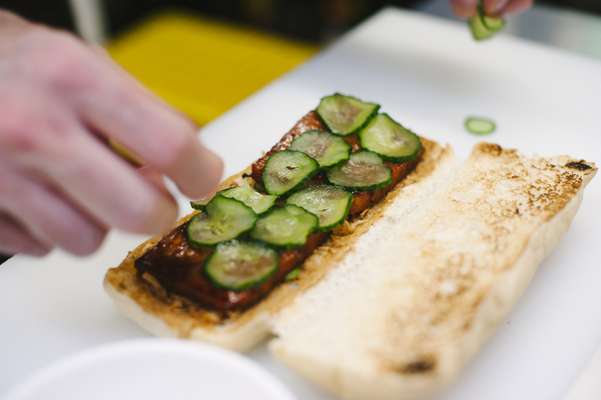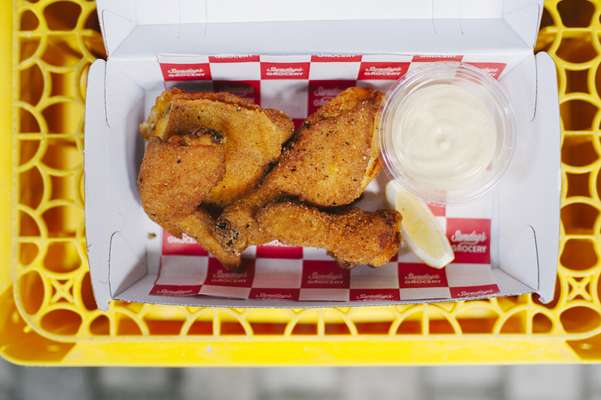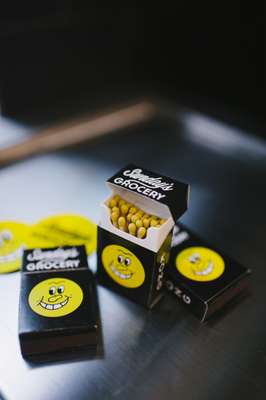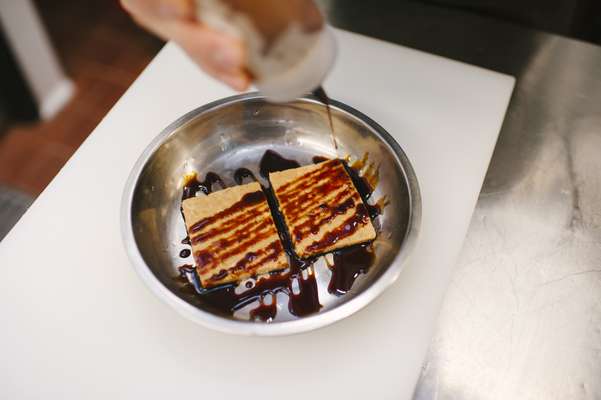 Located in Kennedy Town, a laid-back neighbourhood at the western edge of Hong Kong, the Sean Dix-designed interior is lined with Vitsoe shelves stacked with pans made by Tokyo's Kama-Asa, specialist Japanese whiskies, independently produced wine and even charcoal for barbecues. "The idea is to give you everything you might need for a perfect day off," says Abergel. A large fridge is stocked with Hitachino Nest beer alongside Wilkinson soft drinks and Fuji Water; a freezer houses hand-carved ice balls.
A simple board spells out the grocery's classic made-to-order sandwiches. The katsu sando is a popular dish taken from Yardbird that is made up of cabbage slaw, Sriracha and tonkatsu sauce and a panko-encrusted fried chicken meatball inside two pieces of milk bread. The lighter falafel pita includes Israeli salad and tahini, while the roast pork sandwich is flavoured with yuzu kosho (Japanese citrus and chilli preserve) and the chips are drizzled with black-sugar syrup. Homemade pickles and chicken soup are also on offer and on Sundays the kitchen makes its sought-after fried chicken.
"We always talked about doing a sandwich shop," says Abergel. "This is the place where we can do whatever we want. The sandwiches will change as we develop and we will eventually offer delivery and party catering, too."
Customers can eat on one of the colourful crates set up outside the front door or take their food to the nearby waterfront. Sunday's also offers wine on tap, which is bottled in reusable Japanese glassware and served with small, sturdy glasses perfect for picnics. The shop's colourful signage was designed by artist Dan Climan and made by local artisans. "Everything has to have that personal touch," Abergel says.
Recipe 1: Bahn mi sandwiches
Ingredients
4 ciabatta-style rolls
8 meatballs
60ml meatball glaze (50ml soy sauce, 5ml Sriracha sauce, 2.5ml fish sauce, 2.5ml black-sugar syrup)
120g chicken-liver mousse
10g shallots, fried
10g green chilli, sliced
80g cucumber, sliced
40g carrot, sliced
40g daikon radishes, sliced
25g coriander
10g mizuna (Japanese mustard green)
10ml fish-sauce vinaigrette
40ml Sriracha-Kewpie mix (5ml Sriracha sauce, 35ml Kewpie mayonnaise)
The method
Slice roll, toast and spread chicken-liver mousse inside.
Sprinkle with a layer of shallots and chilli.
Glaze two meatballs, add to roll and top with a layer of cucumber.
Combine carrot, daikon, coriander, mizuna and vinaigrette in a small mixing bowl and add to sandwich.
Spread a thin layer of Sriracha-Kewpie mix on top piece of bread.
Cut in half and serve.
Ingredients
4 fresh chicken legs
4 fresh chicken wings
50g seasoning powder (30g karaage flour, 15g tempura powder and 5g katakuriko potato starch)
1 lemon, cut into wedges
100ml roasted garlic Kewpie mayonnaise
Salt and pepper to taste
The method
Preheat deep-fryer oil to 150C.
Coat chicken in powder and shake off excess.
Fry thighs until golden brown (around 5-7 minutes). Repeat with drumsticks and wings. Place on rack to cool.
Increase oil temperature to 180C and fry until deep golden brown and crispy.
Shake off excess oil and season with salt and pepper.
Serve with lemon and mayonnaise.