Finnair / Helsinki
Aiming high
Following a spell of financial turbulence things are looking up for Finnair, with plans for an airport expansion, a fleet makeover and a focus on promoting the national brand. Monocle heads to the airline's headquarters to see the team in action.
"If you look at a map we're almost an island," says Finnair ceo Pekka Vauramo, referring to the nation's remote perch above the 60th parallel. The executive looks casual yet frank when he meets us on the top floor of Finnair's headquarters at Helsinki-Vantaa Airport. His relaxed attire would well lend itself to a laidback island mindset but don't let Vauramo and his mild manner fool you. He and his cohorts mean business and are focused on a forthcoming fleet renewal, continued cost cutting, an airport expansion and managing the occasional geopolitical dispute. The hope: bring the airline consistently into the black all while keeping Finland (and the world) moving.
The Nordic nation is on both the upper and outer edge of Europe: a good spot to take advantage of the fastest air path between said continent and Asia, known as the "great circle route". But its position also poses challenges: in the weeks leading up to monocle's visit, the international media hurled conjecture over the crisis in Ukraine, western sanctions on Russia and the potential ban on EU-based carriers transiting Siberian airspace. "We have certain processes in-house for an event like this and we have practised them," Vauramo says. "We don't see people cancelling travel because of this threat." Under a ban, Finnair's business model could be in jeopardy as its flights to Asian cities such as Tokyo and Beijing cross Siberia.
Sitting with Vauramo is Allister Paterson, senior vice-president of Finnair's commercial division. "We are a national carrier. We obviously serve the Finnish market but it only has five million people, which isn't enough to sustain us," Paterson says. Even with the government's 55 per cent stake in the carrier, the EU has restrictions on nations bankrolling a national airline. "You aren't able to be a tool of the state," says Paterson. For profitability and growth the airline must rely on Asian passengers using Helsinki as a transfer point to other European cities. The strategy has worked in terms of growing passenger numbers but the carrier hasn't consistently turned a profit, while many competitors have.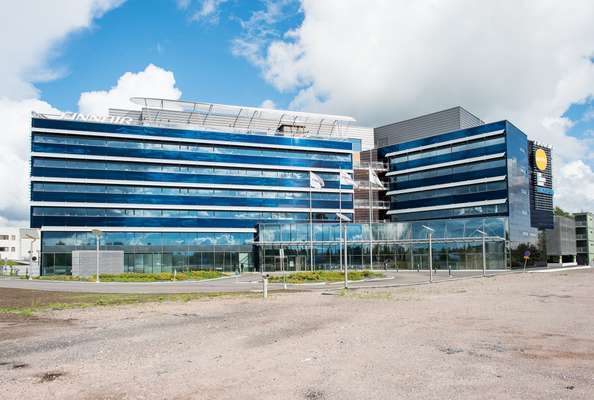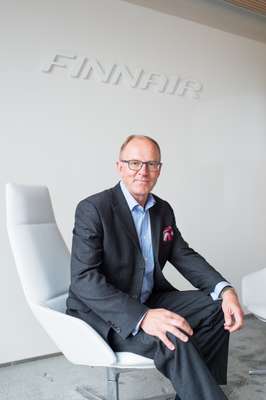 Some analysts say Finnair is too small to compete with the encroaching low cost and Middle Eastern carriers; a buyout by a group like the UK's International Airlines Group (owner of British Airways and Iberia) is a constant refrain. "Our main owner has said that Finnair is not for sale," says Vauramo. However, Finnair's existing China network could help BA with its push to grow that market; an alliance between the two is already in place.
In recent years the airline has laid off a number of employees, outsourced its labour and sold its duty-free operations at Helsinki Airport. Early next year it will receive the first of 11 Airbus a350 jets, which burn 20 per cent less fuel than the planes they will replace. The savings on fuel should help with profits and so too, hopes Paterson, should sales of more full-fare tickets to premium passengers. In August the company unveiled plans for an enhanced economy class and a new business class that rivals some of the best in the sky. All with Finnish touches, of course.
The airline worked closely with Finnish interior designer Vertti Kivi for its new a350 interiors and all-new premium lounge. "There must be a continuation from ground to air and air to ground," says Markku Remes, manager for lounge and vip services at Finnair. As Remes shows monocle around the new space he points to elements within it that came from Finnish designers, including Eero Saarinen's Womb Chair and Lisa Johansson-Pape's Bulbo light fixture. "Many of them are not with us anymore so we try to honour the heritage." A sauna rounds off the experience for passengers who have a few hours before their onward flight.
For travellers who don't have access to premium lounges during a layover at the airport there is still plenty to do. Sweeping spaces in both the international and Schengen terminals give more than 15 million annual passengers generous views of the tarmac and forests beyond. All the halls are connected by an easy-to-navigate set of corridors, without the typical fuss of trains, buses and moving walkways.
Ville Haapasaari, senior vice-president at Helsinki Airport, acknowledges that part of the challenge during the current €900m capacity-expansion project is maintaining the easy nature of things. "One of our strong points is that the airport is more compact. You can still manage to walk through the whole terminal while transferring," he says of the facility that is slated to see 20 million passengers by 2020.
Finavia, the state-run entity that manages the hub, uses it as the economic engine for airport infrastructure throughout Finland. "When we are taking care of Helsinki we are taking care of all the Finnish people," says Anne Gullstén, senior vice-president of commercial at Finavia. The equation is simple: more passengers at Helsinki mean more landing fees and revenue from airport sales, and that keeps the country's airports open and Finns connected.
Gullstén's goal is to create an airport experience that makes passengers prefer a stopover in Helsinki. That means a focus on standard offerings such as duty free but also an eye towards things made in Finland such as Petri Vainio's Tuisku birch bowl or a bag of Karl Fazer chocolates. "This is something very different," she says. "You have to be prepared for something unusual. That is something we promise."
What begins to manifest once you've had a chance to meet the people behind Finnair and Finavia is an absolute dedication to making sure the "island" doesn't feel like one. For here you won't find "island time" or a disregard for the clock. This far-northern outpost is a bastion of efficiency and reliability that promotes a national brand while keeping its countrymen and those beyond connected.