Art market / Global
Art market
Briefing
Take a seat - in a David Collin lounge chair.
A number of independent galleries are setting up shop in Calgary's emerging quarters, one being Esker Foundation in the Inglewood neighbourhood. Set up by local oilman (and art collector) Jim Hill in 2012 and designed by Canadian studio Kasian, the CA$9m (€6.4m) gallery spreads across 1,390 sq m and features moveable display walls for video installations, two meeting rooms and mezzanine offices.
"The idea is to offer Calgarians an alternative exhibition venue that engages with the community by increasing the presence and accessibility of contemporary art," says gallery director Naomi Potter (pictured, left, with marketing head Aeryn Twidle).
With three to four exhibitions a year, the venue's aim is to bring emerging artists to Calgary, including paintings by Montréal-based Cynthia Girard, photos and videos by Tobias Zielony from Germany and installations by Winnipeg-based Cedric Bomford.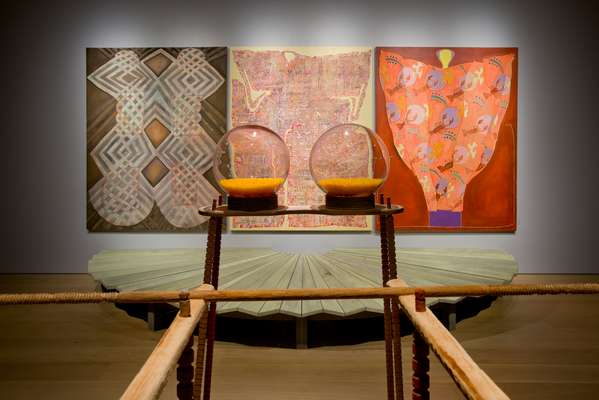 "Locals have developed tastes and high expectations. The audience is more mature and curious compared to five years ago," says Potter.
On show until 14 December is Terms of Engagement, in collaboration with The Canadian Forces Artists Program, which introduces three artists who have recently been deployed to conflict zones: Dick Averns, Nichola Feldman-Kiss and Adrian Stimson.
---
Perfect portraits
London
[BOOKS]
Like Sarah Thornton's previous book, Seven Days in the Art World, 33 Artists in 3 Acts gauges the health, practices, values and sanity of the art world. Only this time it's told through meetings with the artists themselves.
Using Marcel Duchamp's infamous line "I don't believe in art. I believe in artists" as a starting-gun, Thornton races about from Jeff Koons' studio in New York to Ai Weiwei's artist-less studio in Beijing during the time he disappeared in 2011 – and everywhere else in between – to nail some wonderful portraits of the people that, well, do wonderful portraits.
Koons is fascinating in his dissembling, Gabriel Orozco is swashbuckling and quotable and the curator Francesco Bonami "comes across as a mauled teddy bear: one who comes to life and wreaks havoc among the other toys when his owner sleeps". These characters are no longer creators of icons but icons themselves and Thornton is in the front pew – but taking notes, not praying at all.
---
Fitting tribute
London
[AUCTION]
Luxury — Colour — Texture: The Estate of David Collins
4 November
Patrons of the Berkeley hotel's Blue Bar and The Wolseley restaurant in London will be familiar with interior designer David Collins' flair for reinterpreting classical aesthetics for contemporary times. This November, Christie's London outpost holds its first ever auction for the Irishman, who died last year. The estate sale features Collins-designed works along with other furniture, art and photographs from his personal collection of other 20th-century creatives.
"Collins updated and transformed the time period's style with his juxtaposition of subtle shades, texture and lighting," says Jeremy Morrison, Christie's senior director for 20th-century decorative art and design. Up for grabs is a blue-and-white wardrobe Collins created. "He drew cues from 1920s and 1930s French design but simplified his pieces to make them more functional," adds Morrison. Also on offer are items by designers such as Parisian Nicolas Aubagnac; a pair of his limited-edition Orion side tables are predicted to be especially coveted (there are only 12 in existence). Meanwhile, a set of floor lights by Paul Dupré-Lafon is expected to fetch up to £50,000 (€63,600): the auction's 200 lots are forecast to bring in £1m (€1.27m).
David Collins studio
"Gentleman's compact wardrobe, modern", estimate: £3,000 to £5,000 (€3,850 to €6,400)
"Pair of lounge chairs, modern", estimate: £4,000 to £6,000 (€5,100 to €7,700)
Nicolas Aubagnac
"Orion" side tables, estimate: £3,000 to £6,000 (€3,850 to €7,700)