InnoTrans / Berlin
Bullet time
The romance of the rails captures the imagination but travellers still demand efficiency and comfort on the move. Monocle visits industry fair InnoTrans for the latest technologies and innovations keeping the transport on track.
A rail yard is usually a fallow zone; a place for trains not running or working but "dwelling", in industry speak. But the 145 vehicles parked in the outdoor display area at InnoTrans – Berlin's biennial rail industry trade fair, which celebrated its 10th edition in September – are doing much more than dwelling. These shiny trams, monorails, double-decker regional trains and locomotives are the prize products of exhibitors here to launch the newest technologies and innovations in rail transport.
With nearly 3,000 exhibitors from 55 countries showing across 200,000 sq m of space, InnoTrans is larger than ever; in fact it has not stopped expanding since its launch in 1996. "This is the most important trade fair for this industry in the world; there's nothing that comes close to it," says Jeanette Bowden of Canada-based transport company Bombardier.
On the fair's first day, well-heeled viewers stood in a long line to see the interior of the sharp-nosed Frecciarossa 1000: the sexy new-generation bullet train that Bombardier and AnsaldoBreda developed for Trenitalia, which can travel at speeds of up to 400km/h.
In its executive-class carriage (that boasts a large conference room) visitors sink into oversize adjustable chaises in creamy latté-coloured leather. This comfort underscores one of the fair's recurring themes: optimising and streamlining the rail customer's experience from door to destination. Other passenger-driven innovations at InnoTrans are improved communications signage, durable leather for seats and entertainment options: all in step with shifting travel habits.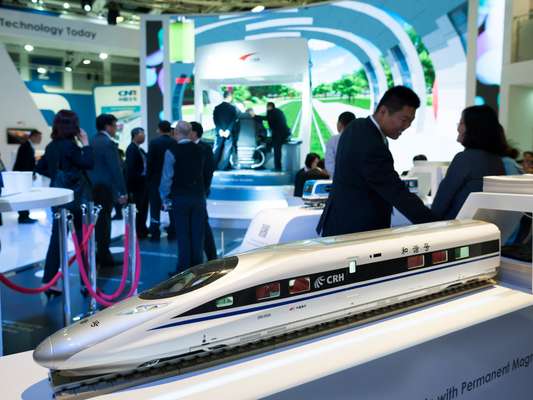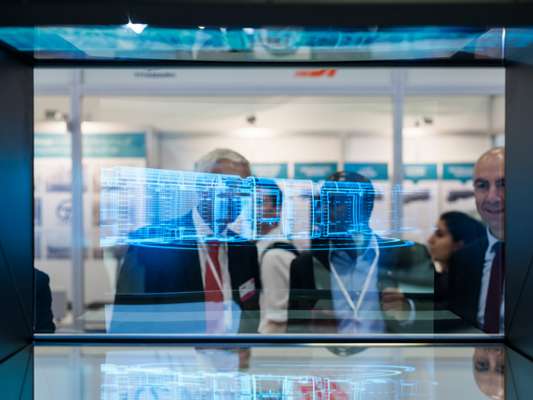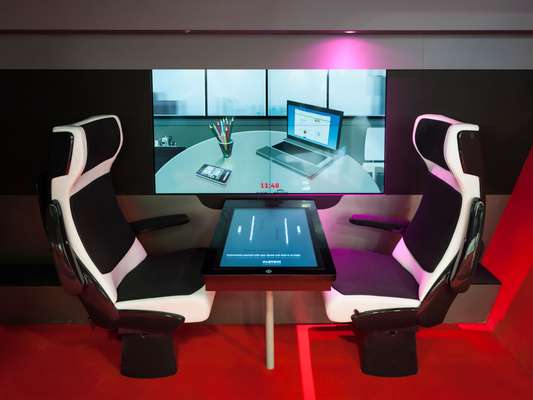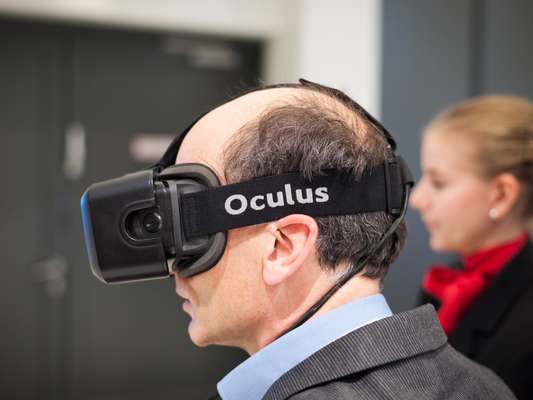 It means good news for urban transport as well. French manufacturer Alstom demonstrates a low-floor tram developed for smaller cities. The Citadis Compact is a 22-metre-long mini-tram with a capacity of 146 passengers; its double doors and wider corridor allow for ease inside and out.
German company Siemens shows mock-ups of its electric Desiro City train developed for London's Thameslink; with 1,140 carriages on order for 2016 this is its largest contract for the UK. Here, too, passenger comfort is key: a sensor system controls airflows and interior weight indicates which carriages are least busy, something communicated to waiting passengers via signage so they can board accordingly. "We are investing record amounts in transforming the rail network, providing more seats, better connections and improved journeys," says Patrick McLoughlin, the UK's secretary of state for transport.
Improving journeys involves a multitude of elements, reflected in InnoTrans' exhibition halls. There are, of course, the tech and machinery-heavy aspects of rail supply that keep things running no matter what's being transported. Products on view include lighter, durable brake systems and bogies; improved heavy freight locomotives and maintenance vehicles; sensoring and signalling; and a slick new logistics system called RailConnect 360 by US firm GE, which will reduce freight train dwell time. The industry also continues to introduce and improve upon sustainable solutions such as battery-driven trains.
The neighbouring halls are filled with companies taking passenger comfort to the next level with industry experts musing on train interiors. Is it easy to find a seat? What do people do on trains today? Is there anything to eat? "We consider all steps and minor details of a journey: from booking to waiting for the train to onboard service," says Sunbul Dubuni, director of trends and innovation at lsg Sky Chefs. "Based on this we can create a process and give the passenger the best experience at each point." Founded in 1991 as an airline caterer, the company (which is a Lufthansa subsidiary) entered the rail market in 2011 and now caters meals on seven operators, including the Eurostar.
"In first and business class it's about cuisine, the seat and entertainment. In other classes it's about a positive retail experience," says Stefan Patermann, vice-president of business-development strategy Europe at lsg Sky Chefs. The company just announced a partnership with the privately owned Italian high-speed train company ntv. The tie-up will see regional Italian meals developed by star chef Maurizio Ferro served onboard as of January 2015.
In addition to now-faster connections between major cities and the convenience of not having to go through airport security, ramping up onboard service is one way European train travel is competing with low-cost airlines. "We're seeing passengers on short and mid-distance routes shifting from airline to train," says Patermann. "Train operators have more competition and are looking for ways to differentiate themselves."
The overall global rail market has proved remarkably solid, even in the face of slowdowns and burps in the global economy. Philippe Citroën, director-general of the Brussels-based Association of European Railway Industry, unveiled the results of a study it commissioned from strategy consultants Roland Berger that forecast the sector's next five years. Amazingly, rail supply's most mature market, western Europe, is holding a steady lead. Latin America, Asia Pacific and North America were revealed as high-potential regional markets, in part because Brazil, Colombia, the US and China (whose showing at this InnoTrans was the biggest ever, with 28 companies) are investing heavily in new projects.
Both Africa and the Middle East have seen explosive growth in recent years that they are likely to maintain. "Despite the crisis a lot of countries are still going through, this industry is resilient to economic ups and downs. And alternative financing tools like public-private partnership will gain in importance," says Citroën, pointing out that the total global rail market is forecast to increase 2.7 per cent each year to approximately €176bn a year between 2017 and 2019.
How this will happen is unclear: rail expansion in the global east has the potential to overtake the west, with Europe's stability perhaps flagging in the face of ageing infrastructure and the need to compete for customers with new service-based products and routes. North America lags some distance in terms of investment as well, especially in passenger travel. Still, after touring InnoTrans 2014's gleaming display trains, set to roll out on urban and long-haul rails around the world, it's not difficult to imagine many smooth rides into the future.