Ernest Wright & Son / Sheffield
Cut above the rest
Skilled craftsmen and quality products are to thank for UK scissor-maker Ernest Wright & Son's century-long survival.
"Until they visit, no one has any idea how many processes go into making a pair of scissors," says Nick Wright, managing director at Ernest Wright & Son, a Sheffield-based scissor manufacturer in business since 1902. His small band of craftsmen, with more than a century of collective experience, has witnessed post-war highs and more recent crushing lows as globalisation all but dismantled Sheffield's previously mighty steel industry. "I still know highly skilled sawmakers, knifemakers and silversmiths," says Wright. "But there's only a handful left."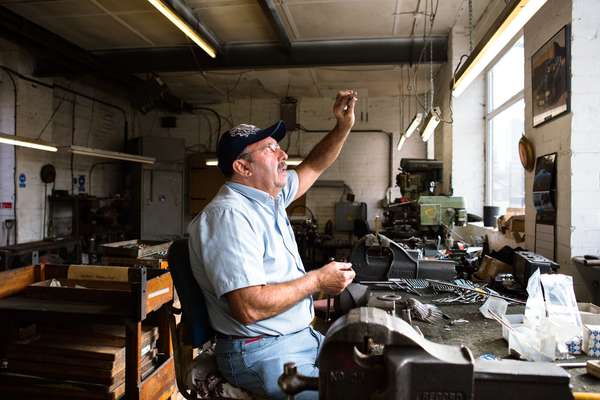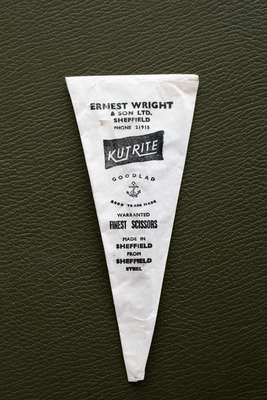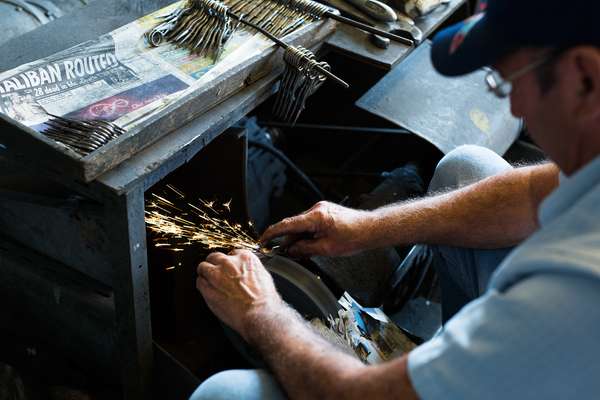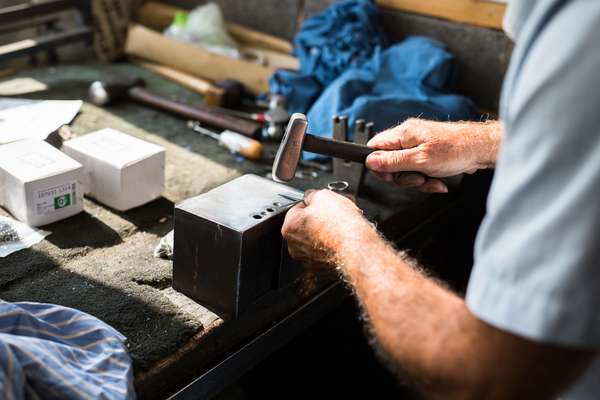 Despite establishing an industry-topping standard for scissors, the firm – which has passed through the family from great-grandfather to grandfather and uncle before ending up with Wright – has ridden the steel industry's boom and bust, switched names and premises and even faced winding up as recently as this year. Yet following an appearance in a local film-maker's video that went viral, the company found itself in the global media spotlight and orders increased as the world rediscovered a desire for handmade products. Wright's workshop – which features oversized scissor casts, relics from the firm's heyday and an original turnstile from Sheffield United (a team fittingly nicknamed The Blades) – is abuzz as staff strive to keep up with burgeoning customer orders. Wright never doubted his product. "People want skill and quality," he says. "We've been labelled a 'national treasure' by people desperate to see a 'making' company survive." According to him, the city's decline was not down to globalisation or a lack of steel so much as the dwindling number of skilled employees. Luckily, Wright has two of the world's best: scissor "putter-togetherers" Eric Stones and Cliff Denton.
"It has been 58 years since I got into the industry but the process hasn't changed much," says Stones. The pair have turned the exacting method of transforming raw forged-steel cutouts into the finished product – via drilling, hardening, tempering, grinding, tapping and shunting – into an art form. But with both in their seventies, the firm is reliant on the skills being passed on to Wright's two apprentices.
Now two years into a five-year course, their passion for the trade is tangible. "I wouldn't class it as work," says Jamie Boden, 19. "It feels more like a hobby and no day is ever the same." This is music to the ears of Wright, who says, "If they learn this role, I can offer them a job for life."
A streamlined product line and further apprentices will improve output but – perhaps most intriguingly – Wright aims to galvanise the local community of manufacturers through a self-styled Sheffield Makers' Emporium. This concept will see him showcase fellow Sheffield artisans' products in his own workshop to help restore the pride that first led to the city establishing its "Made in Sheffield" certification. But before that can happen, there's that spike in his own orders to attend to.
Drilling and hardening
The raw, forged blades are given a jagged hole so the screw used in assembly has something to bite into. They're then heated in a furnace to temperatures of up to 1,050C, cooled in oil and tempered to prevent brittleness.

Grinding
In one of the trickiest skills to master, the tops of the blades are angled and smoothed on a grindstone to ensure there's a smooth edge, so that both blades glide well when run together.

Polishing and filing
Every single surface – the blades, bows (handles) and shanks (which run between the bows and blades) – is worked upon to smooth and remove "fash" (scale and rough edges).

Assembling
To ensure there's a fine gap between the blades (which should have pressure at the point so they shear effectively) a hammer, "stiddy" (block of metal) and horseshoe-shaped "break" are used to straighten and tweak the bows and shanks.