Japanese in India / Neemrana
Home from home
As Japanese firms look to India for expansion, one Rajasthani town has evolved into a thriving expat business district for would-be investors.
Northern Rajasthan's rural hinterland is an inhospitable place where farmers scratch out an existence growing mustard or herding animals. It is here, amid the dry and dusty fields overlooked by an imposing 15th-century fort, that one of Asia's vital modern partnerships is becoming a reality. The town of Neemrana, two hours from New Delhi, has been transformed by the creation of an industrial park for companies from Japan.
Ties between the two Asian nations have been quietly growing – both economically and strategically – for years, partly to counter the regional dominance of China. In August, India's prime minister Narendra Modi visited Japan on a trip that resulted in Tokyo pledging rup2trn (€25bn) in investment. The trip cemented a relationship that underscores what many see as an eastward shift in power. At the same time it has become increasingly clear that India and Japan fill each other's gaps: Japan has technology, high standards and established brands while India has an expansive potential workforce, natural resources and, vitally, a fast-growing market. Indeed, it is the last point that has many manufacturers around the world eyeing the world's second-largest country with interest. "India is the only country that can save the world," says Hiroshi Daikoku, a senior economic adviser with the New Delhi office of the Japan External Trade Organisation (Jetro). "It has 1.2 billion people and 60 per cent are under 35. Where else is there a market like this?"
Daikoku knows what he is talking about having lived in India for 20 years, first working for the Oberoi hotel group then moving to Jetro. In the organisation's New Delhi office, a waiter serves us brown-rice tea as Daikoku expands on the potential of the relationship now that India has a new government. "Modi knew all too well that he needed to visit Kyoto, which is the heart of Japanese culture. He knows how to appeal to Asian emotions as opposed to Western logic."
In 2006, after a number of Japanese companies complained of difficulties in finding inexpensive land for their factories, Daikoku was involved in scouting north India for a location for a Japanese industrial park. Neemrana was selected, mostly thanks to a generous deal by the Rajasthan state government, which was keen to attract investment. The region is ideal as it is directly off India's main industrial arterial: the nh8 highway that links Delhi with Mumbai via the western states of Rajasthan and Gujarat. With many car-part manufacturing units in the works it was vital for there to be easy access to car manufacturers, the most important of which is a Suzuki plant in the town of Manesar, 70km to the north.
The transformation has been enormous. There are now 39 factories with seven more being built. Three Japanese restaurants have opened as well as four hotels catering for Japanese expats. Naturally, there are entertainment options: karaoke bars and putting greens. More hotels are being built as well as a helipad.
Osaka-based air-conditioning manufacturer Daikin launched its factory in Neemrana in 2009 and, with 1,200 mostly local staff, is the largest factory in the Japanese zone. Once through the gates it is like leaving India altogether: the hedges are pruned, roads are paved and the layout is structured. Inside, clocks show the time in both Neemrana and Tokyo.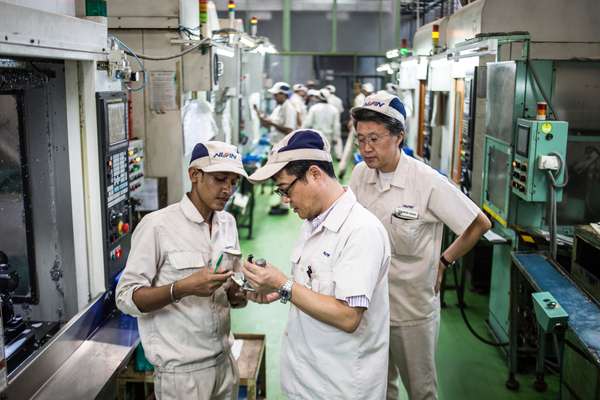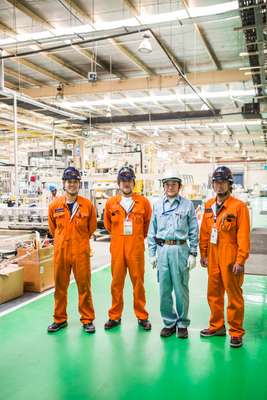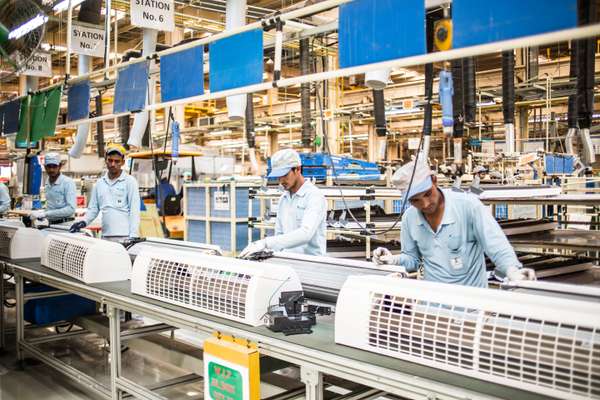 On the factory floor, workers wear uniforms with coloured caps denoting which division they work in. It is orderly, well planned and thoughtful, and a far cry from what workers may have experienced in India's more chaotic workplaces.
In just a few years, Daikin's investment has paid off, with turnover for 2013 reaching around rup22bn (€275m). And there's room for growth as just 3 per cent of Indian households have air conditioners in a climate that can be brutally hot.
Still, there are hindrances. "Electricity supply is a big problem," admits Akira Nagamori, one of Daikin's 13 Japanese staff in Neemrana. "To expand in this market we need more energy security."
Rajasthan's state power grid is not the country's worst yet there is still not enough power to meet demand. The neighbouring Ashimori factory has opted to draw as much of its power as possible from solar panels. Equally forward-thinking is the generous paid-maternity leave of 90 days offered to staff, of whom about 30 per cent is female.
"The market in Japan is almost saturated," says the plant's managing director, Masaharu Toda. "Japanese firms are moving to different countries. We've followed carmakers here to expand our business. In Japan, people believe that the Indian economy has a long way to go."
Another car-parts manufacturer is Nissin Brake and Japanese staff here are attuned to the idea that their fortunes lie in India. "If we lose in India, we lose in the rest of the world," says the firm's India president Naokazu Beppu. He adds that it's not a company policy but, rather, the message he gives himself every day. It's a lot of pressure, he admits. "My stomach gives me a lot of pain." Japanese work culture has also permeated operations. Workers wear uniforms and each staff member carries their own card spelling out the company's work ethos. "Indians have good eyesight and good tactility; better than the Japanese," says Beppu, who has worked in Neemrana for five years. "If they use their abilities and skills they will make better-quality products than Japan."
While most workers come from nearby villages, towns and cities, many are recruited from other states; managers say they don't want local issues and grievances to permeate the factory floor. Currently, there are only a few thousand jobs created but authorities say that eventually about 9,000 new jobs for locals will have been added. There are handfuls of Japanese workers: mostly managers but also training staff. As such, there is a need to accommodate them. Some commute from Gurgaon, a business-focused satellite city to Delhi, which is already home to a sizeable Japanese community of its own. While the drive takes an average of two hours each way, many find it preferable to the cultural desert of Neemrana.
However, others opt to remain close to work despite the close proximity to the choking highway. Hotel Hirohama contains long-stay serviced apartments that have been modelled according to Japanese wishes: compact apartments with washlet toilets, low furniture and a specifically Japanese-sized bed. It was only opened in its current form in 2013 yet is booked out until the end of 2015 and has a waiting list. The complex is also home to one of Neemrana's three Japanese restaurants, Kuuraku, a franchise of the popular Japanese chain.
"We've designed the place in such a way that it gives Japanese people calm and peace as they don't like any noise," says hotel manager Gunjan Choudhury. It is a similar story at other Japanese-directed hotels in Neemrana, which say they are almost fully booked for months, even though they have only been open since March. The Neemrana Japanese zone has proven so successful that a second zone, open to both Japanese and South Korean companies, is earmarked in nearby Ghilot. A cargo airport, a container depot and train lines connecting Neemrana to Delhi are all in the works.
Back in the Japanese zone, construction abounds but it's hard to excise Rajasthan completely. Elderly shepherds steer their flocks across the modern road to the highway, past building sites and the contemporary Japanese bakery Iroha.
Locals aren't worried about retaining their Rajasthani identity, pointing out that the Japanese zone is just a small, self-contained part of the region. Some, however, recognise the opportunities it will bring, such as 18-year-old Vipul Soni.
He comes from six generations of goldsmiths but is eschewing the family business in favour of learning Japanese. Twice a week he makes the three-hour journey to Delhi to attend classes sponsored by the Japanese embassy and the experience has already opened him up to future possibilities. "Maybe I'll get the chance to go to Japan and work as an interpreter there."