Takara Belmont / Osaka
In the hot seat
Takara Belmont has been making barber and dentist chairs for nearly a century. It is clear from the meticulous attention to detail given to each product why the company is Japan's dominant salon-equipment supplier.
In Japan's ultracompetitive barber and hair-salon market, something as seemingly ordinary as a chair or sink can be the difference between success and failure. It takes a trip to the Biyo Kaikan (Hall of Beauty) in Tokyo's Yoyogi district to understand why.
On a recent weekday the building's fifth-floor showroom is packed with customers trying out everything from traditional hand-operated barber chairs to state-of-the-art salon recliners with electric controls, leather upholstery and hefty ¥1m (€7,200) price tags. At the far end of the room an in-house stylist is teaching the finer points of a "head spa": a shampoo and scalp massage that has become a salon staple. There are sinks that swivel on robot arms, ring-shaped hair processors that emit infrared beams, cleansing machines that use ultrasound to get at facial grime and something called the Aqua Forte that will wash and rinse a person's hair in minutes at the push of a button.
It is an astonishing selection and every item in the room bears the logo of one company: Takara Belmont. Few people outside of the hair industry have heard of the 93-year-old family-run Osaka-based company but in Japan it is the dominant supplier of equipment for barber shops and beauty salons nationwide. Its chairs, sinks, carts and stools make up about two thirds of the domestic market. Prime ministers, corporate chieftains and imperial family members have been getting haircuts in Takara Belmont chairs for decades. Such is the strength of the brand that some hair-salon owners aren't even aware that rival brands exist. "Is there anyone else doing this besides Takara Belmont?" asks Hidenori Takagi, owner of Hair Salon Takagi in Chiba, east of Tokyo.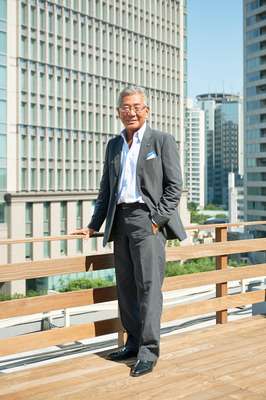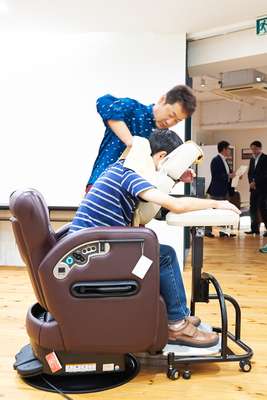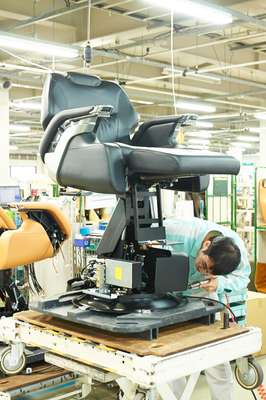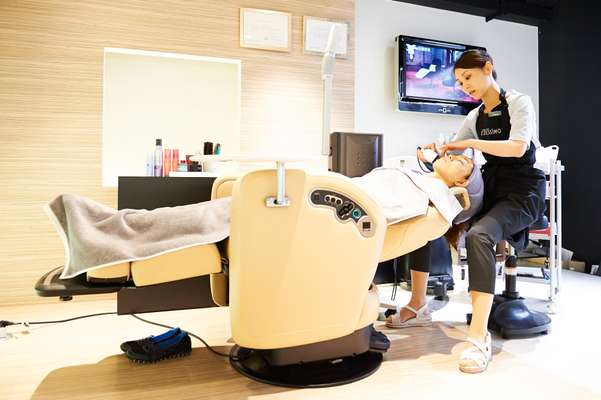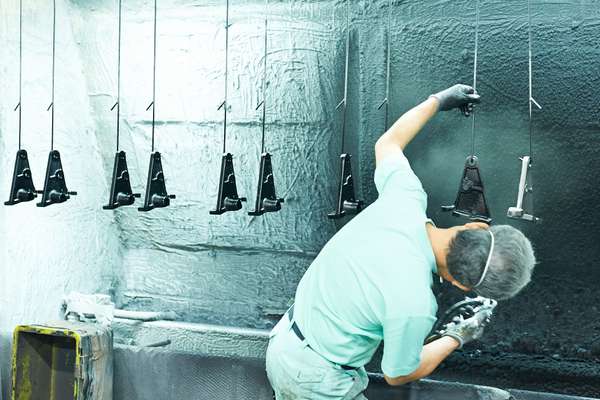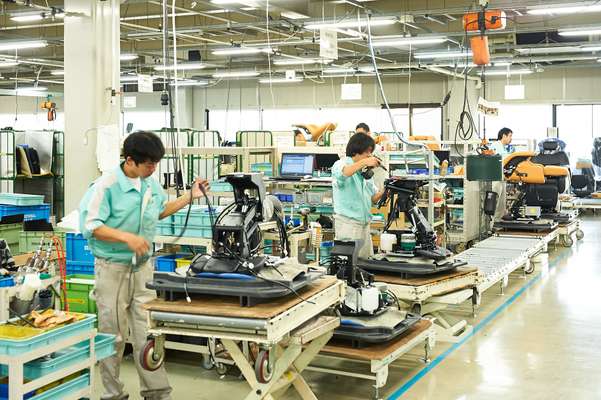 To answer his question, while Takara Belmont products can be found at select high-end barber shops overseas – with a particularly strong presence in the US – salon-furniture designers such as Maletti from Italy and rem from the UK dominate European markets.
Founded by Hidenobu Yoshikawa as a metal foundry, Takara Belmont made its first reclining barber chair in 1931. Yoshikawa's initial foray into making his own product instead of supplying parts to others was a blatant copy of a model sold by US company Koken Manufacturing. But the Takara Belmont chair was a hit in Japan and secured the company's future. The family enterprise is now a thriving ¥66.8bn (€480m) business led by the founder's grandson Hidetaka Yoshikawa, who has expanded the company's offering of professional dental chairs and equipment and added nail-care products to a line of hair and skincare cosmetics. "We're devoting more resources to develop new products that aren't easily copied, such as machines that colour or curl hair for longer periods without damaging it," he says.
Under Hidetaka's watch, Takara Belmont has weathered a quarter-century of economic stagnation, deflation and competition from low-cost producers in South Korea, China and other parts of Asia. Despite this, 65-year-old Hidetaka has led the company through extraordinary creativity. He has kept it on top in a ¥2.2trn (€16bn) domestic market where 360,000 barbers and hair salons compete and 2,000 new salons enter the fray every year.
Many of Japan's hair-salon trends can be traced back to Takara Belmont products. The most common way for stylists to wash a customer's hair is from behind while they sit in a recliner. The "rear shampoo" idea, which replaced having the customer bend forward over a sink, was born in Takara Belmont's research and development (r&d) labs in 2000. The same goes for the electric-operated Yume chair, which was released in 2006 and features a built-in sink that is low enough for a stylist to be seated while working.
"The hard part about designing a chair or sink is that you have to think about two different users: the stylist and the customer," says Tomoaki Takada, who has been with the company for 27 years and is now head of design in the r&d division. "We try to lessen the physical effort for the stylist while also making it more relaxing for the customer."
Takada's design team doesn't just dream up oddball ideas in the r&d lab, though some products might look that way. They use ergonomic data to calculate the most comfortable sitting positions and the ideal angle for a person's neck during shampooing. They also pay regular visits to barbers and salons, asking owners how Takara Belmont products can be improved. And when customers buy new chairs the old ones sometimes get shipped back and are taken apart by the r&d team for a thorough looking-over. "Seeing how our products stand up to wear and tear helps us learn how to make them last longer," says r&d manager Kohei Fujimoto.
For a business with such impressive reach, Takara Belmont is a modest-sized manufacturer. In a typical year it might produce fewer than 8,000 barber and hair-salon chairs and 5,000 dentist chairs, most at plants in Japan. At the plant in Osaka's Nishinari district, manager Shigeru Morino shows monocle an area where workers fill orders for the new Marvel salon chair. There are no conveyor belts; workers do everything by hand, right down to the electronic circuit boards. One worker, Shinichi Kita, places a sticker with his name at the base of every chair he sends on for a final quality-assurance check. It is an important gesture that lets customers know they are in good hands and adds to the sense of pride that workers have in the products they make.
In the building's upholstery cutting and stitching room, 64-year-old Takao Tsuchiya is stapling faux-leather fabric over plastic seats. He works quickly and makes it look easy. "He's been here for 48 years and is now passing on his skills to a younger generation," says Morino. As Morino exits the building, he turns and smiles. "Isn't it great how everything still has that handmade feel to it?"