Bengawan Solo / Singapore
Rising talent
Having established her cakes and pastries as Singapore's favourite teatime treat, Bengawan Solo's founder Anastasia Liew is keen to pass her legacy on to her son. But not before he has perfected the bakery's 100-strong product line.
Under the fluorescent lights of Bengawan Solo's central kitchen in Singapore's Woodlands district, 67-year-old Anastasia Liew is preparing her signature kueh lapis: an 18-layer cake made of spiced batter. "You can't scrimp if you want to produce top-quality kuehs," she says, while taking the striped product out of the oven after two hours of baking. "Not time, not ingredients, not effort," she adds as the sweet fragrance fills the room.
Keenly observing by her side is her son and apprentice Henry Liew. When he joined the family company at the age of 24, following mandatory military service and then university, his mother did not cut the business graduate any slack, sending him straight to the kitchen. She's adamant that before taking over the reins of the business Henry has to master all 100 recipes, from pineapple tarts to ondeh ondeh: tasty coconut-dusted glutinous rice dumplings encasing just the right amount of palm sugar. "The proportions of all ingredients have to be exact," he says, admitting that he is still perfecting his technique after more than a decade with the company.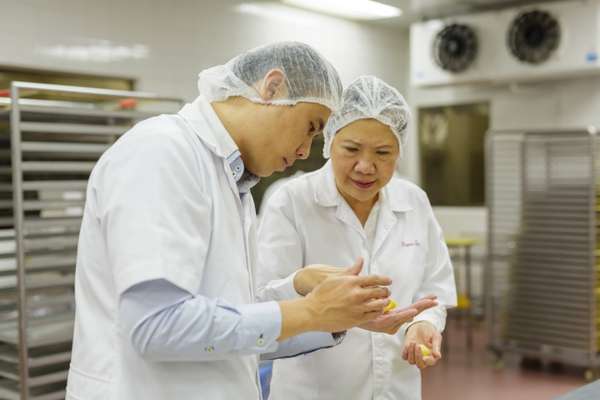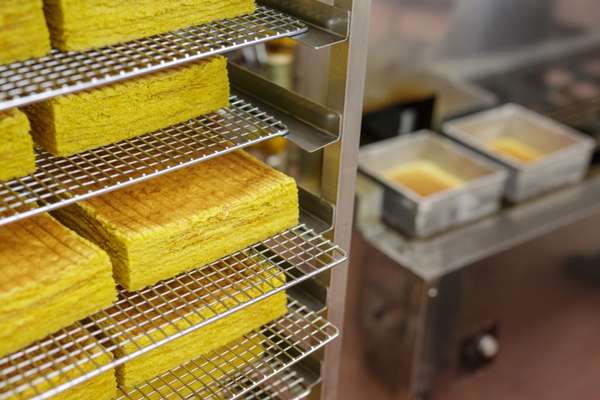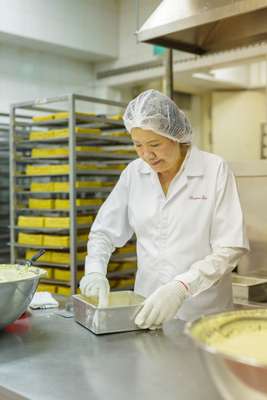 Turning up at 07.00 in his uniform of kitchen coat and a hair net, Henry is learning the ropes from his mother while also heading up the company's business development. "I had never baked before in my life," he says. "When I started, my mother taught me the little intricate skills that machines cannot do. I realised that it is so important to be hands-on."
Bengawan Solo's humble beginnings trace back to 1976 when Anastasia, who had moved to Singapore from Indonesia a few years earlier, decided to make a business out of the craft she had learned from her mother. She approached a local supermarket to sell her home-baked goods with outsized confidence. "All the other cakes on offer cost 35 cents but I told the manager to sell mine at 50 cents," she says. She assured him that she would buy back any unsold pastries but she never had to and other chains soon clamoured to sell her products.
Bengawan Solo was officially created in 1979 when the long arm of the law caught up with Anastasia, who lacked the proper licence. She was issued an ultimatum: either set up shop or stop selling altogether. She chose to open her first shop in the city's southern Marine Terrace district. In 1997, after nearly two decades of growth, operations moved north to the current Woodlands location, with the addition of a new wing in 2009. The firm now employs 400 staff and is one of Singapore's most recognisable food brands, with sales reaching s$55m (€33.5m) last year.
The mother-and-son relationship has helped rather than hindered the generational transfer of the craft; a loving directness underpins their interactions. "We are very open with each other," says Henry, just as his mother points out that he is using too much batter for the pineapple tart crust. "There's an understanding that everything is done with the company's best interests in mind," he says with a smile.
"I spend most of my time in the kitchen making sure everything is up to scratch and improving existing recipes," Anastasia says of her meticulous approach and direct involvement in the production process, even today. It is this spirit of perfection that she wants to impart to her son. When asked if Henry has surpassed the master she is quick to reply: "Not yet but I hope he will soon. I do want to retire – when he's ready." While he has a grasp of the fundamentals, Henry still has some way to go to reach his mother's standards: "She can tell just by looking at a product if it is missing an ingredient."
Despite the recent arrival of the now ubiquitous western-style patisseries on the island, the Liews are not worried; their treats remain a staple at teatime. "There really is no competition; cupcakes and muffins don't embody a Singaporean identity like our kuehs," says Henry. The kitchen distributes 54,000 cakes daily to Bengawan Solo's 40 shops island-wide, resting for two days at Chinese New Year. Not that he is taking it for granted: to ensure customers keep coming back, he is putting in extra hours pinching, pressing and kneading under those fluorescent tube lights.