Gifford Jackson / New Zealand
When in chrome
While the US and Europe were forging ahead with mid-century industrial design, the New Zealand approach – spearheaded by Gifford Jackson – was leaving behind an equally game-changing legacy.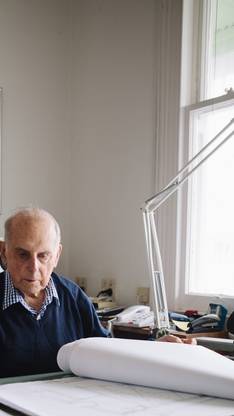 Few New Zealanders may have heard of Gifford Jackson but most of them will know intimately the things he designed. Now 92, he was the country's pre-eminent industrial designer in the 1960s and 1970s, an Antipodean Dieter Rams who designed everything from stereos to cookers to shower mixers, all of them with the same focus on clean lines and usability.
They went into bright, modern homes up and down the country during a period of unprecedented post-war prosperity. It was a time when new suburbs sprouted on the edges of cities all over New Zealand; modern glass-and-timber houses filled with new appliances made by local manufacturers such as awa and Fisher & Paykel. His signature was clean, elegant design that the user could take in at a glance: a sweep of aluminium on a stereo or a finely detailed knob.
What is all the more remarkable is that New Zealand factories lacked the tooling technologies of their northern counterparts. To emulate the curved top, say, of an American refrigerator, Jackson would have to construct it in several pieces rather than one and probably customise the tools as well. What made his work so important was the localisation of international design trends, though not slavishly so: form followed function and he despised the overblown fins and dials of the more baroque elements of late-modern American design.
Not that Jackson would put it that way. With a quiet, gentle manner he's softly spoken, although the voice is still clear. He was never a tall man but age has shrunken him further; he has a wry grin and a hooked nose about which he is a little sensitive. Ask him what he's most proud of and he demurs politely and talks about something else, though it's obvious that the work that went into each piece pleases him. Ask him what he prized in design and his answer is self-effacing. "Good ergonomics I suppose," he says. "Something that worked and held together. And good mouldability." The sea was his first love: he learned to sail at a young age and in his teens designed two boats, which were built in the back yard. In 1939, aged 17, he left for Scotland to study naval architecture, but it wasn't long before the Second World War broke out and he enlisted in the Royal Air Force, posted to Canada as a navigator.
While on leave in New York he met a waitress, Virginia, at the famous Stage Door Canteen. "I was never particularly good looking but I did my best," he says. "I took her to lunch the next day. You weren't supposed to date the hostesses but I did." Eventually, after a brief sojourn back in New Zealand – working as the first industrial designer for white-goods giant Fisher & Paykel, which back then had about 30 employees – Jackson returned to the US, sponsored by Virginia's father. Although the relationship didn't work out (none of the girls he knew in the US, he says, would have come home to New Zealand) he does now have a lady friend – Beryl, also in her nineties – and they have lunch on Saturdays.
He never completed his naval architecture training but he was a fine draughtsman and could see that things were changing in manufacturing. "I didn't know it was called industrial design but I knew there must be some sort of profession doing it," he says. Things for the home now had to be made so they could be constructed with maximum efficiency; more importantly, where they had previously been practical, they now had to be pretty enough to appeal to a new breed of consumers. Industrial designers and ad men stepped in where the engineers left off, making formerly prosaic household objects stylish and desirable. Jackson worked for some of the most revered designers including Carl Otto and, later, Walter Dorwin Teague.
In 1966 he returned to New Zealand, to the house by the sea where he was born: his father said he could have one room as a studio and one as a bedroom and so he started out on his own. His first design back home still stands up: a transistor radio with aluminium detailing and a black plastic body. The heavy chrome handle sits in the middle so that it is evenly weighted.
He went on to design the iconic Shacklock stove – all black plastic with white, chrome and red touches, and high level of usability – and in the 1970s a beautiful line of awa stereos. Later came bathroom fittings, electric fencing, an ergonomic letter tray still in production today and in 1975 the Marisol: a classic wooden sailing dinghy, the plans of which he sells through a US boating magazine and is still in production. ("I stopped counting," he says of the number of boats built to his design.)
Jackson is now retired but he still maintains his studio in his 100-year-old wooden house above the harbour, which his father bought new in 1912. There are tall windows, a draughtsman's desk with an Anglepoise lamp and a line of custom-built plan drawers. Across the hall he uses the voluminous room in which he was born as his "computer room", which comes complete with a table and a giant silver iMac.
Now, a new generation of designers is rediscovering his work: classic mid-century New Zealand design is increasingly collectible. Though even these young fans are probably unaware of who actually designed that elegant sweep of aluminium on their 1970s stereo, or what it took to get it made. "I did have rather a lot going on," he says. "I think a lot of it is done in China now – and probably not very well."
A life in design Gifford Jackson
CV
1922 Born in Devonport, Auckland
1939 Leaves to study naval architecture at University of Glasgow before enlisting in the Royal Air Force
1945 Starts work at New Zealand firm Fisher & Paykel as its first industrial designer
1949 Moves to New York, where he works for some of the US's top design studios including Carl Otto and Walter Dorwin Teague
1966 Establishes his own studio at home in Devonport
2013 Made an officer in the New Zealand Order of Merit