Christmas Shopping / Antwerp
Bring the cheer
We drop anchor in the portside city for gifts ranging from homeware to diamonds.
It might only have a population of half a million but Belgium's second city is our first choice for shopping this yuletide. Straddling the River Scheldt, this unassuming stop has long been one of Europe's most prosperous ports and its enviable roster of independent retailers reflects this. As well as being a hub of the diamond trade, the emergence of a handful of world-beating fashion designers (the so-called Antwerp Six) put the city on the map in the mid-1980s and offered a glimpse of the city's lurking potential. Add to this Antwerp's mix of Gothic, medieval and renaissance architecture, walkable size and traditional and modern shops, and you've got a host of festive finery to choose from. Here's what we have unwrapped.
---
Some passers-by just stop to admire this large-windowed, concrete-floored bakery in the swish surrounds of Antwerp's Museumstraat. However, those in the know dip in for a taste of what makes Dellafaille so delightful. Vanessa Roggeman (pictured) manages the pretty patisserie that opened in 2010 and is piled high with goodies delivered daily from its sister bakery in the nearby town of Schoten. Top of our list are the strikje (sugared pastries) and raspberry pie. For a festive take-home we plump for the neatly packaged madeleintjes (small shell-shaped cakes) or an artisan baguette.
---
02
Atelier Solarshop
Fashion and design
"Curating the shop is intuitive. We don't stock what fashion says; we try to tell a story," says Piëtro Celestina (pictured), who founded this comely shop in 2008 with his fashion-designer partner Jan-Jan Van Essche. Inside you'll find Van Essche's latest collection, including a natty hand-felted hat we've got our eye on (worn by Celestina, left), alongside scarves from Daniel Andresen, accessories from New York-based Fort Standard and a few rare finds from the pair's extensive travels, too. Sometimes the
---
For clothes from Belgium's best fashion designers head straight to Dirk Van Saene's elegant first-floor showroom above shoe shop Coccodrillo (see page 271). The parquet-floored shop features jumpers from Walter van Beirendonck, smart jackets from Veronique Branquinho and handmade scarves from Monsieur Maison.
---
Offering a haven on the busy Nationalestraat, Copyright's large glass door offers passage to the city's best space for books. Head to the mezzanine levels on either side of this well-stocked shop for some perspective on its selection of art and architecture titles.
---
05
The Recollection
Design and homeware
After careers in fashion and hospitality respectively, Vincent Defontaines and Bert Verschueren opened this inviting design shop in September 2013. The homely ground-floor space houses 15 international brands selected for their exclusivity to the city. Highlights include Mad et Len perfume and hand-woven shawls from Denis Colomb.
---
06
Broer Bretel
Coffee shop
Broer Bretel opened in 2011 and is named after the trouser braces the founding siblings' grandfather would give them on their birthdays. Located just north of the striking waterside Museum aan de Stroom, it is the best place to stop for a refreshing apple, parsley and fennel infusion, or a hot chocolate topped with pieces of Belgian waffle.
---
07
Ganterie Boon
Glove shop
Founded in 1884 by two Italian brothers, this gorgeous ganterie stocks some 8,000 pairs of leather gloves and hasn't changed much since the oak-panelled interiors were installed in the late 1920s. "I never thought about altering it," says the shop's former owner Patsy Sarteel, who manned the counters from the mid 1970s until passing on the reins to her daughter last year. Fourth-generation owner Sofie Possemiers (pictured) can judge your hand size by sight and we'd recommend inquiring about a toasty pair of hand-stitched, sheepskin-lined gloves this winter.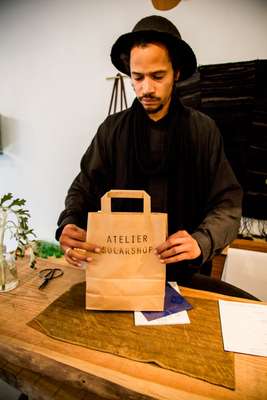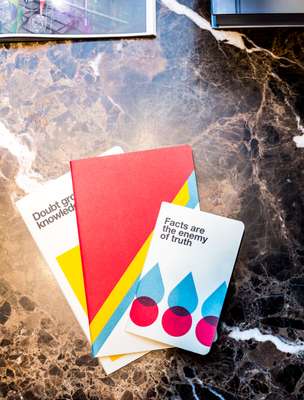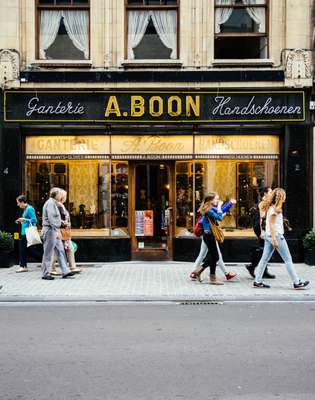 From its infancy, clothes shop Louis has hosted Antwerp's most important fashion designers. Founded 27 years ago by Geert Bruloot, the shop has always banked on local talent and showed the first collection from Ann Demeulemeester. It has also kept up distribution deals with designers such as Martin Margiela and Dior by Raf Simons.
---
09
Bakkerij Goossens
Bakery
Fourth-generation baker Patrick Goossens' (pictured) small granite-fronted shop is busy from daybreak. Situated in the pedestrianised heart of the city, it fills with locals eyeing up fresh baguettes and rye bread. The venerable viennoiserie's Van Dyk bread (made with cinnamon, apple, raisins and sugar) is a must.
---
10
Philip's Biscuits
Baked goods
One theory as to where the city got its name concerns the legend of Silvius Brabo, a Roman soldier who chopped off the hand of a giant and tossed it in the river (Handwerpen means "Hand throw"). This – let's say unlikely – tale also gave rise to a popular baked treat and the Antwerp Hands for sale from Phillip's Biscuits are the best in town. The smell alone justifies a visit and, for those in need of a sugar rush, we can suggest fennel-and-lemon biscuits or a hand-wrapped speculoos: short-crust treats flavoured with cinnamon, nutmeg, cloves and ginger.
---
Opened 22 years ago and in its current spot for the past 12, Verso is the city's best-stocked department store. Inside what was once two large townhouses is a zodiac-themed glass dome (added in 1927) that illuminates the international brands on offer – including Dolce & Gabbana, Valentino and Fendi – while a perfume selection was added six months ago.
"People from everywhere seem to like Antwerp," says Valere Thoelen (pictured), Verso's general manager and creative director. "There's a single city centre and everything is close."
---
12
Wouters & Hendrix
Jeweller
Katrin Wouters and Karen Hendrix studied at Antwerp's Academy of Fine Art before setting up a flagship shop on Lange Gasthuisstraat in 2001. The city's main diamond district is by the train station but Wouters & Hendrix's neighbouring shops offer a more retail-minded introduction to Antwerp's renowned trade. Service is the big sell here.
---
With a changing line-up of 15 to 20 design brands from Belgium and beyond, Diana Keller (pictured) and Brecht Baert's shop showcases its owners' services as interior designers as well as selling the products on show. "There's always been an interest in fashion here but now there's more talk about design and interiors, too," says Keller.
---
At one corner of the Nationalestraat is the five-storey flagship of Antwerp's most famous fashion export. Dries Van Noten's art nouveau building was bought by the designer in 1989, three years after he started his now internationally lauded brand. The shop stays pristine by closing once a year for a week to accommodate repairs.
---
"It's an easy city to live in and we have a few loyal customers in surrounding countries," says Eddy Michelis, the affable founder of Coccodrillo. Like the interiors of his elegant shop, Michelis's patronage of young designers hasn't changed over the years. As well as being an early supporter of Dries Van Noten, Michelis gives an annual prize to local shoe-design graduates. The brogues by WHF – the firm he discovered two years ago – have perfectly updated his collection.
---
16
Baltimore Bloemen
Florist
Christmas is big business in the flower game and be it a single handpicked bloom or a shop-front display, our choice for the job is Baltimore Bloemen. With 21 years experience in the industry and eight on his own as an entrepreneur, florist Mark Colle's buds and bouquets are Antwerp's finest.
The pinewood-clad space houses 100 varieties of flowers and 25 distinct species of roses. Throughout Christmas the four-strong team takes it in turns to sleep in two-hour shifts as the company fulfils orders for shops around town and abroad.
---
17
AF Vandevorst
Womenswear
The cross-shaped insignia above the door of this smart womenswear boutique hints at the hardwearing military accents of AF Vandervorst's new collection. Opened this August, the flagship is the best place to snap up its signature knee-high boots as well as leather purses, chunky key rings and handbags galore.
---
"We looked for a small space with personality," says Patrick Olyslager, who with his brother Jan (both pictured, Patrick on left) revived their parents' knitwear business with the Howlin' brand in 2009. The design team works on the first floor in Morrison; downstairs, on a tiled floor from an Italian monastery, the pair stock warming clothing from 20 international brands.
---
19
Graanmarkt 13
Fashion and design
Along with a gallery above and award-winning restaurant below, Graanmarkt 13 also has some choice stock. Home-grown talent comes courtesy of ceramic, marble and brass homeware from Michaël Verheyden, while Madrid-based Alvaro Catalán de Ocón's lamps and Italian womenswear from Forte Forte and Marni also feature.
---
20
Günther Watté
Chocolate shop
Having studied the art of pastry making in Antwerp, Günther Watté (pictured) opened up this chandelier-studded space on the buzzy Steenhouwersvest seven years ago. Behind the shop's glass-counter display (and past the 20-strong selection of single-origin coffee beans) is a café with comfy seating; the perfect pit-stop.
---
For a uniquely Belgian tipple we'd prescribe a bottle of Genever, a gin-like, juniper-infused spirit (from which the word "gin" likely comes) enjoyed throughout Belgium and the Netherlands. For about 30 years this charming shop has stocked 200 brightly packed varieties ranging from the traditional Vieux d'Anvers, made with over 30 herbs, to offerings from smaller start-ups such as homegrown distiller Stookkot. For the sweet toothed, De Vagant also stocks Elixir d'Anvers: a saccharine variation of the drink that is golden in colour and flavoured with saffron and star anise.
---
Founded in 2008 and in its current cavernous pitch on Steenhouwersvest for the past two years, German-born Thomas Haarman's interior-design shop is a hospitable stop for well-made chairs, wooden chopping boards, rice paper notepads and Finnish bed linen. "People from abroad are always pleasantly surprised by what's on offer," he says.
---
"We wanted to do something out of our love for good products – not making money," says Bob Follens, who started this menswear go-to with Giancarlo Angeletti in October 2010. Vier is snug inside but piled high with international brands including Norse Projects, Pendleton and Nanamica.