Business / Global
Business
Briefing
Animated planning in China, a caffeine hit in Indonesia and material gains in Italy.
Gaining currency?
Turkey
[BANKING]
Turkey dreams of being home to the biggest financial hub between London and Hong Kong. The country is currently building the Istanbul International Finance Centre, a multi-billion-euro complex in the commercial capital's Atasehir district. The city is well placed to take up what many see as its historical role as an international business centre; reforms following a crisis in 2001 helped produce a world-class, stringently regulated banking system. But today Turkey's sound financial sector and global aspirations seem more exposed to political liabilities than at any time since those reforms were made.
Bank Asya is a case in point. The Turkish government is allegedly trying to sink the local Islamic lender because its proprietors are followers of the exiled Turkish preacher Fethullah Gulen, the man blamed for revealing last December's corruption scandal that tarnished a huge portion of the cabinet. Government depositors have since pulled their cash, making the bank's share price collapse. At one point Borsa Istanbul stopped trading the stock altogether while regulators revoked some of the bank's licences and blocked a sukuk (government bond) issue.
"It is the first time there has been something like this that challenges the legacy of the 2001 reforms," says Timothy Ash, head of emerging-market research at Standard Bank in London. "We've not yet seen a decisive move away from [these reforms] but still it is a step back." If Turkish and foreign banks retreat from Istanbul, spooked by Bank Asya's fate, it will be more than just the city's financial aspirations that hit a brick wall.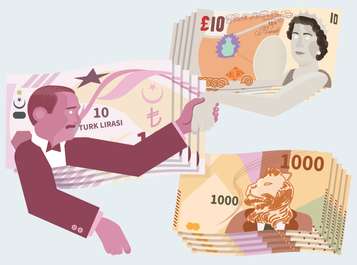 Reap what you sew
Italy
[TEXTILES]
After years of contraction, Italy's manufacturing sector has started growing again, albeit timidly, with the textile industry leading the way. Canepa, one of the 50,000 companies in the sector, is outperforming many of its peers: over the past four years it has boosted its sales by an impressive 26 per cent.
With a roster of clients including tie-makers ST Dupont and Leonard, the luxury-silk specialist owes most of its success to experiments with green technology. "We have picked up the market's challenge and done everything we can to improve," says Elisabetta Canepa, president of the business her father founded in 1966 that she now runs with her sons. The first textile company in the world to sign Greenpeace's Detox Solution Commitment protocol, Canepa has also changed its technological processes to reduce water consumption.
---
Sibling style
Paris
[RETAIL]
Xavier and Laurent Valembert went into business 10 years ago with a communications agency. But when the financial crisis hit they saw an opportunity to follow their dream of launching an accessories label; Les Ateliers Auguste was born in 2012.
"We felt it was our duty to support the national effort during the crisis so it was important that our bags were made in France," says Xavier. Their products are made by an independent manufacturer in Vendée, in western France, and production runs are kept at 100 units so that each model can be updated and improved regularly.
---
App and away
Berlin
[TRANSPORT]
Berlin-based firm Here, the force behind Open Mobile Ticketing Alliance, is shaking up the transport industry with an app that will allow users to pay for travel by tapping their phones at contactless touchpoints. The Nokia-owned company hopes transport authorities will sign up to the app, which uses near-field-communication technology, when it launches in 2015.
"Lots of cities are adopting contactless payment," says Justus Brown, head of transit at Here. "But the problem with London's Oyster card, for instance, is that you can't take it to another city. We're making one app you can use anywhere."
---
Cool beans
Indonesia
[FARMING]
"When we first started, farmers thought coffee beans were like bananas: that if you picked the fruit when it was green it would become ripe," says Eko Purnomowidi, founder of Klasik Beans Cooperative. Since 2008, the co-op has taught countless Indonesian farmers how to grow the perfect red cherry and process beans to an artisanal standard. Based in the highlands of West Java, Klasik Beans pays above-market rates for quality beans, stressing the need for consistency and creating a viable alternative to local crop sharks.
The team has since grown from eight partners to employing 500 people with farms across Indonesia. Its Sunda Hejo bean, with its subtle notes of chocolate, is a darling among cultish coffee roasters, including Chicago's Intelligentsia and Australia's Five Senses.