The big interview / Tokyo
Flight fantastic
The man behind Japan Airlines' incredible turnaround discusses his graduation from pilot to president, attracting new trade and taking on the low-cost carriers.
The past three years have been something of a whirlwind for Japan Airlines president Yoshiharu Ueki. A former pilot who had almost no executive-suite experience before taking the helm, 62-year-old Ueki has led Japan's flagship carrier through a period of unprecedented profitability.
To many aviation industry insiders, jal's recent performance has been nothing short of miraculous. Nearly five years ago, when the airline filed for bankruptcy, it was one of Japan's biggest corporate failures. In 2012 Ueki took over as president, just in time to oversee jal's relisting on the main board of Tokyo's stock exchange.
Under Ueki, jal has operated with a slimmed-down fleet that reflects a strategic shift. Gone are the old fuel-guzzling 747 jumbo jets that were too big for all but a few routes. jal now relies on smaller fuel-efficient 787s that offer more comfort for passengers. They also give the airline the flexibility to fly to cities such as Boston and San Diego that it wouldn't have bothered with before. Long-haul flights to western Europe, the US and Southeast Asia boast better seats and more sumptuous meals and since last year staff have worn smarter uniforms by fashion designer Keita Maruyama. Every detail counts as jal attempts to broaden its appeal beyond the Japanese customers who account for the majority of the airline's business.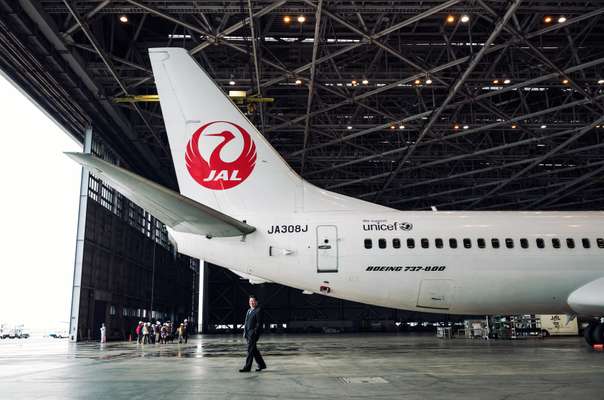 Monocle: How did your career as a pilot prepare you to lead JAL?
Yoshiharu Ueki: Being a pilot isn't unlike running a small enterprise. And in the cockpit every decision can mean the difference between life and death. That responsibility and decisiveness has served me well as president.
M: JAL has streamlined its fleet, workforce and routes. Is that enough?
YU: The turnaround experts who helped us restructure told me that most bankrupt companies often end up in bankruptcy a second time. Success hinges on reforming the corporate culture, which involves a mindset change. Our employees are now given a 125-page jal philosophy handbook and every three months, pilots, administrative staff, mechanics and flight attendants sit together to discuss a chapter. It helps employees understand each other and promotes unity: they realise that pilots aren't arrogant and flight attendants have to work hard.
M: In an industry of thin margins JAL's profitability stands out. Is it sustainable?
YU: If our business were a sponge we would have wrung it to tearing point. Every month, department heads and top executives meet to review the numbers and discuss how to cut costs and improve performance. I save on travel by booking at small hotels you've never heard of rather than major hotel chains. It would be embarrassing to reveal where I stay. At the same time we never cut corners on flight and lounge services for customers.
M: Will that help you compete against low-cost carriers [LCCs]?
YU: We would have to slash services to beat lccs but that's not our strategy. Our customers pay more for a premium experience and top-notch service. Rival airlines are squeezing in more passengers, putting 180 seats on aircraft that once had 160. jal is doing the opposite: our planes have 15 per cent fewer seats. We are using wider seats with more legroom. On our Boeing 787 Dreamliners we have eight seats abreast in economy versus our rivals' nine seats. Our 777s have about 40 fewer seats than before. We now have the right fleet mix and our services are winning fans.
M: Where do you see JAL's best growth opportunities?
YU: Asia Pacific and Africa are the fastest-growing markets. The North America-Asia route is popular but there are few direct flights. Around 2.8 million travellers a year make a stopover on this route, particularly on flights to and from Thailand, Indonesia, Malaysia and Singapore. jal's share of the market is small but Japan's location makes Narita Airport an ideal transfer hub.
M: JAL recently announced plans to buy 32 Mitsubishi Regional Jets [MRJs] in 2021. How will you use these?
YU: The mrj is the first Japan-made passenger jet. Having mrjs painted with the jal logo has been my dream. They will fly domestic routes, replacing Bombardier and Embraer planes. Offering convenience on domestic routes is key because the same customers then fly jal to major cities or overseas. We'll get our first mrjs four years after their launch because that's when our small planes need replacing. We also need time to integrate new Airbus 350 planes for long-haul routes in 2019.
M: Tokyo will host the Olympics in 2020. By then the government wants 20 million overseas visitors a year. How will JAL tap into this?
YU: Lots of overseas visitors will come for the Olympics but many Japanese will stay at home, so we expect the international flight business to dip. Yet the Olympics is a chance to impress first-time visitors. The fact is, Tokyo's airports can't handle 20 million visitors. Haneda added new slots for international routes this year but its four runways are at full capacity; there are plans for a fifth but not before 2020. One option is to let planes fly over the city, which has been prohibited for years. This would allow for more flights at Haneda.
M: What is the main thing you hope to accomplish as president?
YU: My mission is to make jal employees happy. That wasn't the case in the past. Only when employees love this company will they be able to achieve our goal of offering the world's best customer service.