Parisian pied-à-terre / Paris
Inner space
This Paris pied-à-terre is not just a modernist space-saving marvel, it has Le Corbusier's blessing to boot. Monocle takes in its fold-out ingenuity and primary-coloured delights.
In this petite gem of an apartment, the clever use of space is the priority. It was built in the 1920s on the right bank of the Seine, in a villa off one of the main avenues; most of the apartments in the block were former artists' studios. In May 1961, Charles Vienne, a Swiss engineer who was fond of architecture, decided to leave his birthplace of La Chaux-de-Fonds and settle in Paris. He bought this loft space and decided to implement the open-plan, functional ideals of Le Corbusier. Vienne's mother was friendly with the architect and arranged a meeting in Marseille for the pair. Vienne subsequently received a letter from Le Corbusier allowing for his conceptual ideas to be borrowed for the design of the apartment.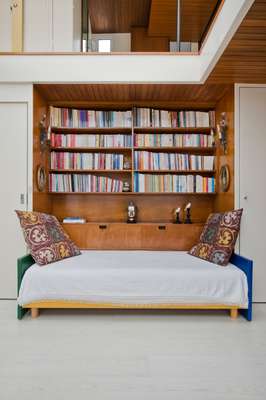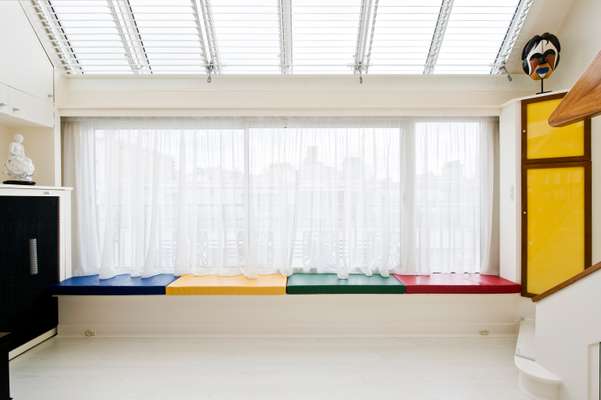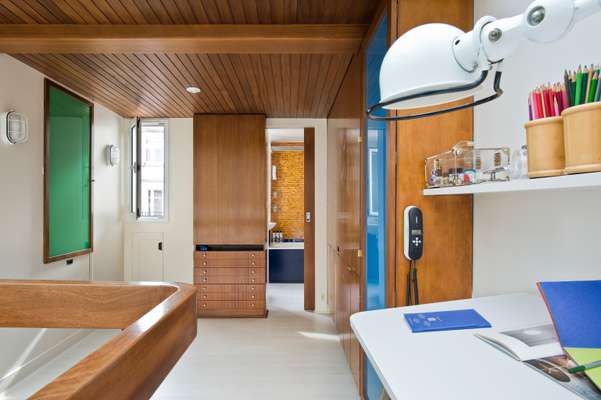 But it took another Swiss set of hands to create the unique aesthetic of this studio apartment: Janette Laverrière, an interior architect and designer who had trained in the studio of modernist furniture designer Émile-Jacques Ruhlmann. Vienne trusted Laverrière's creativity implicitly and she introduced a clever system of space-saving devices to make everyday life in a small apartment easier – and primary coloured. Every inch of space was studied in order to be practical and useful, and everything was made-to-measure in mahogany.
You enter this 30 sq m duplex on the lower floor straight into the living room, which is equipped with a chimney and sofa-cum-bed that slides into a wooden closet, ensuring that it is hidden away during the day. A handsome staircase sweeps up to the upper floor. Charles' daughter Marie-Charlotte is the current owner and she has created a quiet spot on the mezzanine to draw and paint. She inherited the pied-à-terre after her father's death in 1998.
The main space upstairs is given over to a kitchen that can be hidden by a sliding door. Next to it, fitted into a coloured-glass frame, a dining table folds out from a mahogany cabinet. The whole design amounts to a forward-thinking modernist masterclass in how to make the best out of small spaces in the city centre. The actual footprint of the apartment may be modest but its proportions are fairly generous. The height of the studio ranges from 3.5 to 5 metres. Ever inventive, Laverrière conceived a system of storage boxes covered in coloured leather (with more than just a dash of Mondrian's palette) that, once closed, can be used as a place to perch by the window. When the pivoting doors are open, the whole apartment is bathed in light.
The hyper-functional design of the apartment still glows with subtle genius. "I am very fond of this period: when space was a master preoccupation and when artists, architects and interior designers were working on a haute-couture spirit," says Marie-Charlotte. "For me, less is more; the absence of furniture fits my way of life well."