Efterklang's studio / Berlin
Lock and keys
Danish avant-rockers Efterklang have turned an unloved eastern corner of the German capital into a studio space fit for writing records.
Just off the big, nasty Berliner allee in Weissensee in northeastern Berlin's armpit sits an oasis of unlikely calm and the unexpected potential for pastoral reflection; a place in which musical creativity thrives. We are buzzed into one of those Berlin courtyards that entices via a thwarted horizon entered through a small door – like a graffitti-covered Narnia – that opens into a whole different ball game. There are bloom-peppered cobbles, a quince tree laden with mellow fruitfulness and a red-brick workshop that was once a bookbinder – and is now the studio of Danish avant-rock pioneers Efterklang.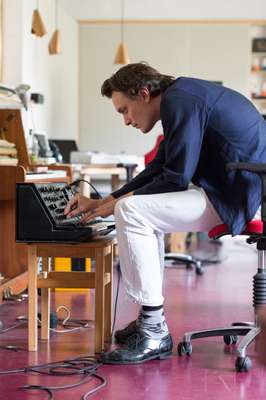 "Berlin's lovely for the little courtyards you can get lost in but it's a funny area" says Mads Brauer, the band's bearded and bespectacled electronics expert. "We're deep east here, which has its own charm until you want to eat something." Casper Clausen, the rangy vocalist (and, it seems, pianist and drummer; Efterklang roles are swapped like post-match football jerseys) found this courtyard of possibilities online after they'd inspected a space in the former Stasi HQ nearby. "It had the weirdest vibe and it was so cold," says Clausen, before they both start to laugh at their own semi-rehearsed "At least we wouldn't have to bring our own recording equipment"/ "How could we hope to keep up with the last group's work rate?" jokes.
Up the stairs in the studio's main loft space we encounter an array of gear. Banks of synths, vintage Midi samplers, a handsome Yamaha upright and a drum kit handmade by a Danish artisan with an eye for a natty glaze-job; guitars, gongs, cowbells, sleigh bells, bells in the shape of table-football players, marimbas, harmonicas, snares, tambourines and the pièce de résistance: an old barrel organ modified for the demands of Danes with ideas. "We found an engineer on eBay who built it for us and hooked it up to a Midi keyboard; it runs on air and it's weird but I sort of want it in my living room," says Clausen, before turning to the pair of tap-shoes hanging on the wall: "Someone had to learn them," he says with a shrug.
"A studio is a myth in a way," says Brauer. "The idea of a place devoted to doing anything and nothing – to daydreaming – is romantic." How do they stop the place from feeling like they are going to the office? "If it feels like work I turn my bike around on the way in," says Clausen. "Touring feels like work because there are stage times and soundchecks but they help you stay in touch with reality."
Building the studio was a bit like making a record, say Brauer and Clausen: travelling and finding all sorts of weird and wonderful bits and putting them all in a room together, rearranging them until they sounded right. "This is our experience of making records," says Brauer with a smile. "If Aerosmith wanted to hire it for half a year that would make it different but then we don't really have a phone."