Issue 79 / Global
Observation
Watching the design of our new Singapore outpost unfold has been as exciting as the prospect of Christmas itself. And there's plenty more to come from Team Monocle in 2015, says editor in chief Tyler Brûlé.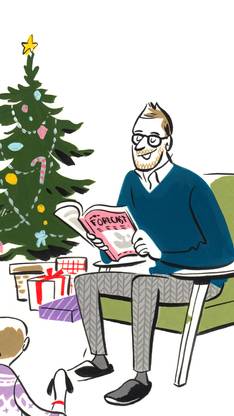 It's perhaps fitting that the back corner of our editorial floor looks a little bit like Santa's workshop at this time of year. While there's plenty of prepping and planning going into our imminent Christmas market (more on this a little later), there are also a series of other projects keeping our design director Yoshi Takagi and his very able master craftsman Kaoru Ishikawa busy.
Tucked behind a large storage wall (that features the running order and page layouts for our forthcoming books), Yoshi and Kaoru's workshop is an organised jumble of paper samples, wood blocks, cardboard mock-ups, scalpels, metal rulers, glue in assorted dispensers, pens from raids at Tokyu Hands and a vast archive of every invitation, flyer, insert and business card we've made over the past eight years.
Depending on our production cycle, Kaoru can occasionally be found developing display concepts for newsstand and distribution partners around the world. Meanwhile, Yoshi might be seen strutting back and forth with a tenugui tied around his head, a pair of tape measures clipped to his belt or a roll of masking tape around his arm. As the rest of the team gets on with the business of booking guests for Monocle 24, dispatching correspondents and proofreading layouts, Yoshi is busy marking out an imaginary world of walls, shelves, counters and desks for an upcoming office.
As Yoshi has had a hand in most office and shop fit-outs around the world, I like to join him in his land of make-believe and walk though his 1:1 scale plans. "You're standing out on the street right now – careful of the bicycles," he warns. In the background, an intern not familiar with the drill looks up rather baffled.
"Am I entering through a sliding door or a regular door?" I ask. "Right now it's a regular door but if you want a sliding door you can have one," explains Yoshi. "You just have to talk to Sabine [our iron-fisted coo] and request more budget for me."
As this issue was about to ship off to our presses in Dorset, Yoshi and Kaoru were busying themselves with their latest project: our new townhouse overhaul in Singapore's Chip Bee Gardens district. As recently as just a few weeks ago there wasn't much of a plan for Singapore on our line-up of future bureaux (we've been more focused on Sydney, Latin America and the US West Coast) but an email from a dear friend in the island state suggested there might be scope to look at a small building around the corner from Holland Village.After a quick spin around the neighbourhood with our publisher Anders and a further site inspection by our coo we went through the negotiations and legals and soon found ourselves with a set of keys.
If all goes smoothly with local builders we're hoping to have our Southeast Asian outpost (complete with shop, mini-café, radio studio and more) open in time to launch our other new project: The Forecast. In case you missed the rather bold spread about it further up in the magazine, go back and have a look. Or better yet, you can go online and hear a few of us talk about the latest addition to our publishing schedule.
Developed to fill a gap not only in our editorial cycle but, more importantly, a hole on the newsstand, The Forecast is a thick, bookish annual that will introduce you to all the people, powers, currents and companies who'll be shaping your world over the coming year(s). Designed to take you through the entire Christmas season and well into the new year, the articles will be considerably longer, the pacing more gentle on the eye, the photography and illustration more expansive and the paper stocks the best from the forests of Finland.
It will hit kiosks and bookshops in the first week of December and you can also reserve an advance copy at monocle.com. Additionally, The Forecast will be accompanied by a full line-up of special radio programmes on Monocle 24 along with a clutch of films.
Of course, if you're in London on either the 6 or 7 December you'll be able to swing by Midori House for our annual Christmas market, secure a copy and ask for it to be beautifully wrapped by Yoshi's special team of Japanese Christmas elves. This year's market will also include a line-up of national delicacies from Switzerland and South Tyrol, natty footwear from Sweden and the latest products from Monocle 24 presenter Nancy Durham's Welsh Farmers' collection. And, of course, Santa is coming in from the North Pole – and the reindeer will be on hand for photos.
And just before you break for the holidays, our 2014/15 edition of Monocle Alpino will be making its way to ski resorts and alpine enclaves around the world. Stay tuned for some high-altitude events that are still in development.
Should we miss you at our event in London or some of our remaining book signings, we wish you a Merry Christmas season and Happy New Year. Thank you for another outstanding year.