Art Basel Miami Beach / Miami
Picture perfect
As the northern hemisphere braces itself for a chilly winter, much of the art world will be gathering in sunny Miami Beach for Art Basel's annual Florida outing. Monocle takes an advance tour.
The art world rolls on to Miami at year's end to speak to revered collectors and make fast friends with the relatively new art-collecting crowd hopping off planes from Bogotá, Mexico City and São Paulo. Miami is perfectly placed to attract North and South Americans alike and temperate enough to tempt European gallerists, journalists and those in search of a sun-drenched (though still work-related, of course) sojourn just before Christmas. The pools, palms and art deco might help the holiday humour but Art Basel's Florida fair means serious business. monocle went early to meet the people that make it happen, from the man who ensured the Design District earn its upper-case letters to the barman at The Raleigh hotel.
Art Basel Miami Beach runs from 4-7 December; Design Miami runs from 3-7 December
---
01
Glenn Scott Wright
Director, Victoria Miro gallery, London
"Miami's always fun but the organisers need to rethink the layout. I prefer it when these fairs are a bit smaller. FIAC [the pre-eminent French fair in Paris] is contained and Frieze was smaller this year, which made it a much nicer experience for visitors and the galleries. Plus, with fewer galleries, there's greater quality control.
Art Basel practically doubled the size of the fair a few years ago and it's easy for people to get lost without easy points of reference. They used to have all the blue-chip secondary-market-type galleries on the car-park side and the contemporary galleries on the Washington Avenue side so there was a clear division. People buying modern tend not to be looking at contemporary and vice versa. The secret is getting more of a gallery feel to a fair. In terms of itinerary, my time in Miami gets very busy very quickly. I'll only go to another fair to look at a new artist people are excited about; I'd rather not go just to soak up the atmosphere. Sometimes I might go to four or five dinners in one evening.
Initially people were surprised Miami was chosen to host Art Basel; many assumed it lacked cultural infrastructure. It is still dominated by a few big collectors with warehouse spaces rather than museums but maybe that will change. At Victoria Miro we would put on shows with MoCA North Miami so I had many reasons to go to the fair.
It is a market-focused collector scene. A lot of what people look at is dominated by a few people's taste; it's very different from an institutional outlook. But really these Miami collections are amazing and do more for contemporary art than a lot of the US institutions. Back at the fair we usually have a viewing room and storage within our booth so we can show people things privately. Some people like to be seen to buy while others like to do business behind closed doors.
Despite it being December it's not the end of the year for us, it's the middle: that's the cycle of the art world. For people from the north it's nice to enter sunny climes and go to beach and pool parties in the evening; there's definitely a sybaritic element to the Miami fair. Some complain about the parties but if you want to go home early, so what? You can make of it what you will in terms of evening activities, let me put it that way."
---
02
Craig Robins
Collector, Dacra
Craig Robins cuts a relaxed figure in his timber David Adjaye pavilion in his Miami garden. His home could grace the pages of any high-end city guide yet nothing feels too precious. Robins, whose development company Dacra has revitalised the art deco district and now Miami's Design District, once wanted to be a gallery owner. Instead he invested his energy in the city's cultural renaissance. "I saw buying those buildings as collecting sculptures," he says.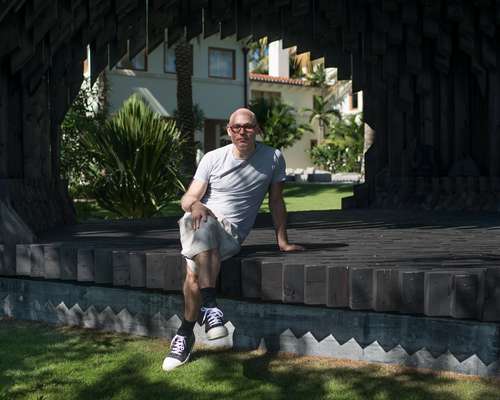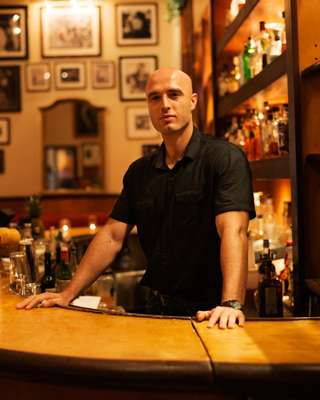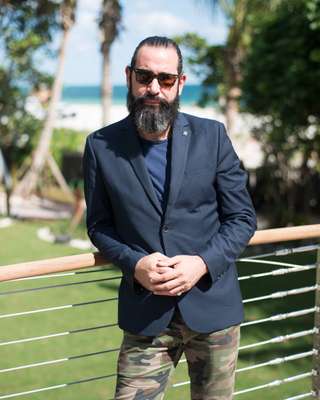 But the Miami native is more than a developer who collects pieces of art. In his world, creative disciplines co-exist seamlessly. "When you mix art, architecture and design together the impact is much more powerful than any one of the three by themselves." His Dacra office in Miami's Design District also acts as a gallery, open for viewings by appointment. Staff buzz in and out of meetings and site visits holding hard hats while surrounded by the works of John Baldessari and Nate Lowman. Robins chooses to perch at a Jean Prouvé desk. In his world, art and design are part of everyday life.
"Really good art should end up in the public domain," he says. "There is nothing that I have as a work of art or piece of design that I don't want to share. I see myself more as a custodian, holding onto it and caring for it."
His sensibility as a collector and developer is one and the same. With the cultural rebirth of South Beach now pouring into the Design District, Robins sees Miami as a combination of a tropical paradise and an urban destination. "There is a reverence for design; we're not just fun in the sun anymore," he says. "We are acknowledged as an important city of cultural substance." With projects planned by world-class architects such as Norman Foster, Richard Meier and Rem Koolhaas – or through the redesigned Pérez Art Museum and renowned collections such as that of the de la Cruz – it seems Robins' sentiments are shared around the globe.
---
03
Fredric Snitzer
Owner, Fredric Snitzer Gallery
Fredric Snitzer reclines at the round Noguchi table in his office and recounts coming to Miami more than 30 years ago. "I never thought I would be here this long. There was nothing here for the first 20 years. Wynwood was a warzone in 1977." The artist-cum-gallery owner spent nearly 10 years in the art district of Wynwood before recently relocating south to keep some distance from the more commercial art scene.
The Philadelphia native is known for fostering young talent. "I've represented a lot of people who were emerging and now they've emerged," he says. When choosing artists, Snitzer is primal. "My gut is the first thing. After that it is an analysis of what the art is and what else there is. I try to evaluate if this is a person I can work with."
His stark white gallery is currently showing 25-year-old Rafael Domenech. The walls are dotted with geometric rubbings on paper and an elaborate wooden sculpture. "I can't make them make great work; they make it," says Snitzer. "I'm just a vehicle. I like to give them access and exposure; that is why we go to art fairs. Art Basel has a huge audience but the work is the beginning and end of it."
Snitzer might be instinctive but he isn't a romantic; making and selling art is still a business. Galleries such as Snitzer's that have existed before Art Basel credit the fair for bringing global attention to the Miami art scene. "Suddenly the flashlight went on in this corner and you could see what was here," he says. "It was better than if someone had said, 'We're going to move your gallery to New York for four days once a year.' The filter is better. It's done a lot for me and my artists."
Art Basel was a game-changer for Miami but to Snitzer the cultural evolution is still in its adolescence. "We have big museums and private collections but it is a work in progress. It reminds me of a kid in his late teens who says he is 25. You know that the moustache is painted on."
---
04
Nash Pacariz
Barman, Martini Bar, The Raleigh
How long have you been bartending?
I'm from Serbia and my family has a restaurant there so I've been bartending since before I can remember. It wasn't a cocktail culture but I was behind the bar and interacting with people. I've been behind the bar in Greece and France and in the past two years I've been in Miami with The Raleigh. I love it. It has charm and we're like family here.
What's your secret to staying calm when things get hectic?
I practise yoga a lot and that definitely helps. I just take my time. Some people might get stressed out but I have experience. It can catch up with you after a few hours but I love to do this. I like to be here all the time. The bar isn't big so I try to talk to everybody and introduce people. It's not loud like other places on South Beach so you can actually communicate and interact with customers, which I love to do.
How does the scene change during Art Basel?
We're the main hotel for Art Basel. We have international clientele and you have to be on point. It's a beautiful mix of people and a challenging week of work.
What do people drink during Art Basel and what would you recommend?
This is a traditional martini bar where people are fond of the classics but I like to give people options. We can always adjust a drink and I am open to that. I want the customer to be happy. Personally, I like the Martinez, which predates the martini and is a little different. It consists of gin with sweet vermouth and maraschino liqueur. It's fresh and you could drink it all day.
---
05
Josh Wagner
Director of culture and entertainment, Edition
"Personally, when I travel to a place I want to experience the city in its own form. During Art Basel we're going to offer well-thought-out experiential programming. Edition is not a New York brand or a London brand: it's a brand that exists where it is. The hotel embraces the local market, taking the best of what the city is about.
The original hotel on this Miami property, the Seville, was built in 1955. Because of the 1967 Preservation Act, anything built prior has to be protected. When you walk into the lobby you have ocean views and the shell of what this place once was. With the gold columns and original floors you feel the 1950s glamour of Miami. We are intentionally incorporating that. This is a place where locals will hang out.
There's something for everyone at Art Basel, whether it's having a cocktail at the Matador Bar or taking in the lush landscapes that surround the Tropicale Bar. Then there's the bowling alley, ice-skating rink and nightclub, where our line-up for Art Basel is silly in all the right ways. We'll be offering 360 degrees of hospitality: that's the least people expect of us during Art Basel.
Edition is a personal project by hotelier Ian Schrager. He opened the Delano Hotel 20 years ago so this means something to him – and to all of us involved. It's not robotic. We have a Ritz-Carlton philosophy on service but with personality. We want the staff to be themselves; their authenticity is our greatest asset."