Christmas gifts / Global
Small favours
We've sought out a few timeless (and functional) finds to kick-start the new year for your friends and family. Upgrade everything from garden to office and wrap up some toolbox essentials – not to mention a few pantry treats.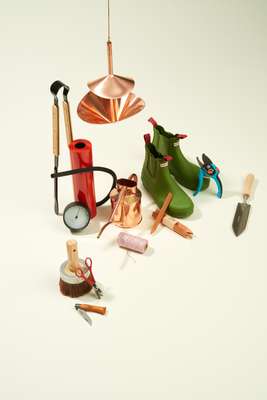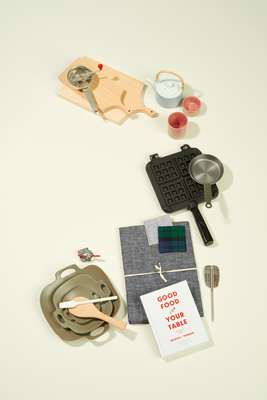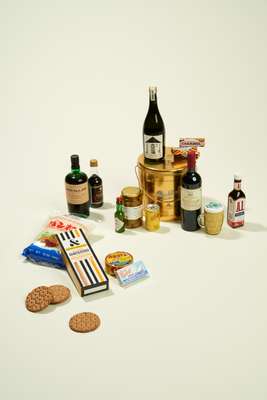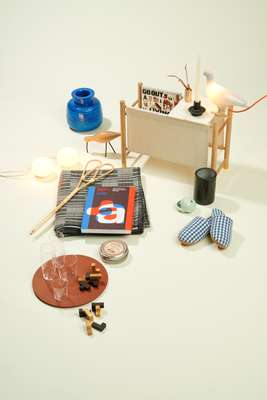 Here's our utilitarian take on gearing up for a more productive new year with a few oft-overlooked pieces for a better desk: from ribbons and rubber bands to pencils and paperclips.
One-handed tape dispenser
ashleydistributors.com
Formwork desk storage by Herman Miller
hermanmiller.com
Tools to Liveby paperclips
presentandcorrect.com
Brass number clips by Midori
midori-japan.co.jp; trunkclothiers.com
Danese Milano flip calendar
danesemilano.com; archivando.jp
Yamato paper glue
yamato.co.jp
Gummed foil gold stars from Dennison
presentandcorrect.com
Wooden stationery organiser by Umbra Studio
umbra.com; presentandcorrect.com
Sina Optic 8x and 4x magnifier loupe
magnifier.co.kr
Olfa hook cutter
olfa.com
Olfa top-sheet paper cutter
olfa.com
Gift ribbon from Hay
hay.dk
Coloured bulldog clips from Modulor
modulor.de
Tombow Irojiten colouring pencils
tombow.com; trunkclothiers.com
Sterling multiplier pencil box (and sharpener)
presentandcorrect.com
Muji elastic-band ball
muji.com
Shachihata inkpad
shachihata.co.jp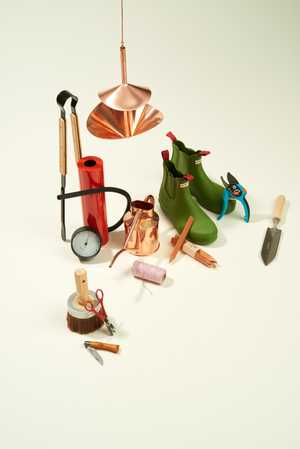 This selection of well-made additions will keep gardens blooming – whether it's wellies to keep on a firm footing or a watering can and trowel to tend to flower beds.
Barbecue tongs from Snow Peak
snowpeak.com
Vasse Vaught Vogeli bird bath
vassevaught.com; thegardenedit.com
Indoor watering can from Born in Sweden
borninsweden.se
Hunter Original Chelsea boot Wellingtons
hunterboots.com
Gardena secateurs
gardena.com
Sneeboer weeding trowel
sneeboer.com; labourandwait.co.uk
Koppel hygrometer by Georg Jensen
georgjensen.com; skandium.com
Haws watering can
haws.co.uk; thegardenedit.com
Red-and-white twine
whiskergraphics.com
Works & Labo Kawara ceramic planting markers
worksandlabo.com
Flower pot brush from Present and Correct
presentandcorrect.com
Ernest Wright & Son pruning scissors
ernestwright.co.uk
Opinel folding knife
opinel.com; labourandwait.co.uk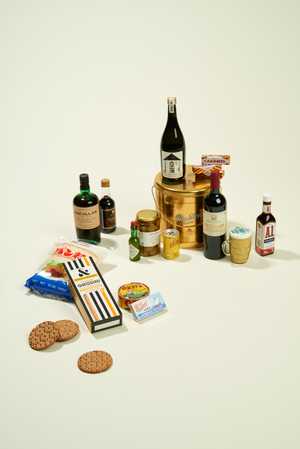 We've sourced some enticing comestibles for any occasion – whether it's a case of celebrating with saké or stocking up on appetisers, no pantry should be without these stalwarts.
Bottle of Matsunami saké
o-eyama.com
Macallan 1874 highland malt Scotch whisky
themacallan.com; hewines.com
Tamari soy sauce from Kikkoman
kikkoman.com
Panettone from Chiostro di Saronno
chiostrodisaronno.it
Tunnock's chocolate-covered wafer biscuits
tunnock.co.uk
Isole e Olena Cepparello 2010
thelondonwinecellar.com
German mustard from Streuber
streubersenf.de
A1 steak sauce
a1original.com
Panko breadcrumbs from Hanayuki
selfridges.com
Crosta & Mollica breadsticks
cmkitchen.net
Green pepper Tabasco sauce from McIlhenny Co
tabasco.com
Bella olives from Puglia by Seggiano
seggiano.com
Schweppes tonic water
schweppes.com
Rye crisp breads from Finn Crisp
finncrisp.com
Tuna in olive oil from Conservas Ortiz
conservasortiz.com
Anchovies with capers from Conservas Ortiz
conservasortiz.com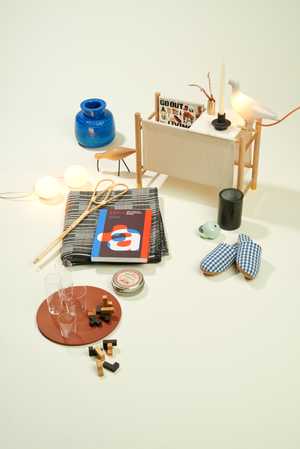 These ingredients are elegant additions to any household and will cosy-up the home, including a chirpy light for the kids' room, a versatile throw and snug slippers.
Rimini Blu ceramic vase from Bitossi
bitossihome.it; scp.co.uk
Shorebird figure from Normann Copenhagen
normann-copenhagen.com
Oak magazine rack with marble top from Kristina Dam Studio
kristinadam.dk
Go Out Living Gear Book magazine supplement
goout.jp
Brass vase from Found Muji
muji.net/foundmuji
Heima candlestick holder from Normann Copenhagen
scp.co.uk
Pigeon light by Ed Carpenter
klauserandcarpenter.com; scp.co.uk
Flos glo-ball mini
flos.it; jaspermorrison.com
Woollen blanket from Eleanor Pritchard for Trunk Clothiers
eleanorpritchard.com; trunkclothiers.com
Rattan carpet beater from Objects of Use
objectsofuse.com
100 Years of Swiss Graphic Design from Lars Müller Publishers
lars-mueller-publishers.com
Ceramic incense burner from Shoyeido Miyuki
shoyeido.co.jp; trunkclothiers.com
Marble vase from Broste Copenhagen
brostecopenhagen.com; goodhoodstore.com
Gingham slippers from Muji
muji.com
Comptoir de Famille furniture polish
comptoir-de-famille.com; divertimenti.co.uk
Terracotta platter by Reiko Kaneko
reikokaneko.co.uk; scp.co.uk
Reiko Kaneko x Shotoku glasses
reikokaneko.co.uk
Shotoku glass set
stglass.co.jp; scp.co.uk
Wooden Bridget building game
etgames.co.uk; scp.co.uk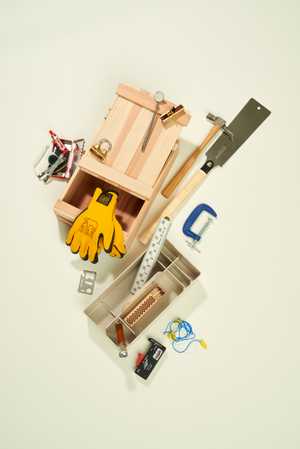 From a double-edged Japanese saw for woodworking to a cycle-repair kit and clamp, these are the strapping tools we're keeping to hand.
Simson bike repair kit
labourandwait.co.uk
Abloy padlock
abloy.com
BlueSpot one-and-a-quarter-inch inspection mirror
bluespot.uk.com
Rosewood-and-brass mini carpenter's plane by Crown Tools
crownhandtools.ltd.uk; pentonshardware.co.uk 
New Gramercy Tools cabinetmaker's hammer
toolsforworkingwood.com
Double-edged Japanese handsaw
life-diy.com
Three-inch steel clamp by Faithfull
faithfulltools.com
Matsunoya carpenter's tool box
matsunoya.jp
Arctic Polar insulated work gloves
greenjem.co.uk
Fisco Sweden folding ruler
hultafors.fi; pentonshardware.co.uk
Vitra tool box
vitra.com; goodhoodstore.com
Stainless-steel pocket survival tool
bcbin.com; pentonshardware.co.uk
Ettinger x Maglite hand torch
ettinger.co.uk; happyboxlondon.com
Schneck Zweigbergk matches for Hay
hay.dk
Battery-power tester from Mercury
mercury.avsl.com; pentonshardware.co.uk
Vitrex corded earplugs
vitrex.co.uk
Cupboard space is always at a premium so only the culinary best will do when it comes to tin openers, cups, tablecloths and chopping boards.
Mini all-purpose mincer from Guillouard à Nantes
guillouard.com; jglinert.com
Woodpecker wooden chopping boards
hello-woodpecker.com
Hakusan Kasanejima teapot
hakusan-porcelain.co.jp
Ceramic bowl and cup from Les Guimard
lesguimards.com
Stovetop Belgian waffle maker from Nordicware
nordicware.com; divertimenti.co.uk
Mini blini pan from Debuyer
debuyer.fr; divertimenti.co.uk
Table cloth and coasters from Fog Linen
foglinenwork.com
Bon Voyage collection of stacking plates with handles from Yumiko Iihoshi Porcelain
y-iihoshi-p.com
Nogent 3-star Super-Kim tin opener
labourandwait.co.uk
Silicone jam spreader from Muji
muji.com
Hinoki rice spatula from Matsunoya
matsunoya.jp
Good Food for Your Table by Ian James, Nicholas Selby and Louisa Chapman-Andrews, saltyardbooks.co.uk
CDN meat or yeast thermometer
cdnw.com