&Tradition / Copenhagen
Super showroom
To keep up with demand for its selection of Nordic lighting and furniture, &Tradition has developed a unique showcasing space. Housed in a 100-year-old warehouse, a village-style layout of cube rooms is home to inspiring designers.
Copenhagen-based &Tradition is a rising star on the Danish design scene; founded in 2010, it has swiftly built a reputation for its covetable lighting and furniture. This is partly down to the reissuing of Danish design classics, such as Arne Jacobsen and Flemming Lassen's Mayor sofa and Verner Panton's Flowerpot lamp. But it is also a result of commissioning contemporary designers – including Jaime Hayon, Sami Kallio and London's Vit – to reinterpret classic Danish forms. Its range is exported to more than 50 countries.
The company has gone from a first-year profit of dkk1,890 (€254) to dkk14.1m (€1.9m) last year, rapidly outgrowing its HQ in sleepy Fredensborg, north of the Danish capital. The solution? A new showroom, which is something more akin to an art museum or design gallery. It is housed in a historic warehouse on Papirøen – or "Paper Island" – and was once used as storage for the newspaper industry.
"Until now, trade shows have been our showroom," says &Tradition founder Martin Kornbek Hansen. "But we wanted to create a context where we could continue to develop: an adaptable environment. So we built a conceptual village where we could invite clients to take a trip through our products and share their stories."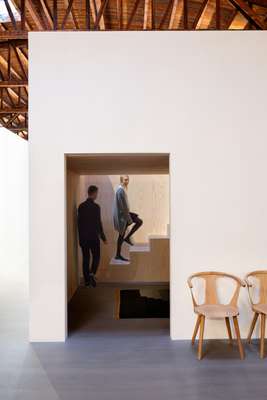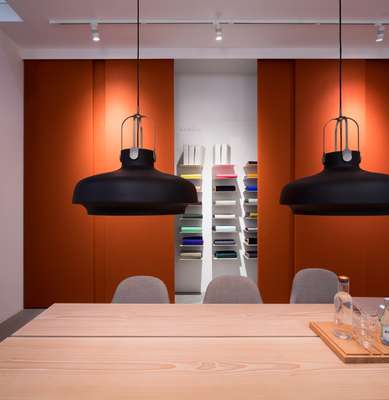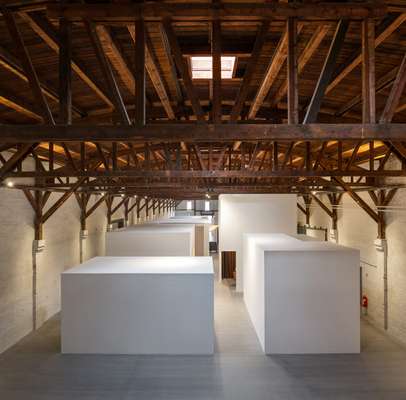 Kornbek Hansen commissioned Norm Architects to transform the warehouse, with its vaulted wood ceiling and white brick walls. The village-style layout, featuring 12 variations on a white cube, was inspired by the warehouse's surroundings. "This part of Copenhagen is still a cluster of small villages, with the nearby college campuses as well as Christiania and Christianshavn," says Norm's co-founder Jonas Bjerre-Poulsen. "The idea was to mimick that and combine it with my personal experience of spending summers in a small medieval village in the south of France: very monochromatic, on a human scale, with spatial events that have evolved unplanned."
To get that organic feel, Linda Korndal, the architect in charge of the project, initially created a 3D model of a strict grid with houses, a church and a central piazza, which she then pushed and pulled around on screen as the three-month build progressed. "It is like an art installation in itself: something between sculpture, architecture and a showroom," she says. "I wanted the buildings to have different proportions and shapes so that they speak the same language but create different moods when you walk through the village."
The project required six tonnes of plaster. Some of the houses are multi-purpose, some serve a particular function – as a kitchen, meeting room or for product development – while others have been designed specifically for &Tradition partners, such as textile firm Kvadrat and flooring company Dinesen (see opposite page). Adding another perspective is the mezzanine office area, which spans the width of the far end of the hall.
The 100-year-old building that houses all of this provided numerous challenges, not least its industrial scale. "We couldn't just hang lamps and place furniture; we needed other elements to fill the space," says Bjerre-Poulsen. The warehouse walls were in varying states of disrepair so coffee grounds and dust were blended with the whitewash to create a seamless match. The floor was a patchwork of concrete; now it is a grey resin and concrete blend with a wave-like pattern. "No one can explain how this building is standing," says Korndal, laughing. "If you do the calculations, it shouldn't be."
In fact, if all goes to plan, within four years it won't be: the entire island will be razed to make way for a new development. In the meantime, the owners have leased the buildings to a range of creative enterprises alongside &Tradition. But this impermanence does not trouble Kornbek Hansen: "It will only force us to kick ourselves forward."
---
Tenant 01
All the Way to Paris
Every six months, &Tradition invites someone new to redesign the village's interiors. Local graphic designer All the Way to Paris took on the challenge for the first six months. "We see ourselves as a creative force rather than nerdy graphic designers," says founder and creative director Petra Olsson Gendt (pictured). "We started by sneaking in our rug designs to &Tradition's range and then this was a natural progression." Olsson aGendt's aim was primarily to enhance Norm Architect's work and support the interaction of the village houses so that the furniture pieces could "talk" to each other across the spaces. "It's a playground – a very advanced playground for designers."
---
Dinesen has built a reputation for providing unusually long, broad flooring planks of high-quality Douglas fir for some of the world's leading art galleries. Its showroom-within-a-showroom at &Tradition's HQ is a timber-lined cocoon, inspired by a Japanese tea room. It also features a North African-style roof terrace. "We thought the showroom had lots of elements of surprise," says Dinesen's brand-and-marketing manager Birgitta Murga Thomsen (pictured). "That worked well for us because we are in transition. We've been known for doing these traditional projects – art galleries, manor houses, luxury apartments – but we actually produce wood that is suitable for other projects. That link between old and new that &Tradition has: it's the same for us."