The interview series 2014/15 part 04 / Zagreb
The interview series 2014/15 part 04
Croatia is a young nation still experiencing some of the growing pains of a multicultural society learning to get along. At the centre of much of its recent social progress has been productive politician and academic Vesna Pusic.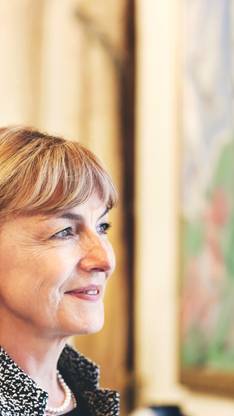 Vesna Pusic
Foreign minister, Croatia
Keeping Croatia on course over a frequently turbulent 13-year passage to EU accession would have tested the most fervent of true believers. Vesna Pusic can laugh about the tribulations now but a passionate belief in the values represented by the EU has both defined her life and increasingly influenced the society of a young country that emerged from the Yugoslav wars and surrounding ethnic hatred of the 1990s.
For much of the accession process Pusic was at the helm, leading the national committee that oversaw a decade of rigorous negotiations. Finally, with Croatia's membership in sight, she became the combined foreign and European integration minister in 2011.
Before entering politics in earnest in 1997, Pusic had a substantial academic career as a professor of sociology at universities including Zagreb, Georgetown and Chicago. She was a co-founder of both the liberal Croatian People's Party (hns), which she now leads, and the Erasmus Guild think-tank, which promoted democratic ideas in the newly independent and generally authoritarian republics of the former Yugoslavia. Back in the days of Marshal Tito, she also ruffled feathers by setting up Croatia's first feminist organisation, Zena i Drustvo (Women and Society).
Now 61, Pusic has lived to see many of her long-held ideals become reality. Hearing a midnight chorus of "Ode To Joy" echoing round Zagreb's main square last summer marking Croatia's entry into the EU was a proud moment. But the battle to convince her compatriots to share her principles continues. Despite regular bumps in the road, Pusic is convinced that her country is heading in the right direction. "The EU works as a state-building project," she says. "Basically, I don't think anyone in Croatia now thinks we could be anywhere but in the EU."
Monocle: Croatia can be a very religious, conservative country whereas you are an atheist, feminist, gay-rights supporter…
Vesna Pusic: How did I trick them? I entered politics very consciously – and I was weird in the Croatian political scene at the beginning. At certain points I would be the only one in elected politics advocating something. Sometimes you think you're pushing a rock up a hill. It takes a lot of energy and time but that changed. Standing for what you believe in – although it might seem completely hopeless – actually makes sense and produces results. As a country, we're still not everything we should be – far from it. But a lot of things that would have been unthinkable 15 years ago are conventional wisdom now.
M: In speaking up for the EU and the values that it represents, do you ever have the feeling that you have dragged everyone round to your way of thinking?
VP: I've not dragged everybody. But it shows that even when lots of people don't speak out, these people do exist. Contrary to what those who have not been through a war might think, even at the most difficult times there are still people with common sense, who think straight and use those muddy waters to achieve something. It's very important – especially in difficult times – to provide a public voice, even when you don't get immediate support. No society is ever one-sided. There are always people of different opinions and persuasions. The more stable and secure people feel, the more free they feel to speak their minds, think differently and confront others with their opinions.
M: Since Croatia has joined the EU there has been a successful referendum against same-sex marriage and a campaign to ban the Cyrillic script used by the ethnic-Serb minority in Vukovar. How do you tackle these things that go against your principles and the values of the EU?
VP: Yes, this is completely contrary to what I believe should happen. There is an element of harvesting the general disappointment with the pace of change and living standards. People expected these things to go much faster and they are frustrated about it. So you can harvest general discontent and channel it in one direction. We need to define issues which should not be subject to referendums – such as basic human rights and civil liberties. This is the malaise of a beginner state. In human-life terms, 24 years is a long time; in state-building terms it is the blink of an eye.
M: Zagreb Pride named you the "gay-friendly person of the decade" in 2011.
VP: I was proud of that. I participated in Croatia's first gay-pride march here with my then teenage daughter, which looked pretty scary at that time: people yelling, lots of police, people chasing marchers through the side streets. Now, 11 years later, my daughter says she doesn't want to go because it's just showing off and Pride is universally accepted. I don't think it's that good yet but certainly I have lived to see lots of people marching in a Pride event where you can window-shop on the side, leave to go to cafés and then rejoin the parade. It has become very relaxed and normal in Zagreb and that's extremely important. Not just because of gay rights but because of the self-image of a society.
M: You have been quoted as saying that you got into politics because "people who were worse than me, dumber than me and crooks, unlike me, were not going to decide on my country and my life".
VP: That's my way of saying that in any country – but especially a small country – it is the responsibility of everybody who feels they can make things even a little better to put all they have into it and get involved. The attitude that someone else will take care of things, or that everything is horrible and I don't want to do anything about it, or that "they" should do it? There is no "them", only us.