Issue 8 / Global
Observation
Room for improvement:
So many hotels bombard us with unnecessary extras when what we really require from them is to do the simple things well. Isn't it time they ditched the gimmickry and concentrated on the basics of good hospitality?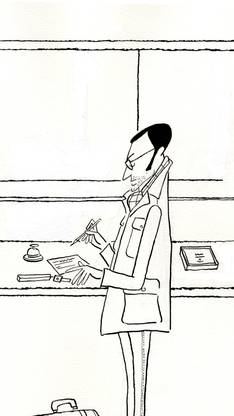 Whatever happened to the innkeeper? More to the point, what happened to their inn? And no I'm not talking about the Holiday variety.
I've been doing the maths on the number of nights I'll spend in hotels this year and it's creeping up to the 200-plus mark. By the standards of some readers mine's perhaps a light year. For others it might sound like I should apply for refugee status at my next port of call. As we put this eighth issue to bed I'm finalising an Asian travel itinerary that features Zürich as my starting point followed by Kuala Lumpur for a day, Hong Kong for two, Taipei for three and Tokyo for two. Along the way I'll check into some old favourites and sample a couple of new ones.
In Zürich my regular haunt is a simple hotel in Niederdorf that's modern, clean and family owned. It's light on frills but has a cute little bar, no-nonsense rooms, good water pressure and free wireless connection. After 22.00 you're responsible for letting yourself in and out of the hotel, and there's no room service. There are other, more upmarket hotels I could check into in Zürich but there's something refreshing about not having to hand over your credit card the moment you pull up at the desk or deal with too many staff in the service chain. In many ways it's the closest I come to staying in what might be classified as an inn, and there's certainly scope for more places like it in the market. New York is a city in desperate need of such an operation.
At the moment I'm in a bit of a dysfunctional relationship with my regular hotel in New York. We've been together for over 10 years now but lately things have started to go in the wrong direction. I know I'm partly to blame because too much time spent in Asian hotels has made me intolerant of mediocre North American service delivered with an outstretched palm. I'm irritated by the all-too-transparent profiling systems that seem to have stripped any sense of spontaneity out of the hospitality business. I'm also quite convinced that guest loyalty is not won with bath menus, Norah Jones bedtime CD compilations or refrigerators crammed with five types of mineral water.
What's required in New York (and many other places) is something relatively low-rise run by a resident owner/manager and staffed by a handsome mix of Austrian, Swiss, Italian and Japanese staff. The lobby should be cosy and small and not a scene. There should be a simple bar serving good-quality food prepared by a chef not desperate for a TV series. Rooms should have thick doors, wood floors, a good bed (Schramm or Hästens perhaps), plugs fitted to the nightstand so you can write columns while propped up against the pillows, dimmers on all light switches, wireless that offers full coverage and a bathroom with a Toto toilet and a Japanese shower/wash setup. That's about it. On the top floor there should be a decent-sized gym and a patch of outdoor space for grabbing some sun. One floor below, two or three conference rooms wouldn't be a bad idea. I'd also do away with silly extra service charges and throw laundry in for free. It would be neither moderately priced nor extortionate – just good value. After New York the same type of property would do well to open in London, Copenhagen, Milan, Sydney, Helsinki and Singapore.
Too many hotel properties have started to pollute their brand messages, not to mention their interiors, with far too many tricks and gimmicks. Most guests want a massage, not a multiple-choice questionnaire about tastes in lighting, scent and music.
While the world may not need another hotel chain, there is room in the market for some leading hoteliers to get back to basics and return to the art of gracious, discreet innkeeping. The perfect hotel formula might include the following ingredients:
10% the bathrooms at the Tawaraya, Kyoto
15% the simplicity of the Rössli, Zürich
5% the gift shop at the Murata, Yufuin
10% the scale of The Knightsbridge, London
5% the lighting at The Peninsula Tokyo
5% the speed of room service at the Mandarin Oriental, Munich
15% the room size at the Cortiina, Munich
5% the recognition at the Baur au Lac, Zürich
5% the bar ambience at Claska, Tokyo
10% the bed linen at the Hotel des Bergues, Geneva
15% the beds at the Park Hyatt Tokyo
If you'd like to add to this recipe, please drop me a note at tb@monocle.com. In the meantime, we'll be expanding on this topic in our upcoming December/January issue, where we'll name our top picks across all areas of the travel industry.
You can read more from our editor in chief every Saturday in the International Herald Tribune or at iht.com.