Africa/Middle East / Global
Africa/Middle East
Briefing
The president who favours a practical 4x4 over a supercar and why Mali is a farming mecca.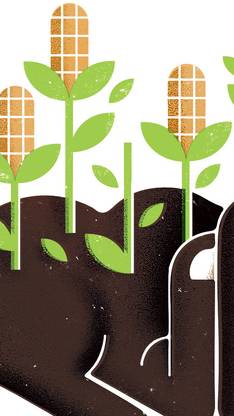 Me and my motorcade no. 51
In the driving seat
Sheikh Mohammed bin Rashid al-Maktoum — 
DUBAI
Most world leaders love a vast motorcade but not, it seems, Sheikh Mohammed bin Rashid al-Maktoum. Vice-president and prime minister of the UAE, the ruler of Dubai shuns elaborate displays in favour of his prized 4x4. Residents of Dubai often glimpse Sheikh Mohammed out and about in his pristine white Mercedes-Benz G-Class suv – also known as a G-Wagen – a super-charged, all-terrain vehicle that was initially developed in the 1970s for use by the armed forces of Iran.
A regular visitor to many of Dubai's trade events, the sheikh is regularly snapped getting in or out of his G-Wagen, which is instantly recognisable from the registration plate Dubai 1. (His wife, Princess Haya, drives an azure blue G-Wagen bearing the plate Dubai 2.)The latest incarnation of the sheikh's favoured ride is the g63 amg, packing a 544-horse-power V8 engine and finished in a luxuriant quilted-leather and wood-trim interior. Price tag: about €150,000. Thanks to its royal admirers, the G-Class is now one of the most popular luxury suvs in the UAE.
Sheikh Mohammed prefers to drive his high-end 4x4 himself, though his security staff draw the line at allowing him to pilot his own aircraft. "I am a fighter-plane pilot and it is unfortunate that I do not get to fly them often," he once said in an interview. "These days I get to simply take off and land regular flights and fly helicopters from place to place."
---
Vehicles
A Mercedes-Benz G-Class suv (otherwise known as a G-Wagen) is Sheikh Mohammed's first choice of transport from his jaw-dropping collection of dozens of supercars.
Yachts
Sheikh Mohammed owns "Dubai", one of the largest superyachts built to date. It is 162 metres in length and offers everything that yacht lovers could ever dream of, including seven decks of opulent grandeur and even a helipad. One of the latest additions to Sheikh Mohammed's burgeoning transport stable is an Italian-made 40-metre-long Sanlorenzo motor yacht, which is particularly notable for its sleek aluminium hull and contemporary interiors. It was delivered in 2013.
Aircraft
For air travel, Sheikh Mohammed has the Dubai Air Wing at his disposal – the air fleet of the Dubai government – which includes several Boeing 737s and 747s. With a passion for equine sports, he is also reported to have a custom-built 747 that can transport his racehorses.
---
Growth forecast
Mali — 
FARMING
Farming experts from around the world are beating a path to Oumar Diabaté's two-hectare organic farm 30km from Bamako, the capital of Mali. "Industrial-scale monoculture is far too prone to price fluctuations and too dependent on expensive pesticides and fertilisers to be sustainable for Mali's farmers," says the 47-year-old who, 10 years ago, launched a crusade to revive traditional farming.
"Years ago, subsistence farmers rotated courgettes, maize and beans," he says. "Each crop enriches the soil for the next, producing enough for a varied diet and a surplus to sell. What we do is pair subsistence farming with new agronomy and soil research."
---
Divine image
Cairo — 
CINEMA
Egypt's only Imax screen is marooned in a desert mall outside Cairo but that hasn't stopped young Egyptians from flocking to see Christopher Nolan's space epic Interstellar. In the intermission audience members pray on the foyer floor; fans have described weeping with emotion at the galactic vistas of God's majestic creation.
In reconciling science with revelation they are following modern Egyptian intellectuals such as the late Mustafa Mahmoud, a scolar and doctor turned Islamic apologist who installed telescopes atop his Cairo mosque, believing observing the heavenly bodies to be the surest way of cementing faith.