Restaurant art / Global
Feast for the eyes
Starting with legendary bar and brasserie Kronenhalle, Zürich's haven of art and comfort, Monocle visits the best hostelries to fill up on food, drink and inspiration. Plus: Ossian Ward investigates art's place in the world of hospitality.
Chagall, Picasso, Rauschenberg and Braque: few restaurants can boast a guest list with quite the artistic pedigree of Zürich's Kronenhalle, yet this rather stern five-storey Biedermeier block close by the lakeside goes one step further.
This was the canteen of choice for 20th-century artistic genius. Its three dining rooms and bar are quite casually graced by the most astonishing collection of 20th-century art you are ever likely to encounter in a restaurant with Tuborg and prawn cocktail on the menu. There is a late-period "head" by Picasso in a corner of the bar, a haunting self portrait in the brasserie and original pieces by Klee, Kandinsky and Rauschenberg, among many others. The collection is worth many millions but what makes it unique is that it was assembled largely by one man: silk magnate Gustav Zumsteg, who lived on the third floor until his death in 2005. Several of the works are personally dedicated to him or his mother, Hulda, who founded the restaurant with husband Gottlieb in 1924.
Kronenhalle had been a refuge for artists during Hulda's time – before and during the Second World War – but her son Gustav became the driving force behind the Kronenhalle collection after he befriended art collectors Marguerite and Aimé Maeght in Paris in the late 1940s. They introduced him to Matisse, Picasso and Miró, and Gustav began to use the money he was earning from Abraham Silk (suppliers for many years to Yves Saint Laurent) to buy their work. Miró, especially, became a close friend of the family and gave them several works, while Marc Chagall described himself as a surrogate son (Kronenhalle was virtually his home in the 1970s when he was working on the stained-glass windows at the nearby Kirche Fraumünster).
Today the Chagall Room, a quieter space just off the boisterous ground-floor brasserie, boasts two paintings by the Franco-Russian artist, and Gustav even persuaded him to create a window for the Kronenhalle. Meanwhile, upstairs is the more discreet Swiss Room, dedicated to the work of local painters. "Where those who don't necessarily want to be seen – or seen together – dine," as Andreas Wyss, restaurant manager for nine years and now a member of the board of the directors, puts it. In the bar, are marble-topped tables and weighty lamps by Alberto and Diego Giacometti, as well as that Picasso.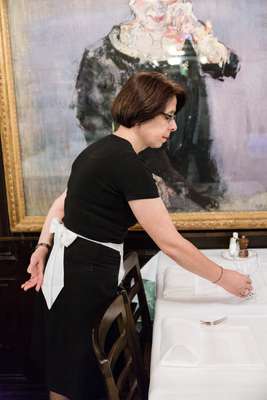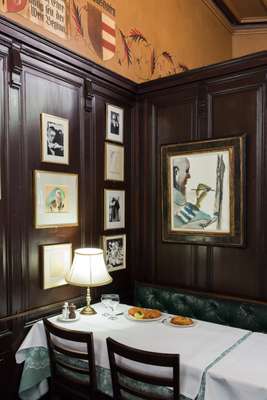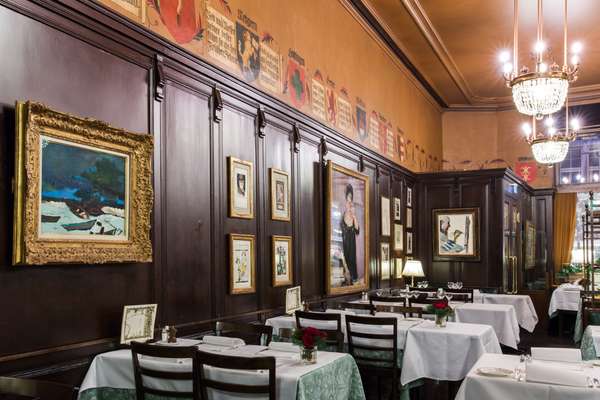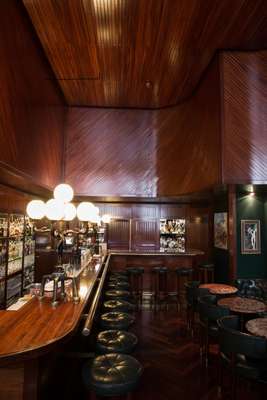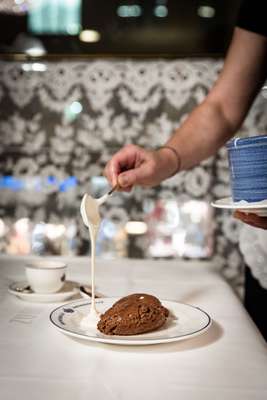 By all accounts an aloof, autocratic man, Gustav died a bachelor. Like his mother he lived into his nineties (testimony to the restorative powers of the three-course lunch). Following his death a large part of his private collection, including works by Monet, Cézanne and Matisse, was sold in 2006 for about $8m. Some paintings were also donated to the Kunsthaus Zürich and Gustav created a foundation to ensure that the restaurant and its art collection were preserved.
This year marks the 50th anniversary of the bar designed by local architect Robert Haussmann, which Gustav opened in a former hair salon next door. Today this teak-panelled cocoon is as much a Zürich institution as the restaurant and has begun to draw a younger crowd.
Next door the brasserie remains a meeting place for artists, performers and writers. Woody Allen, Placido Domingo and Günther Grass: all three of them have recently slipped into the green Moroccan leather banquettes in order to peruse Kronenhalle's homely menu of German-Swiss classics.
The brasserie becomes more raucous as evening comes and has the feel of a theatre set. Gratifyingly the majority of diners take their responsibility to dress for the occasion seriously, often with ties or collarless alpine hunting jackets for the men and ankle-length furs, French frocks and weighty jewellery for the women. On a recent visit, sitting beneath the luminous Braque landscape, we spotted an older gentleman in a cravat reading the menu with a monocle.
As you arrive and shuffle off your coat, all eyes swivel in your direction: you are being assessed as much as the art on the walls. Never mind. In the evenings you can't help but get caught up in the romance: to drift off and conjure James Joyce at table 17 peering at the manuscript of Finnegans Wake through his bottle-bottom pince nez (the door of Kronenhalle, he wrote, "locked out all disappointment"), or Prince Phillip slurping his consommé in a corner. And look who just walked in trailing a gust of evening air behind her: Lauren Bacall stills the room with a tilt of her head.
Here is found the living incarnation of the effortless yet exacting hospitality for which the Swiss are famed. Ever since Hulda, the shoemaker's daughter, transformed herself into the grand dame of the Zürich restaurant scene, the emphasis has been on service and atmosphere.
"The most important thing is that guests feel as comfortable as we can make them for the time they are here," says Wyss. Guests should feel free to linger over their consommé with liver dumplings or the legendary chocolate mousse. That hospitality starts with the front-of-house staff, who train for up to three years. "They should feel they have a career here – for decades in some cases," says Wyss. If you dine here more than a couple of times your preferences will be noted; the welcome from the maitre'd, Antonio Iannuzzelli, properly personal. Down in the basement prep-kitchen I meet chef de partie Filippo Abbate. This is his 60th year at Kronenhalle. He retired five years ago but came back after a year; he was bored, apparently. "We now have grandparents who were first brought here by their grandparents and they are coming with their grandchildren," says Wyss.
"I've been coming since I was six," a fellow diner said recently in the queue for a table in the crowded brasserie (always the most popular room). "You know what you are going to get. It's simple food but the staff make it special. And the art…" She gestured to the walls, gold bangles clanking approvingly.
"We don't have a formal dress code," says Wyss. "People usually know when they have the wrong clothes. They should be elegant but we don't make people wear a tie." Children and dogs are welcomed too – as long as they know how to behave. Laptops and cameras, however, are not permitted.
There is an especially elegant way to deal with the blight of mobile phones at the table: a small card placed beside your plate of Filet Robespierre politely asks you to step outside if you wish to continue your call.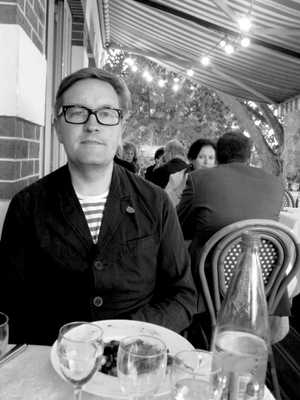 Ossian Ward on art's place in hotels and at the dinner table
During my time as a staffer at a serious art journal there was no column more viciously fought over than the now-defunct monthly review of a museum restaurant. I was too junior to be entrusted with the international flights and slap-up meals this gig entailed, not forgetting the judicious lashings of post-prandial art-browsing that were thrown in for good measure. An august institution, the Victoria & Albert Museum, once made the same mistake – of putting the enjoyment of food ahead of the appreciation of art – with their much-maligned but now oft-recalled Saatchi & Saatchi poster campaign, featuring the tagline: "An ace caff with quite a nice museum attached".
Yet the two activities – eating and looking at art – are now largely inseparable. The art-world dinner has become a post-opening staple for doing deals and chatting up curators. My favourite was for West Coast pop artist Wayne Thiebaud – himself famous for beautiful pastel paintings of peanut-butter sandwiches and cakes – at which I sat opposite Gwyneth Paltrow discussing a shared love of Spanish comida. So complementary are food and art that artists have long delighted in their coexistence, from Dutch still-life painters of tables groaning with produce, to Futurist leader FT Marinetti's insane recipes for Sculpted Meat, Immortal Trout or Chicken Fiat (stuffed with steel ball bearings, no less).
Get all the ingredients right however, as the London-based Delfina Foundation's regular grazing and gathering events do – now forming an annual season of shows and meals entitled The Politics of Food – and the results can be both tasty and enlightening. There are, indeed, many places that marry the service of food with the experience of looking at art successfully. Restaurateurs and hoteliers such as Mark Hix, Michael (aka Mr) Chow, Soho House and others have managed the blend well – but get it wrong and it can sour both experiences.
The $400m collection of art amassed by Las Vegas impresario Steve Wynn was used shamelessly as a lure to one of his casinos, a sign outside promising: "Special Guests: Pablo Picasso and Henri Matisse". This was not so much an unholy union between art and hospitality as a razzle-dazzle marketing ploy. Similarly, the notion that Christie's auction house uses the Taj Mahal Palace Hotel in Mumbai as one of its global salesrooms strikes me as a rather forced or arranged marriage of convenience, rather than a meeting of minds. As in any relationship, if one party imposes its will on the other the outcome can only be messy.
The famously irascible Mark Rothko was distraught when he discovered that his dark wine-coloured Seagram murals, designed for the lobby of the Mies van der Rohe building on Park Avenue, were actually to be displayed in the adjacent Four Seasons eatery. He felt the luxurious décor so inappropriate that he withheld the entire installation and kept the paintings in storage almost until his untimely suicide a decade later.
Sometimes the cultural confusion comes when you don't know whether what you are eating or staying in is a meal, a hotel room or in fact a work of art. Fiona Banner created a vertiginous, nautical-themed "A Room for London", looking out on to central London, while the Hotel Everland did something similar atop the Palais de Tokyo in Paris. Neither appealed, perhaps because of my fear of heights; perhaps it was a fear of gimmicks. Better but no less strange is the Antony Gormley sculpture/suite jutting out of the Beaumont Hotel in London and it won't be long before each room is designed by a different artist. "Would you like to stay in the luxury Koons boudoir, sir, the Hirst laboratory or the Banksy basement?"
Ultimately, the best art hotels or art restaurants – such as the Colombe d'Or in Saint-Paul-de-Vence, with its Léger mosaics, Calder mobiles and Miró paintings; or Japan's art island, Naoshima, where you can stay accompanied by a Richard Long stone circle or a Donald Judd sculpture – are exactly the reverse of what that V&A creative envisioned: an ace museum but with a decent caff or bedroom attached.
Ossian Ward is head of content at Lisson Gallery, London. Previously he was the editor of Art Review and visual-arts editor at Time Out London.
More art-fancying  hostelries: 
01.
Hotel Castell
Zuoz, Switzerland
It is no surprise that the majestic Hotel Castell is where the Art Basel selection committee often meets for long summer deliberations. Perched on a vertiginous slope overlooking the Swiss Engadin Valley town of Zuoz, Castell mixes a grand-hotel history with thought-provoking contemporary art. Works by art stars from Switzerland and beyond (Pipilotti Rist, Roman Signer and Martin Kippenberger are just a few) are on view in public spaces and private rooms; James Turrell's "Skyspace Piz Uter" is a light piece on the hotel grounds and the hotel even has a video-art library. Main shareholder Ruedi Bechtler bestowed parts of his formidable collection when the hotel was renovated in 2004.
This five-star hotel on the Costa Brava brings culture to the countryside with a notable art collection that pays homage to local talent. The converted 18th-century farmhouse is home to a permanent collection of work that was commissioned in the 1970s in response to a series of fascist attacks on Picasso's works around the country. The response was a colourful show of solidarity – artworks painted onto small tablecloths by artists such as Joan Miró and Alexander Calder – and the hotel's owners recently acquired the entire collection.
03.
Pera Palace Hotel
Istanbul
Perched on a bluff overlooking Istanbul's Golden Horn, Pera Palace Hotel has long been a beacon for visiting writers and artists. The hotel's impressive grandeur first caught the attention of visiting European tourists, weary after long journeys on the Orient Express. Agatha Christie is said to have written Murder on the Orient Express at the luxurious outpost, while Ernest Hemingway was another regular in those heady years. But it wasn't just writers and artists who embraced the hotel. In the 1920s the number of foreign spies milling about the grand lobby and restaurant was so high that hotel management requested agents to make room for paying guests.
Some people come to west Berlin's venerated Paris Bar to spot celebrities; others come to dine on entrecôte among what has become a historical, eccentric art collection. Since taking over the restaurant in 1970s divided Berlin, Austrian artist and restaurateur Michel Würthe has assembled a formidable self-professed "patchwork quilt" of art, hung salon-style on nearly every wall surface. Damien Hirst, Daniel Richter and, of course, restaurant regular Martin Kippenberger have been – or still are – on view here and provide an air of mild decadence.
Robert Mapplethorpe, Jackson Pollock, Mark Rothko, Andy Warhol, Bob Dylan, Patti Smith and many others: huge names that lived in New York's legendary art haunt Chelsea Hotel. For decades it served as a kind of cross-disciplinary artist's residency and visual artists could pay their rent in art. Renovations began in 2011 but luckily some long-term artist residents are still here and will stay. When guestrooms reopen it's likely the grit will be gone but the ghosts of New York bohemia will forever walk these halls.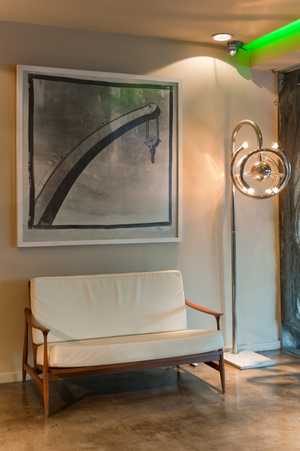 06.
Home Hotel
Buenos Aires
The owners of Home Hotel in Buenos Aires, Brit Tom Rixton and his Argentine wife Patricia O'Shea, have a thing for modern art. In fact, pieces they have collected over the years are dotted around the lobby, back garden and bedrooms. The pair have started to organise a series of exhibitions entitled Home is Where the Art is: a joint collaboration with Latido art collective held within the Palermo hotel and including street artists such as Pum Pum, sculptors Mariano Giraud and Natalia Abot Glenz and nature-inspired installations by Patricia Miani.
British-born artist Harland Miller has been tapped to create nearly 20 pieces of art for the newly opened Sixty SoHo Hotel in New York, recently designed by Tara Bernerd.
Describe the concept of your art for Sixty SoHo.
The starting point for the art is the alter ego I created called International Lonely Guy, who travels a lot and stays in a lot of hotels. I'm interested in changing the way people think and feel when they are in hotels. There's the main picture in the reception that you see immediately. The works in the rooms relate to it. Bedroom art is difficult – you don't want something too bright – so I chose something more intimate: sketches from my notebooks.
Hotel art is generally considered as a rather mediocre, inoffensive, affair. Why and how do you overcome this?
Hoteliers look to find something everyone likes, which is impossible, so they settle for something no one hates. I approached Sixty SoHo the same as any other commission by a collector or curator and ultimately, of course, I paint for myself.
What is art supposed to achieve in a hotel setting?
Hotels aspire to help guests relax but having spent a lot of time in them I know that relaxation can feel empty if you're not engaged. That's the role of art: even if you are waiting for a meeting, good art can transport you to a gallery for five minutes. Good hotel art also works in conjunction with its surroundings, whether it's music or changes in lighting over the course of the day.