Café Lisboa / Lisbon
Rare talent
Portuguese chef José Avillez is singing the praises of a simple classic – steak – at Café Lisboa, his restaurant in the city's opera house.
Finding a perfectly cooked steak in the Portuguese capital can be tough, as many restaurants' menus revolve around fish and pork dishes. But the fact that beef isn't Portugal's strong suit hasn't stopped one of the Iberian nation's best chefs from dedicating his third restaurant to perfecting it. "Three centuries ago, Lisbon was among the cities that used to serve the most steaks in the world," says José Avillez (pictured, above), one of Portugal's most prominent authorities on the country's eating habits. "We had tabernae and cafés where artists and writers would get together and talk, have a drink – a coffee – or eat a steak. I wanted my restaurant to bring back this tradition in some way."
Café Lisboa is in the central neighbourhood of Chiado and the restaurant shares a building with the city's opera house, the Teatro Nacional de São Carlos. It's a fitting host considering Avillez's appreciation of the classics."We restored all the interiors, from replacing the gold leaf on the walls to installing a new bar. The restaurant is only a year old but it looks like it has been unchanged for centuries," he says. Despite the building's age, the atmosphere is far from olde worlde and interior-design studio Anahory Almeida's flourishes provide a sense of freshness. There is also an outdoor terrace that draws a diverse lunch and dinner crowd throughout the week.
Steaks are the forte here and each is made from tenderloin beef from the Charolais cattle bred in France, before being cooked sous vide the day before service with one of six different sauces.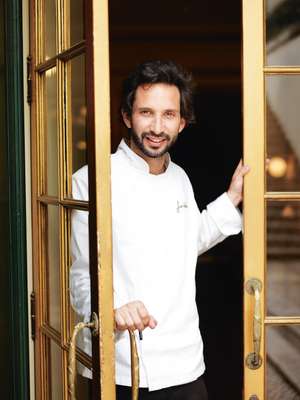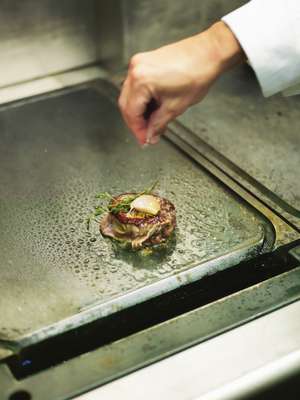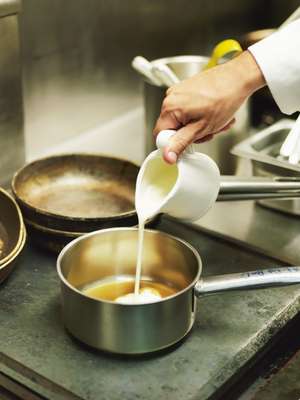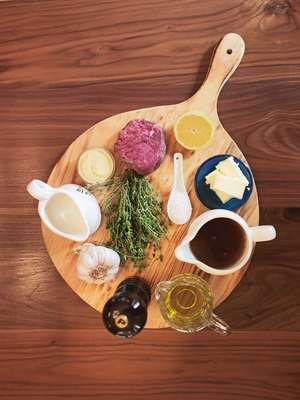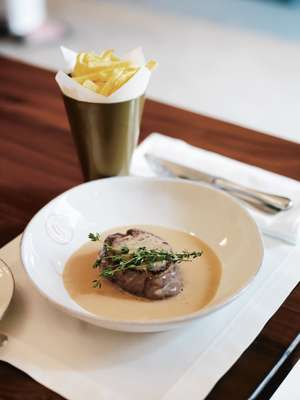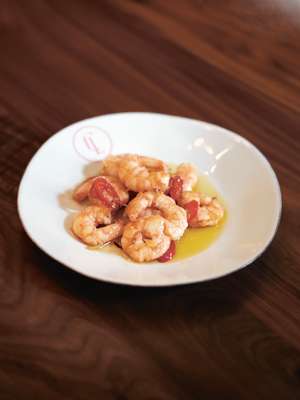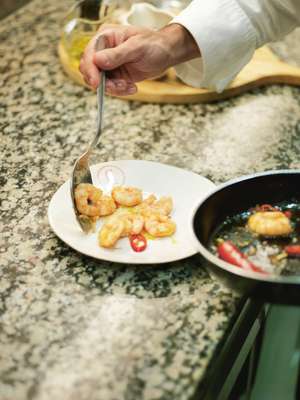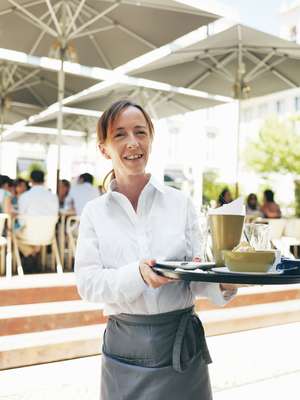 Beyond its beef, Café Lisboa has brought back a few emblems from the capital's culinary past. "It took me three or four years to develop the recipe for our custard tart," Avillez says. Although the restaurant serves bacalhau à Brás (shredded cod, onion and potato with olives) and beef croquettes with turnip-topped rice, these staples have become unfashionable and increasingly hard to find elsewhere in Lisbon. "We have developed new techniques of preparing these traditional recipes, as we have with our steaks, which rest an hour after slow cooking before being reheated bain-marie style and then teppaned [cooked on an iron griddle] for a couple of minutes," he says.
"Our kitchen is small and very busy with up to 100 people being served in an hour sometimes," adds Avillez. "So when we conceptualise our menus it takes a long time for us to develop ways not only to produce plates but to deliver them as best we can in the restaurant."
---
Steak with café lisboa sauce
Serves 4
Ingredients
Steaks:
4 fillet steaks (180g each)
2 tbsps olive oil
20g butter
2 cloves garlic, finely sliced
2 sprigs thyme
Salt to taste
Café Lisboa sauce:
400ml good-quality
beef stock
30g Dijon mustard
80g cream
20g butter
1 tsp lemon juice
1 sprig thyme
The method
Season steaks with salt and sear in non-stick frying pan with olive oil, butter, garlic and thyme. Turn down to avoid burning butter.

Place steaks in a 180C oven for 5 minutes.

For sauce, put beef stock in same frying pan. Heat and add cream and mustard before stirring well.

Add butter and thyme; stir again. Remove from heat and squeeze in lemon juice. Pour over steaks and serve with French fries.
---
Prawns with garlic and chilli
Serves 4
Ingredients
450g medium prawns, cleaned
20g garlic, thinly sliced
3 seeded red chillies,
finely sliced
Olive oil
Salt
The method
Heat olive oil over low flame in a non-stick frying pan.

Add thinly sliced garlic and chillies. Stir.

Add prawns and fry lightly, turning so they cook evenly.

Season with salt to taste. Serve immediately.