Tina Maze / Slovenia
Woman of fire
The desire to be the best and enjoy people's cheers set Tina Maze on the slopes to become a world-champion skier and Slovenia's top athlete. She tells Monocle about her long journey to the top.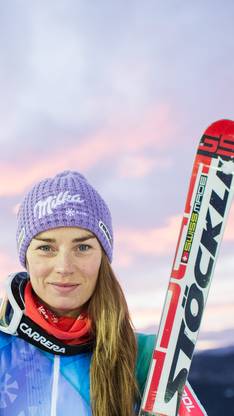 "I always wanted to go away to see the world," says Tina Maze. "Now it would be nice to go home." Yet with 2,600km separating her from Crna na Koroskem, her hometown in northern Slovenia, and a long World Cup season ahead, the Olympic alpine skiing double-gold medalist knows she won't see the hills of her native country until spring.
It has, so far, been a price worth paying. Skiing is Slovenia's national sport and Maze is its greatest female proponent. The 31-year-old world champion has been skiing since pretty much the moment she could stand. "My village is a skiing village; everybody learns to ski there. We used to host competitions and big parties to celebrate the results. That was the main reason I loved skiing so much. I hoped that one day people would cheer for me." And they do.
Maze has thus far won 26 career World Cup races (likely to be more by the time this issue hits shelves), her first dating back to her 2002 giant-slalom triumph in Sölden. Her greatest win was at the Sochi 2014 Winter Olympics, where she received two gold medals for downhill and giant slalom after winning two silver medals in Vancouver four years previously.
The photogenic skier with a disarming smile and natural charm is hailed as Slovenia's best female athlete. "We are a sporting nation. It's so nice to give people this passion and the belief that our small country can be the best," she says. Slovenia only gained independence from Yugoslavia in 1991 and is still carving out its identity as an EU member state. As a young nation of two million, the country is gaining acclaim at a global level thanks to Maze's success. "Sport is the mirror of a nation; it shows the character of a nation," says Maze, noting her country's victories in disciplines from alpine skiing to basketball despite its small size and limited budget. "I'm proud of who I am and where I'm from. I started small and it's been a long road. But I came to the point where I believed I could be the best and I went for it."
It's 08.00 in the Swedish ski resort of Åre, where the latest World Cup race is about to start and droves of skiers from around the world are climbing the lift up Duved's snowy 2,500-metre floodlit piste. It's here that this weekend's competition will be taking place. Today it's where Maze will be training one last time. Wrapped in a black trench coat that makes her look like "the witch from the north" as her physio Martina Lencek likes to joke, Maze speeds uphill on the T-bar lift, where her service expert Andrea Vianello has laid out her skis and coach Andrea Massi awaits with technical expert Valerio Ghirardi.
"It's nice to ski here in Åre; I've always skied well here," says Maze, as she begins to stretch on the chilly slope that towers above the glittering lights of the village and frozen lake below. The sun is just rising above the ragged mountains surrounding the resort and golden rays of light are piercing the clouds, throwing a spotlight on the set of international skiers. The air is cold and sounds are muffled by the icy snow.
"Before a race it's good to warm up, feel the skis and find a balance. I try to visualise the course and convince myself that I'm the best," says Maze as she glides over to the starting line, which from a few steps away looks like a perpendicular drop into the darkness. As she gets into position her blue uniform glows in the orange light of the sun and inscribed lyrics come into focus: "Every single day is a battle I know that I'm meant to face". They are from her song "My Way is my Decision", which was released in 2012 and became the theme song of her winning streak, an instant hit in her home country and the most viewed video on YouTube by a Slovenian singer. As the self-proclaimed "woman of fire" shoots off she curves from gate to gate down the steep mountainside.
"In skiing it's all on you. That's the hard thing but also the most beautiful thing. In sports every second counts and that can hurt because in the end you're only a person," says Maze at the end of her run. "Sometimes you can't pay attention to your feelings but I want to cry and smile if I want to. That's the hardest part about being a top athlete, especially a woman in professional sport."
Once the season is over in March, Maze plans to take a break and complete her degree in pedagogy at the Slovenian University of Maribor. "In May I did five exams to be a teacher," she says. "It's important to give students the right input. I remember teaching third grade at a school in my village for a day; the kids said, 'Oh Tina Maze is here, this is so cool.' I told them, 'I know you want to talk about skiing but I'm studying today so you will have to help me.' I taught maths and Slovenian and, yes, we did talk a little bit about skiing and I gave some autographs."
Skiing may be her life but Maze is passionate about being more than just an athlete and the desire to return to her hometown of 3,700 people remains strong. "Everybody there thinks we're neighbours and I feel like I'm one of them."
Piste power
Tina Maze 
CV:
1983 Born in Slovenj Gradec on 2 May
1986 Clips skis on for the first time
2010 Wins silver in giant slalom and super-G at Winter Olympics in Vancouver
2012 Releases her first pop song: "My Way is my Decision"
2012-13 Scores 11 victories and 24 podium finishes to top the FIS World Cup standings with 2,414 points, the highest total attained by any skier
2014 Becomes world champion in giant slalom and downhill at Sochi Winter Olympics