Residence / Kanazawa
Art house scene
When one Japanese couple's search for a roomier home led to a love of traditional living, they embraced classic local architecture, too. But they also found that, even in a cultured college town, older buildings are disappearing at an alarming rate.
When newlyweds Akane Nakamori and Hitoshi Mori took over their century-old wooden house in Kanazawa two years ago they inherited a few things from the previous owners, including a number of antique fixtures and the services of a cleaner who now works for the couple. "She's a great source of information," says Nakamori. "She knows everything about the house."
Nakamori, an artist and gallerist, used to run a small café in the house, a classic Kanazawa machiya (townhouse) that was once a Japanese restaurant. She met Mori, a curator and professor of Japanese design and art history at Kanazawa College of Art, when he came in for green tea.
Timing was key. Mori and his 20,000 books were bursting out of his university digs, the couple was looking for a new home and the quirky house on the Asano River had just been put on the market. The owner had died and his son wanted to sell it to someone who would promise not to demolish it. "He even offered us a discount," says Nakamori. The house needed work and, when the couple looked for someone to rebuild the entrance, they found a specialist who usually works on temples. Craftsmen are plentiful in Kanazawa, a genteel city sandwiched between the Sea of Japan and the Japanese Alps. Often referred to as a "Little Kyoto", Kanazawa – famous for its lacquer ware, gardens and some of the best sushi in Japan – joins the bullet train network for the first time from March.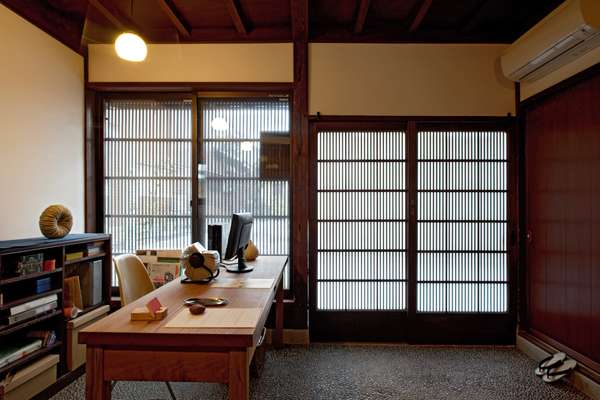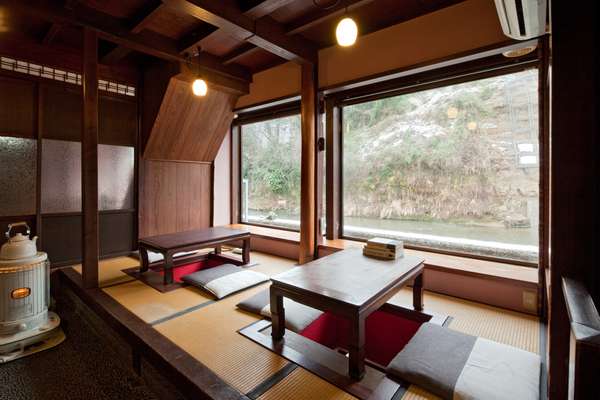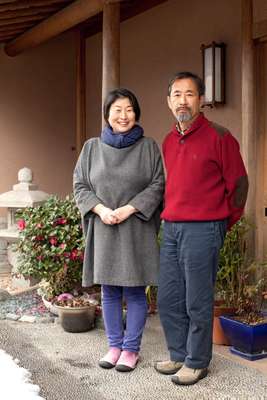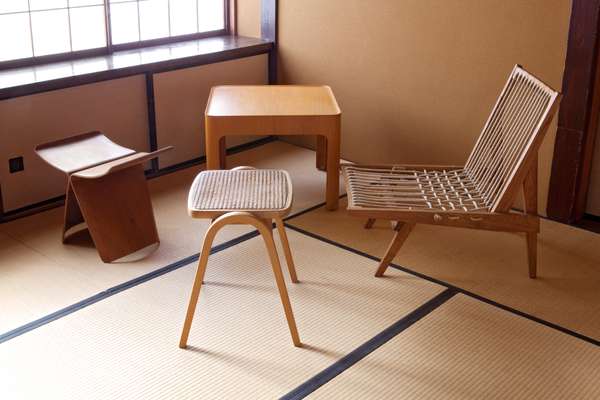 Nakamori says that old houses are under threat across the city. "We can't blame the war [Kanazawa was one of the few cities to be spared US firebombing] or earthquakes," she says. "We're destroying 300 a year on our own."  The couple has joined a network of owners who are doing their best to preserve Kanazawa's machiya architecture.
One of the reasons for taking on the house was to make a home for Mori's vast book collection and turn part of the ground floor into a library, open to the public. It was the first time all his books had been on display since he was at university. "Even I was amazed at the quantity," he says. The building's former life has left its mark: the professional burners in the kitchen and the sunken tables in the library are relics of the restaurant. The previous owner was an antiques collector who installed old doors and panels that have been left as they were.
When not accumulating books, Mori seeks out vintage Japanese furniture. "It's useful for exhibitions," he says. "Much quicker than borrowing them from other people." He has classic pieces from the 1950s, including Sori Yanagi's Butterfly stool and Riki Watanabe's Rope chair. There are tables by Saburo Inui and an extensive collection of Japanese clocks from the 1960s.
One of Mori's favourites is the designer Isamu Kenmochi, a big name in Japan but internationally less well known than he should be. In one room he has Kenmochi's legless wooden chair and low table, inspired by a traditional Japanese chair and desk. "Kenmochi was so good at referencing something classic and adapting it to the modern world," he says. "There's something traditional in his work but he always left his own identity in the finished product."
Mori is a busy man. Aside from teaching he edits books on design, works on exhibitions and is the director of the Sori Yanagi Design Memorial (see box, left), an exhibition centre in Kanazawa opened last year in honour of the great designer, who taught at the city's art college.
The couple's house is used for exhibitions organised by Nakamori, who was raised in Kanazawa. "Everyone expects to show art in a white cube these days," she says, "so it can be a challenge persuading people that this setting works for contemporary art." Nakamori's eye for detail comes out in her art and her cooking. As she chats, she serves up matcha and daikon-zushi, a Kanazawa winter speciality made with radish and herring.
Like all old Japanese buildings, the house is cold in winter – open doors are quickly slid shut – but the entrance is warmed by an Aladdin Silver Queen heater and the dining room by a charcoal burner passed down through Nakamori's family. She says that Mori opened her eyes to the beauty of traditional Japan; there's a charm to this kind of old-fashioned living. "I used to love modern design and I longed to live in Paris and New York, which I did when I was younger. Now I'm older, I really appreciate the Japanese way of doing things."